How To Build Crazy Fast Left Hand Guitar Speed
Want to build scary fast left hand (fretting hand) speed without practicing guitar for hours per day?
I want to show you exactly how to master your fretting hand technique & speed, so you can finally play all the fast guitar licks and solos you only wish you could play right now.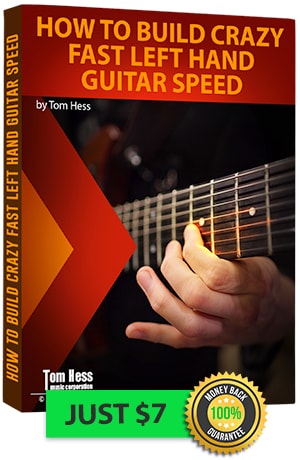 In this eGuide to building crazy fast left hand guitar speed, you learn:
Why most guitarists never develop really fast fretting hand speed and how you can become one of the few who do.

How to master the exact fretting hand mechanics that make ALL your licks faster, cleaner and easier to play. This improves your guitar playing very quickly.

A step-by-step practice method for breaking through your speed plateaus. This is very easy to follow even if you don't have a lot of time to practice.

The best fretting hand exercises that build your dexterity & speed, so you don't have to wonder if you are practicing the right things.

The #1 reason why your guitar playing sometimes feels like a struggle and simple things you can do today to change this forever.

You also get: video demonstrations of how to practice each step of the process the right way and ensure your rapid improvement.
The eGuide is available for instant download on my website, so you can begin learning right away (nothing is shipped).
Imagine how much more fun you'll have playing guitar when you stop struggling with your guitar speed. Get the eGuide How To Build Crazy Fast Left Hand Guitar Speed today for only $7 and start impressing all your friends with your incredible guitar playing.

P.S. You don't need a lot of practice time achieve big breakthroughs in your guitar speed. This eGuide helps you play guitar faster even if you've been stuck at a speed plateau for a long time.
Click here
to get started.
""This ebook is insane. I'm 77% faster 6 days later doing the exercises in the ebook." - Petter Almberg, Sweden
"I like to be coached by Tom Hess most because he's a role
model. It's really hard to find a guy that teaches
what he does." - Jure Golobic, Slovenia