If you often get lost on the fretboard when you try to solo, you owe it to yourself to:
Grab The Fretboard Freedom Blueprint & Discover A Nearly Effortless Way To Visualize Scales On Guitar
The Secret To Visualizing Scales All Over The Fretboard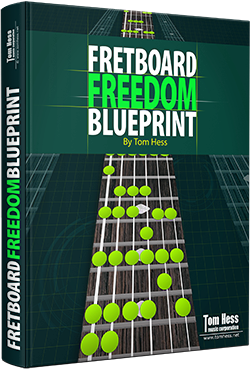 ENTER YOUR NAME AND
EMAIL TO GET ACCESS
FREE eGUIDE
By submitting your info, you agree to send it to Tom Hess Music Corporation who will process and use it according to their privacy policy.
After you study the blueprint (it's a short, fast & easy read), DO what it says for 15-30 minutes per day.
As you do, you'll start to see why you don't need natural talent to master your fretboard. All you need is to do the right things, in the right order and the right way.
So, grab the blueprint (for free) today & discover:
Why memorizing note names is not nearly as important as many people think it is. (It's one of the LAST things to focus on when learning the fretboard.) (Page 7.)
All my shortcuts, tips & tricks for minimizing brain-numbing memorization that help you memorize the fretboard in just days or weeks vs. months or years. (For example, check out 3 fretboard "sign posts" on page 17.)
A "slacker friendly" system for playing scales up and down the neck in any key without getting lost. Do what I say on pages 9-17 and you could potentially start soloing all over the guitar neck tonight, even if you are totally new to lead guitar.
What to do next, after you can visualize scales on the fretboard. Use this to inject your playing with emotion & create guitar solos you feel proud to call your own. (Page 21.)
The Fretboard Freedom Blueprint is available for instant download on my website, so you can access it right away (nothing is shipped).

To learn (for free) how to visualize scales on guitar, enter your name and email address and click the 'Give Me Access Now' button.

All information is kept 100% private and confidential.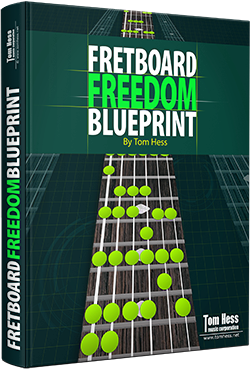 The Secret To Visualizing Scales All Over The Fretboard
ENTER YOUR NAME AND EMAIL TO GET ACCESS
By submitting your info, you agree to send it to Tom Hess Music Corporation who will process and use it according to their privacy policy.