How To Get Attention From Record Companies And Managers In The Music Business And Build a Successful Music Career
By submitting your info, you agree to send it to Tom Hess Music Corporation who will process and use it according to their privacy policy.
One of the hardest things to do in today's music business is to get noticed by record companies and managers you want to work with. It's even harder to keep their attention and show why they should work with you vs. thousands of other musicians who contact them every day.
Record companies don't care how passionate you are about music or about having a music career. They also don't (really) care about your music or musical skills. Why? Because they can find good musicians virtually anywhere. Being a good musician isn't enough to stand out and get noticed in today's music industry.
But there ARE things record companies and music career managers care about very much and want all musicians they work with to know, do and have. Musicians who understand, acquire and master these things attract a lot of attention and receive opportunities others only dream about.
In this guide to making connections in today's music industry, you will:

Learn the biggest mistake virtually all musicians make when fighting for attention from record company executives and managers and how to avoid it in your music career.

Understand why record companies ignore 99% of musicians who contact them and how to make sure you end up among the 1% who attracts their attention.

Discover 3 elements of music career value you must demonstrate to show record companies and managers that you are worth their time and attention (and how to develop each one).

Understand how to communicate to record companies that you have what they look for in musicians (and have them listen to and believe you).

Learn about a simple music industry credential that impresses the hell out of ANY music business executive, puts you light years ahead of most musicians and can be acquired for less than 5% of the cost of a college degree.

Discover a proven process for transitioning from a day job into a full-time music career, so you have freedom of time and money to invest into your career goals.

Receive a list of simple action steps you can take right now (today) to get on track to unstoppable success in the music industry.
…and a whole lot more.
To learn (for free) how to get record companies and managers to know and care about you, enter your name and email, and click the 'Give Me Access Now' button. All information is kept 100% private and confidential.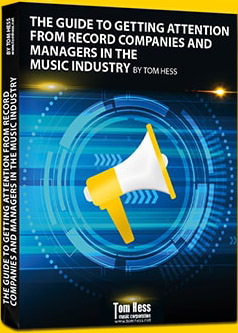 HOW TO GET ATTENTION FROM RECORD COMPANIES IN THE MUSIC INDUSTRY
ENTER YOUR NAME AND EMAIL TO GET ACCESS
By submitting your info, you agree to send it to Tom Hess Music Corporation who will process and use it according to their privacy policy.