How To Find And Attract A LOT of New Guitar Students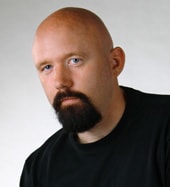 Do you know how a lot of guitar teachers who are pretty good at what they do still struggle to find and get guitar students?
If you are like most guitar teachers, you probably have a difficult time getting and keeping enough serious guitar students throughout the year.
If you have been teaching guitar for a while, you know that September, October and January are generally pretty good for attracting guitar students, while the rest of the year most guitar teachers really struggle to attract new students, keep their teaching schedule full and have a hard time to pay their bills.
...And teachers around the world are struggling a lot more now because of the currently slow economy.
While the majority of guitar teachers sit around complaining, the most successful teachers use very specific tools, resources and strategies that keep their guitar teaching businesses thriving all year - regardless of the current economy.

Here Is The Reality For Most Guitar Teachers… Does This Sound Familiar To You?
You seem to spend a lot of time (and money) writing and publishing ads, but you don't get the guitar students you were hoping for.

You are frustrated by talking to prospective students who end up blowing you off or not taking lessons from you anyway.

You have only a very limited number of ways to get new guitar students which, in addition, don't seem to be very effective.

You are not attracting (and keeping) enough students to make a great living as a guitar teacher.

You are not able to turn a lot of the people who make a lesson inquiry into actual guitar students.
I used to struggle with all these same things too until I found a mentor who showed me why what I was doing didn't work, then taught me some simple secrets to make the process of attracting a lot of new guitar students much easier. At first, I was a little skeptical because he was not a guitar teacher himself, but since his strategies were proven to work in many other types of industries, I thought it could help me...and it did!
After building a very highly successful guitar teaching business for myself, I began mentoring other guitar teachers all over the world to do the same.
The Success Statistics For People Making A Great Living Teaching Guitar Are Sadly Discouraging.
Most teachers will never build (and sustain) their own successful guitar teaching business, and will never earn the six-figure income that successful teachers earn each year.
Many will try way too hard but will still struggle to earn enough money to live on. Eventually most of these people will give up on the idea of building a successful guitar teaching career. Instead they'll end up working in a day job that they hate for the rest of their lives.
I'm not telling you this stuff to scare you, I'm trying to help you avoid future problems, frustration, and failure.
So Why Are You Still Struggling?
It's probably not that you're not passionate about helping students become better musicians.
It's probably not that you're not a good teacher.
It's probably not that you're not an intelligent person.
You simply haven't been taught how to find and attract new guitar students like crazy and build a highly successful guitar teaching business... And you haven't yet implemented effective student acquisition strategies.
What if you had a proven, easy-to-follow, logical strategy to continuously attract new guitar students all year long so that you finally begin building your guitar teaching business to a greater level than you ever thought possible?
Learn How To...
1. Build Your Highly Successful Guitar Teaching Business Using Geometric Growth Strategies.
2. Position Yourself (And Your Lessons) In Such A Way That Price Is Not The Main Decision-Making Factor For Prospective Guitar Students.
3. Use YouTube (And Other Video Sites) To Find Local Guitar Students Who Are Looking For A New Guitar Teacher.
4. Write Highly Effective Advertisements And Other Promotional Messages That Are Proven To Work.
5. Find The Best Places To Publish Your Ad To Get Maximum Results.
6. Make New Prospective Students Want To Take Lessons With YOU, Not Your Competitors.
7. Create A Powerfully Convincing Conversion Tool.
8. Avoid Damaging Mistakes Most Guitar Teachers Make During The First Conversation With A Prospective Student.
9. Avoid Losing Potential New Guitar Students Based On How Much You Charge For Lessons.
10. Attract Students To You Who May Not Live Near Your Teaching Location.
11. Make Prospective Students Actually Attend A Free Lesson And Stop Them From Blowing You Off.
12. Implement Totally New (And Proven) Ways To Attract More Guitar Students To You.
"I had 4 students when I started out 7 years ago in my teaching business. It really improved rapidly. In the first year, I got to 100 students. 7 years later we have hundreds of students and 3 locations."
We have a team of 14 different teachers working for us and it's just been the nicest thing ever cause I never have to work a day of my life. I can do pretty much anything that I want ... and I just love my job so the Elite Guitar Teachers Inner Circle pretty much helped me developing that. I couldn't imagine being anywhere near the level of success that I am riding on without the program.
When I first started teaching guitar, I was 22 years old and didn't really knew what I was doing. So I was member of the Music Careers Mentoring Program with Tom Hess. And I figured if I want to have a music career, I might as well learn to coach students and create students… I was teaching anyway, I had 4 students at the time. So I had to find a way to really step up my game and I couldn't really afford to not look into the program, so that made me realize that it's like a one-time opportunity. I've been here in the Elite Guitar Teachers Inner Circle for 7 years now, and it's been steady progress and the learning curve is excellent, the support and the people on the forum is worth the entire investment in the program, and I'm really content about the progress I've made so far.
I think Tom Hess is the number one in the area of teaching businesses as far as the whole online courses go. I've never really checked out other resources on this topic. I have read a couple of articles written by other guys, but if I guess if you don't have built your own business to the point that you can be really successful at teaching, there's no point at teaching others. And that's what separates Tom Hess from all his competitors. He's doing it. He has build a massive amount of presence on the internet. So I think that is what most people are drawn to. He doesn't only talk about it, he does it. So that's why for me, there's like no one else that comes close in the area of coaching you on the teaching business.
My life really looks awesome right now, so couldn't be any happier. Me and my fiancée just travel whenever we want, we do whatever we want, like that's a big part of why I decided to join the program because I didn't want to have shitty day job. And I just wanted to build my own lifestyle and we did ever since.
Antony Reynaert, Ostend, Belgium
13 years ago I was struggling to support myself as a guitar teacher. I was very frustrated by all the typical problems most guitar teachers have. I thought there must be a solution and started to look for ways to transform my passion for teaching guitar into a serious business from my home. After many wasted years of trial and error, I eventually developed, tested and refined my methods, materials, and strategies. Soon things started to change and I built a great guitar teaching business in a relatively short amount of time. After awhile many of my close personal friends and advanced guitar students were coming to me to help them develop their guitar teaching skills and businesses... One problem that I am constantly asked about is how to get enough guitar students to make a great living teaching guitar. This is why I decided to create the How To Attract A Lot Of New Guitar Students eCourse.
You'll discover the same methods, materials, strategies and the tools that I successfully use to attract a massive number of new guitar students all year around. You will learn exactly what to do, how to do it, when to do it and where to do it.
Here Is What You Will Get:
Proven methods to market yourself and your guitar teaching business: Discover and implement promotional and marketing strategies that work.

Effective conversion strategies to make potential new guitar students choose YOU as their new teacher and not a competitor.

Step-by-step ad writing templates that work. Find out why most other guitar teaching ads suck and how to avoid the common mistakes that are made.

The key to charging more money for your guitar lessons and get it.

Value Positioning Strategies for you and your lessons so that price is not the main decision- making factor for prospective guitar students.

The

9 simple components you MUST have in your promotional plan

in order to make it really WORK.

Passive methods to get students so that you can do the work ONCE and keep getting new students from it over and over and over again.
And Most Importantly, You Will Also Get:
Your Blueprint To Success in an actual map so that you can quickly see what you need to do next, begin to implement the ideas and strategies and get guitar students immediately.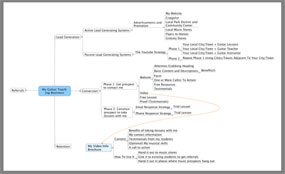 Plus…

A Very Special Bonus To Help You Build Your Guitar Teaching Business MUCH
Faster And Expedite Your Success:


EXCLUSIVE FREE 45 DAYS PLATINUM MEMBERSHIP OF MY
ELITE GUITAR TEACHERS INNER CIRCLE
(not valid for existing or previous EGTIC members)

Discover Insider Secrets of Successful Guitar Teachers and earn more money working less hours through innovative and powerful teaching models.
Get step by step teaching and business templates that will eliminate trial and error and enable you to easily get started right away using the right strategies, right methods and right ideas.

Find out how to effectively teach guitar and maximize the benefits ALL your guitar students receive from you.

Discover how to keep your students inspired, motivated and engaged in the process of learning from you so that they continue to take lessons from you for years to come.

Earn 3, 4, or even 5 times more money compared to what typical guitar teachers earn.

Learn how to successfully create and teach group classes and rotating formats. Use specific (and proven) group teaching materials, methods and activities (which work even if your students are at different skill levels). The huge results your guitar students will get will make them want to do group classes with you.

You will also get constant feedback about your ideas, problems, challenges and goals on the Elite Guitar Teachers Inner Circle Platinum Member Forum.

Meet and connect with BOTH highly successful teachers and other like-minded people in the process of growing their guitar teaching skills/businesses. This instant support will help you evaluate opportunities, address challenges and help you to keep moving forward.

Here are some of the results that Elite Guitar Teachers Inner Circle members are achieving - in their own words:

"Within 7 months, I stopped working my day job and started teaching full time. I have noticed a 200% increase in income, enjoyed 100% better quality of life and my financial and day job related problems have disappeared."
The bottom line is that
Tom's strategy WORKS
. I would have never thought of looking at all the business related factors that can go into making a guitar teaching business. Before I made enough to live from guitar teaching but needed a day job to support myself and my wife. Now I'm earning more than I ever thought possible doing something that's so much fun. I can't believe I'm getting paid for it!
Jonathan Vipond, Professional Musician and Guitar Teacher, Bradford, UK
"The Elite Guitar Teachers Inner Circle program is so valuable because of the amazing material and teaching ideas Tom introduces. This program is truly one of a kind. It teaches you how to teach, but more importantly how to run a 6 figure guitar teaching business. If you want to have total freedom and enjoy every second of your actual day job, meet amazing people and have a blast, this program is for you."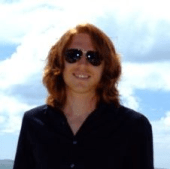 2 months ago I bought the How To Attract A LOT of New Guitar Students eCourse. I immediately made some ads and put together good referral systems to get as many guitar students as possible in the shortest amount of time. I now have a lot of prospects coming for their free lesson each week and I found that nearly 95% of students that take their first free lesson with me actually convert and become full time students.
Tom enabled me to build a teaching business in a short amount of time which is growing rapidly. At last I have time to also pursue a full time music career and get the satisfaction of teaching other students.
George Engelbrecht, Vredenburg, South Africa
Stop struggling and begin investing in yourself so that you can continuously get guitar students all year long and finally begin to build your guitar teaching business to a greater level than you ever thought possible. Now you may ask yourself how fast you can get your investment back... Well, you can get it back from the very first new guitar student this eCourse brings to you.

Ready to start filling your teaching schedule?
You can get all of this today for only $97 and within just a few days from now you will know how to attract a LOT of new students all year long.
OK, so now it's up to you... You can make a huge positive change in your life and your guitar teaching business. Or you can do things the same way you've always done it - keep struggling, complaining and hoping that some day a miracle will change things for you.

"Before I started to work with Tom in the Elite Guitar Teachers Inner Circle, I had 2 guitar students, I now have over 50 students and my phone doesn't stop ringing!"
I managed to gain full control over my finances (earning 4 times more than before) and my guitar teaching skills have improved a lot so that my students can be certain that they gonna get great results faster. For the first time in my life I feel independent.
The program paid off after 3 months and the investment I made is nothing compared to the huge results I got in the long term. Thanks to Tom I managed to build a really strong reputation in a very competitive city and gained a lot of satisfaction from my new life.
Greg X, Professional Musician and Guitar Teacher, London, UK
"The Elite Guitar Teachers Inner Circle has really taken me from… really it took me from zero. I started out teaching in my parent's basement when I was still living with them. And I've taught, you know after I got married in our first apartment, moved in with my in-laws for a little bit, taught at their house, and two other houses that we've lived in. And now we've moved our business downtown and it's exploded. We started hiring teachers and beginning a music school. We're now on our second location for that, because we grew out of our first location. So it's taken me from a basement to having our own big building with 8 teaching rooms and all sorts of awesome stuff going on and 5 or 6 teachers working for us. So literally from zero to over a hundred students. I've been a member of the Music Careers Mentoring Program and I knew that the advice that Tom gave on that was gold. So when he had a program specifically for teaching, I thought if I'm going to be teaching I've got to be in that program, because if I'm not, I'm not going to be the teacher that I could be."
I've talked to other teachers before and they really don't understand business. Even other business owners that I know, there's a lot that they're missing out on. So the business help that we get in the Elite Guitar Teachers Inner Circle, not just for music teachers is awesome to run a music school… but it's the kind of business help that applies to anything and it makes it really really valuable because a lot of people pay a lot more money than you pay for the Elite Guitar Teachers Inner Circle to gain that kind of information and then to go through the trial and error of making it work… when in EGTIC, Tom's already gone through that.
If you're thinking about doing the EGTIC but you feel like it costs too much, then you really need to think about the potential money that you're losing by not doing it.
That's the big thing, because when I first started I was like, oh that's a big investment, but the thing is you make that money back really quick and you make it back ten, twenty-fold.
Brad Litton, Vernal, Utah
The sooner you get your hands on this information, the sooner you will end your frustration and start attracting a lot of new guitar students to you. Many guitar teachers want to build their own successful teaching business, but few are willing to take the simple steps that it takes. Get started now!
| | |
| --- | --- |
| Tom Hess | |
P.S. There will never be a better time to work on your guitar teaching business. This is your golden opportunity to learn how to find and attract a LOT of new students and change your life. Don't pass this up!
P.P.S. Remember, you also get an EXCLUSIVE FREE 45 DAYS PLATINUM MEMBERSHIP OF MY ELITE GUITAR TEACHERS INNER CIRCLE (this is the ONLY place you can get FREE access to the program!)