How To Get More Gigs And Earn A Lot More Money Playing Live
Want more gigs? Want to get paid more for each gig you play? You are not alone… every day musicians tell me how hard it is to get gigs where they live. Some say: "Venues just aren't looking for new musicians right now". Others claim: "There is too much competition in my area". Both statements are false!
Here is the reality:
Venues don't look for musicians. They look for ways to earn more money. Your job is to help venues earn more money with you than they can by working with anyone else. The more money you generate for venue owners, the more in-demand you become and the more money you earn from each gig.
Sounds hard to do? It's not. I mentor musicians to do this daily and will do the same for you. In this eGuide to getting more gigs, you will discover what successful musicians know and do to easily book the best-paying gigs in their area.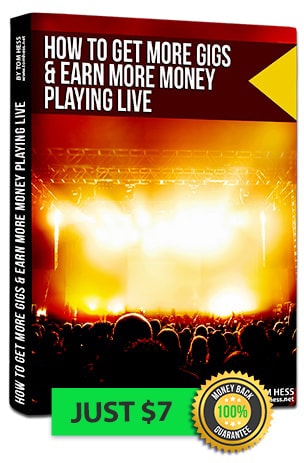 Top 3 reasons why musicians struggle to get gigs and how to make yourself immune to them.

What venues, booking agents and music fans really want from you (and how to give it to them).

8 killer ideas that get more people to see your shows, help you make more money and make you the hero of club owners and booking agents.

How to make your shows different from other bands and musicians (this helps you attract a lot of new people to each gig you play).

How to use social proof to grow your fan base and get more gigs.

2 goals you must work towards as a performing musician that get your fans coming back to see you again and again.

How to earn a lot more money from each gig before you ever step foot on the stage.

How to make a reliable, stable (and lucrative) income as a performing musician.

How to go from playing cover songs to playing original music (and have your audience look forward to hearing your songs!).

You will also get:

9 powerful implementation shortcuts that help you apply each idea you learn in your music career easily and fast. Raw ideas are useless without a strategy to implement them. I will show you how to make the implementation process easier to avoid getting stuck with ideas you can't use.

The eGuide is available for instant download on my website, so you can begin learning right away (nothing is shipped).
Stop struggling to get more gigs and learn how to become a real pro in the music industry. Download the eGuide to getting more gigs and earning more money playing live right now for only $7 and make your music career a lot more successful.

P.S. Think of the time you've already wasted trying to get more gigs and getting nowhere. You wouldn't be here if you weren't frustrated… Now it's time to do something different - something that puts you on the path to building the successful music career you want and deserve.
Click here to get started
.
"I have a touring band with a 2nd CD coming out in a few months
& new tours coming my way. Tom Hess really helped me and I'm very
grateful for this!" - Jure Golobic, Slovenia