25 MORE Easy Guitar Playing Tricks You Can Learn In 10 Minutes That Make You Sound Better

Give me 10 minutes and I'll show you 25 cool tricks you can use right away to make your guitar playing sound better. These are easy to learn and most are pretty easy to play. If you're an advanced player, you may know some of these already, but hey, wouldn't it be worth it even if there was only one that was new to you? :) … and besides, how many cool ideas have you once learned but then later forgotten?

I've created an eGuide that quickly teaches you these awesome guitar tricks.
Here is what you'll discover: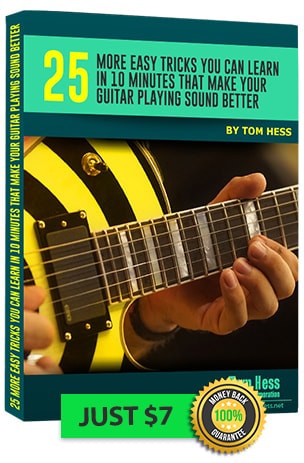 25 innovative (but simple) techniques you can use right away to make your guitar playing sound better quickly. You can learn these tricks in about 10 minutes, even if you are not an advanced guitarist yet.
How to use each technique in many musical contexts and styles, so you sound great, whether you play blues, classic rock, or heavy metal.
Awesome vibrato bar tricks that are easy to play, help you create your own style, and make you have more fun playing guitar.
How to play guitar licks that sound really fast but are so easy to play, you can master them in 1-2 minutes.
Awesome 2-hand tapping tricks that make you sound, look and feel like an advanced guitar player, even if you've only been playing guitar for a few months.
Guitar practice tips your favorite guitar players use to make their playing sound great, without playing anything fast or difficult.
Cool variations on traditional rock and blues guitar licks that make you sound like a guitar playing badass.
How to make your guitar playing so melodic and emotional that people literally cry when you play for them.
How to make any guitar lick sound totally killer without changing its notes (this helps you play and improvise better guitar solos immediately).
The eGuide is available for instant download on my website, so you can begin learning right away (nothing is shipped).

Isn't it time you stopped envying your favorite guitar players and actually learned to play like them? Download the eGuide to making your guitar playing sound awesome right now for only $7 and learn what it feels like to LOVE the sound of your own guitar playing.

P.S. These 25 tricks sound really cool and are easy to learn. If you're an experienced guitar player, you'll love these! If you're not an experienced player, you'll love them too because they sound great and are
not
difficult to learn or play.
Click here to get started
.
"It is hard to compare Tom Hess and his teaching to any other
guitar teacher out there. His knowledge and technique
are unbelievable." - Zack Uidl, USA