Lead Guitar Master Class Reveals...

Guitar Solo "Cheat Codes" My Students & I Are Using To Have So Much Fun Playing Guitar, It Should Be
ILLEGAL!
Dear Guitar Player,
I'd like to show you my secret way of finding the right notes to express any emotion you feel when you play a guitar solo.

This rare-as-diamonds skill is a must for anyone who wants to become a real musician.
And believe it or not, you can install it into your guitar playing in as little as 30 minutes per day...

For The Price Of A Banana Split Sundae!
Hundreds of my guitar students routinely use this method to play guitar solos like these:



And I call it:
"Guitar Solo Cheat Codes"

These cheat codes help you "stamp" the emotional fingerprints of every note on your guitar into your musical memory.
Armed with this skill, you can play a guitar solo over any chord progression and...
Instantly Know (In Advance) What The Notes Will Sound And Feel Like... Even If You Don't Have Perfect Pitch!
All you need is to know at least 1 scale and a few open chords.
If you do, you too can use the same Guitar Solo Cheat Codes my top students use to inject your guitar playing with more emotion, starting today.
Disclaimer: this isn't the end-all-be-all guide to playing lead guitar.
And these "cheat codes" won't help you at all if you don't know any scales or chords.
Because even after I teach you how to find the exact notes to express any emotion you want...
You'll still have to know how to create guitar licks, develop your phrasing and practice many lead guitar techniques to put together proper solos and make them sound good.
But when you add these "cheat codes" to your guitar playing mix, they enable you to:

Sound (And Feel) Like A Pro Musician, Even If You Are Still A Newbie Lead Guitarist!

More:
Guitarists who use these "cheat codes" the way I teach - always become great players.
Every. Single. Time.
Think I'm exaggerating?
Here is another (much longer) compilation of my students playing:

I got hundreds more videos just like this, but I don't have all day to write this page... so, here is the deal:
For years, guitarists have been begging me to break down the "Guitar Solo Cheat Codes" in a standalone A-Z tutorial.
And I recently recorded an in-depth master class doing just that.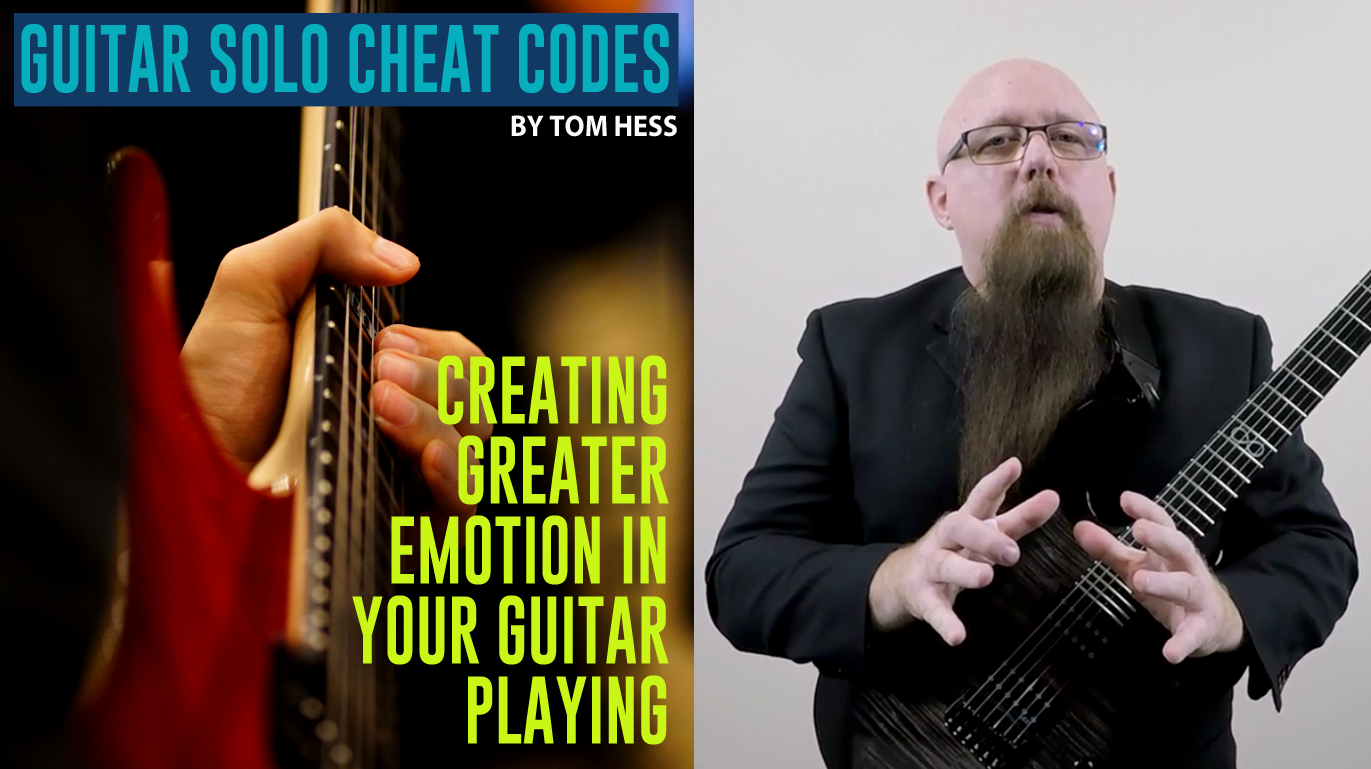 I first thought about selling this video master class for $197. But then I changed my mind.
Instead...

I Decided To Virtually "Give It Away" To You On This Page For Only $7.

And I set the price so stupidly low for a very simple & very selfish reason:
I want to earn your trust.
You may not be one of thousands of guitar players who studied with me. My goal is to give you a taste of what you've been missing.
And your trust is way more valuable to me than a few hundred bucks.
Plus, once you see, hear and feel your playing improve, it's likely you will want to take guitar lessons from me.
And that's how my business truly grows.
I only ask one thing of you in return for practically giving away these secrets to you at an ego-bruising price steal of a deal:

Please Be Smart And Do NOT Buy This On Impulse Just Because "It Only Costs $7".

I spent 30+ years discovering, testing and codifying these "cheat codes" into a repeatable system anyone with 10 fingers & a brain can use to play emotion-soaked guitar solos.
And even though it doesn't cost me anything to give you access to this video (you can watch it on my website in just a few minutes from now)...
I am morally opposed to putting my life's work in the hands of someone who won't appreciate or do anything with the wealth of musical wisdom inside.
So... ONLY buy this master class if you intend to...

Practice What I Show You To Play Better Guitar Solos Starting Today!

Otherwise - save your $7 or go splurge on that banana split sundae instead. :)
Deal?
To get the 37-minute guitar solo cheat codes master class, click the button below & discover:
The secret to playing what's in your head - without perfect pitch or natural talent. Hundreds of my students (like the guys in the video at the top of the page) already learned it. And if you can play a major scale & do what I tell you - you can be next. (Revealed at: 29:55)

How songs in "happy" major keys can make women cry. (Revealed at: 5:02)

How to predict what any note will feel like before you play it. I call it stamping the "emotional fingerprints" of the note into your brain. (Revealed at:10:45)

How to change the emotion of any note at will, without changing how you play it. Fun fact: while writing this page, I was listening to John Petrucci do it in his song "Glasgow Kiss". (Revealed at: 9:37)

My 100% unscientific "Tom Hess criteria" of musical mastery. (Revealed at: 4:09)

The very first thing to do when you can't find the right notes to express an emotion you feel. (Revealed at 23:26)

A nearly failsafe way to judo flip "wrong" (or out-of-key) notes into "wow moments" of your guitar solo. (Revealed at: 27:29)
... plus a whole lot more "goodies" you can plug into your guitar playing in less time than it takes to watch a Netflix episode of your favorite series and play solos at a level most guitarists only dream about.
Click the button below to get access to the Guitar Solo Cheat Codes master class for only $7.


"I like to be coached by Tom Hess most because he's a role
model. It's really hard to find a guy that teaches
what he does." - Jure Golobic, Slovenia