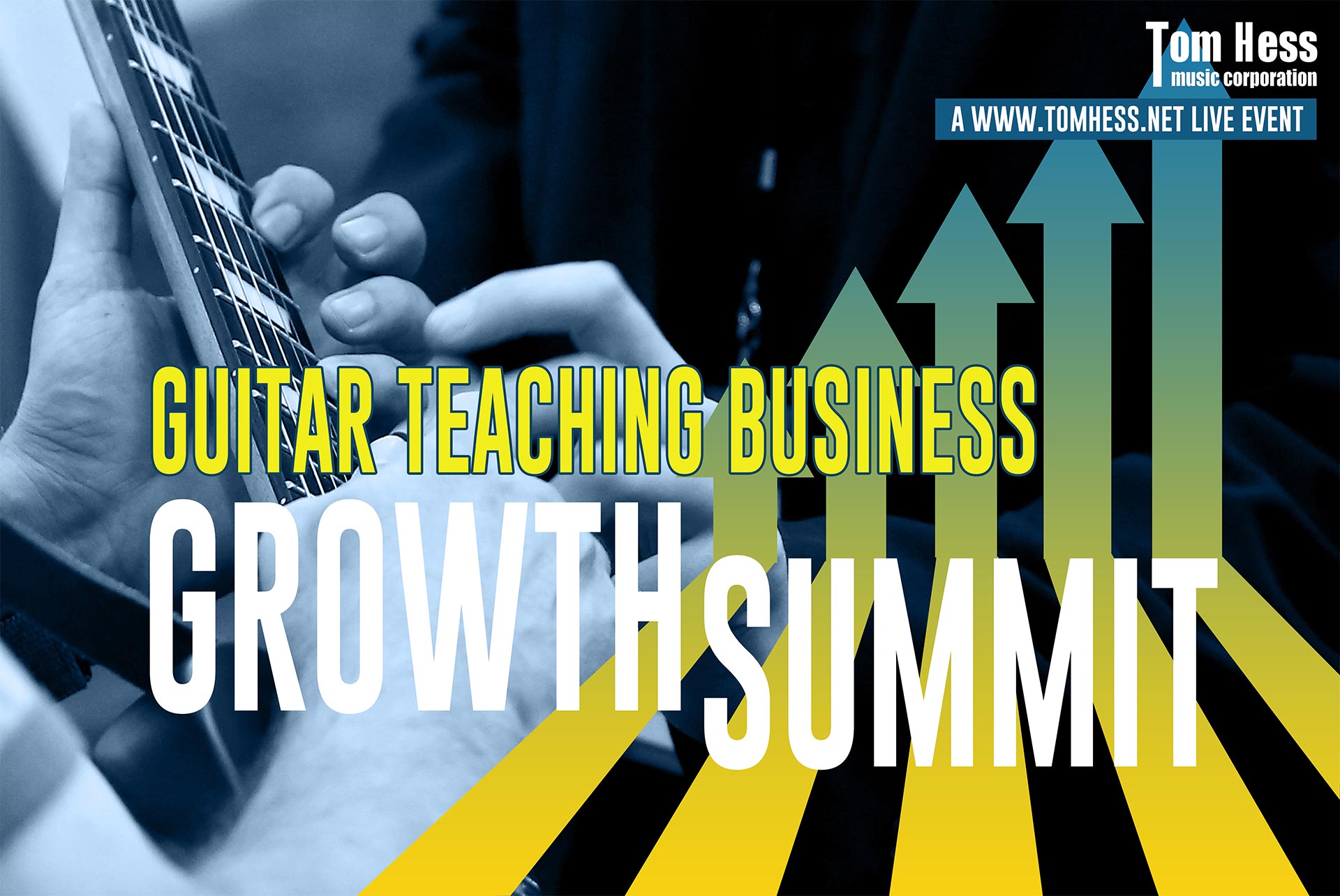 Attn: Guitar Teachers...
Finally! How To Build Your Guitar Teaching Business So That It Runs Smoothly Like A Well-Oiled Machine, And Life Becomes Easier
… without having to reinvent the wheel, work crazy hours and feeling overwhelmed & stressed out.
From: Tom Hess
RE: Guitar Teaching Business Growth Summit
Dear Guitar Teacher,
If you want to:
be more confident as a guitar teacher and business owner


gain certainty that you can grow your business larger


want to make things easier


reliably earn more money


want to free yourself from the chaos in your business


learn to finally teach classes like a confident pro instead of feeling unsure of yourself


gain the confidence to teach anyone (including someone whose skill or knowledge level is higher than yours)!


live a better and more fulfilling life
… all while having more fun in the process…
… then this is the most important letter you'll read all year!
Here's why...
In today's turbulent, uncertain economy, learning and implementing what we'll do together at this event can mean the difference between your business flourishing, stagnating, or losing your business!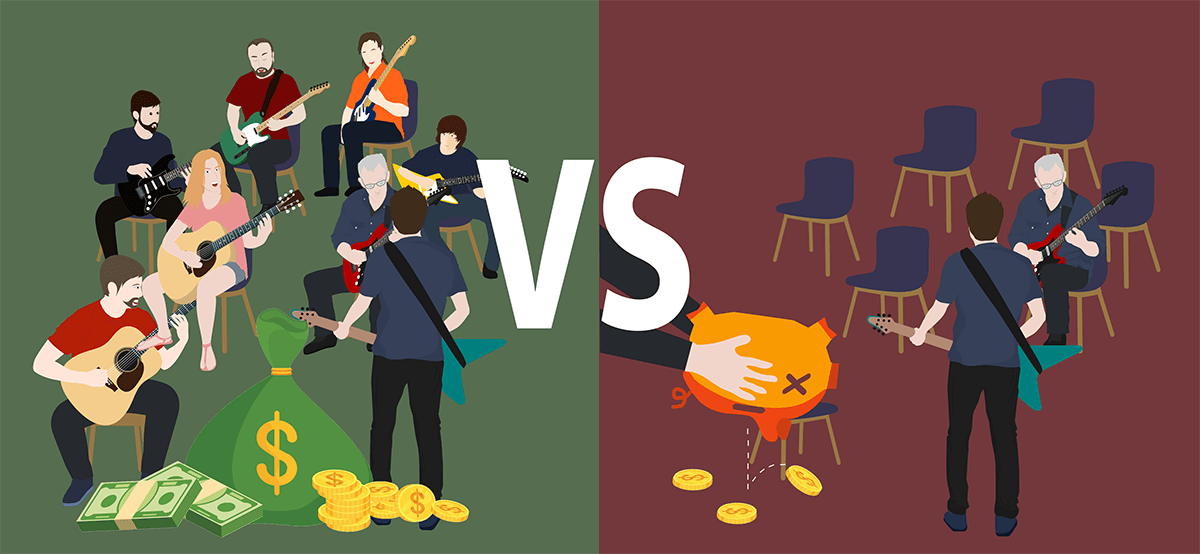 Are you teaching guitar (or any instrument) and your business does not grow? You don't even know if you want your business to grow because you're already stuck in the daily grind of teaching a few students you have? Or maybe you are not happy about how your business is going, and want to do it full time and make it BIG but you don't know how?
Well, I wish there was a simple answer to your question, but the reality is that success (and even more importantly, enjoying your success) is made by many small pieces. You have to get most of them right to move forward.
That's the purpose of Tom Hess's event. You will go through every aspect of your teaching business, from the large-scale plan to the nitty-gritty details, and you will see what you are doing right, what you could do better and how to get there.
Chances are that just in the first morning of the event, you'll get a breakthrough in your business. Yes, it sounds like an exaggeration. Yes, it's hard to believe. And yet, that is what happens every time.
Thanks to Tom Hess''s Elite Guitar Teachers Inner Circle program or events, not only music teaching business is successfully, but I get to enjoy working in it more. I love teaching and with the systems I learned, everything is easier. here. Life is good.
- Dr. Tommaso Zillio, Canada
Here's Why You CAN'T Miss This Event...

This event is going to give you exactly what you need to grow your guitar teaching business successfully while most others (your competitors) are declining in the current state of inflation and recession.

Why are many of them failing? I'll tell you why:
Fact is, any monkey can make money teaching guitar when the economy is BOOMING. But most don't know what to do to thrive (or even survive) in a challenging economy…


A few do know, but get the order wrong. They focus on the wrong things, at the wrong time, or focus on the right things at the wrong time. If you look at what they do all day long, you would likely see them do the same things in a bad economy as they would in a good economy - this is an amateur mistake.


Others always seem to be busy working in their business, but they're tinkering - not being productive in the areas that matter most.


… and the rest are simply lazy.


So, OF COURSE they are struggling – even though many of them brag LIE to everyone (and sometimes to themselves) on social media about how well they are doing. A truly successful business owner can smell their BS from a mile away.
But YOU are different! (You wouldn't still be reading this if that wasn't true).
What you need is the knowledge, insight, foresight, guidance and certainty that YOU are doing the exact right things in the right order and in the right way for the situation you currently find yourself in so that you catapult yourself to where you want to be, should be and deserve to be.
This special one-time-only event will give you precisely that. I share things with you that I've never shared before anywhere for any price.
But you need to act on this now because this event only happens once!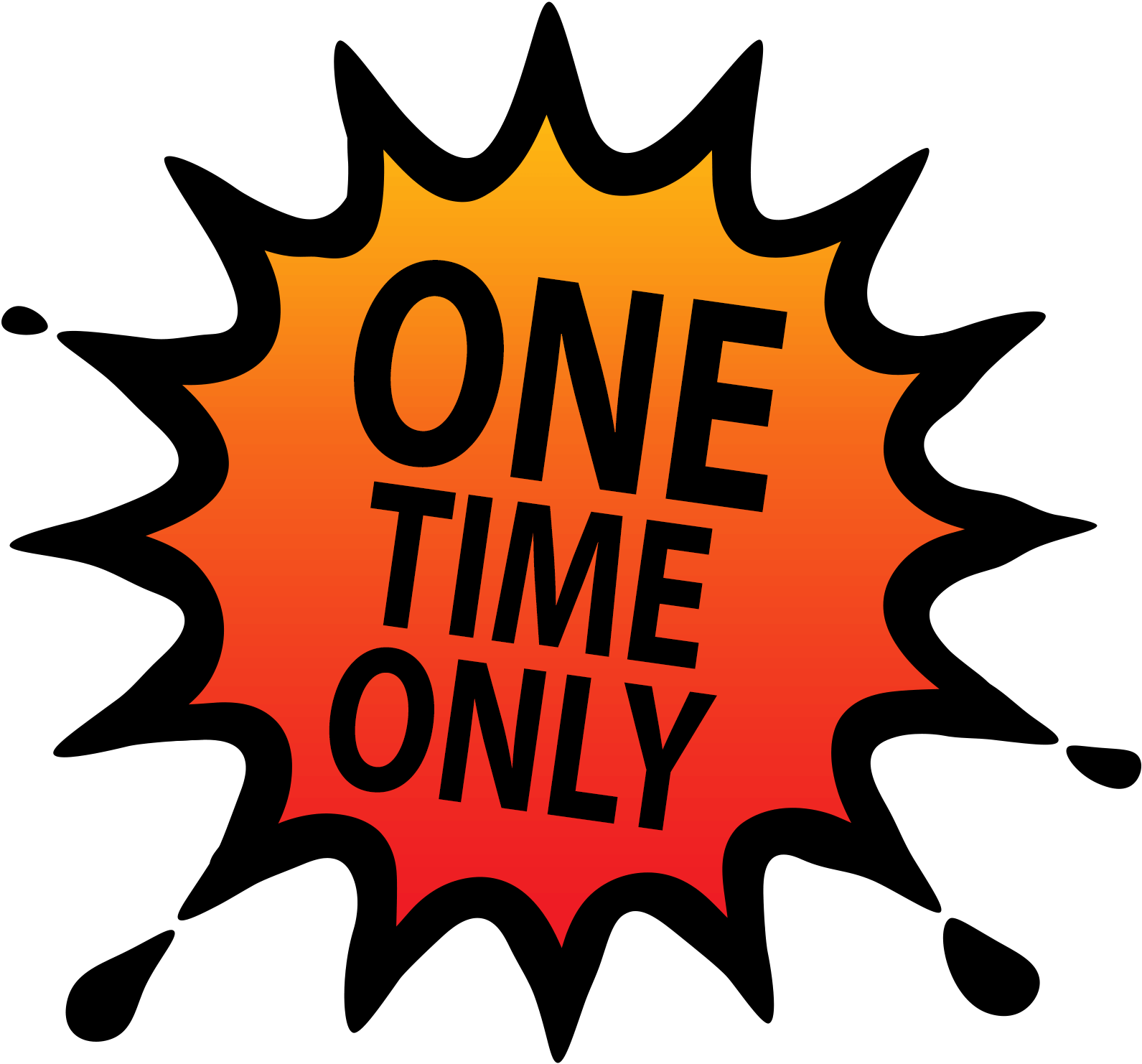 "Hundreds of guitar teachers around the United States have given up because they either didn't know or didn't do the right things at the right time. Implement what you learn at this event so you are never like them!"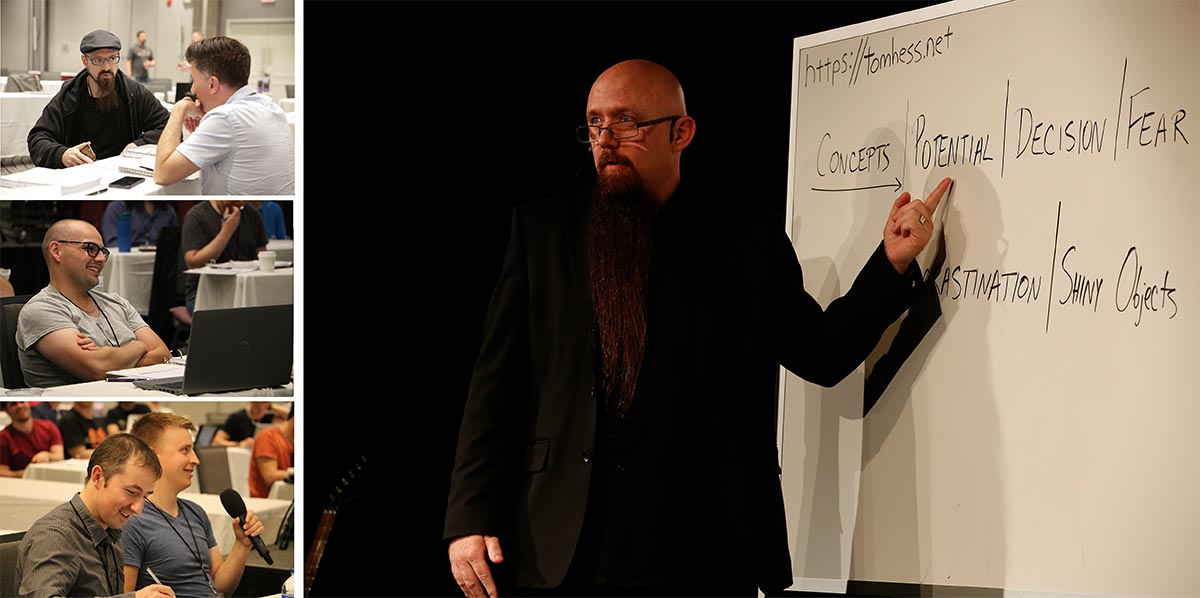 In Fact, Here's Just The Tip of The Iceberg of What You Get...
You discover exactly how to get the MOST money from your teaching business in today's market.


You skip past all the busy work, tinkering and inefficient nonsense that stops most guitar teachers (even in EGTIC).


You'll know exactly what to do and we'll do some of it right here, together.


You get the tools to cram more money in your pocket, more confidence in your mind and feel a big load of stress-relief in your gut.


You get the much-needed answers to your most crucial questions.


You are going to work out your specific guitar teaching business problems, uncover your overlooked, underestimated & underappreciated opportunities, and discuss your challenges so that you get the solutions you need to overcome them.


Plus, you get to pick my brain for 3 whole days as we go deep into your business, and together find solutions to your problems, remove your obstacles and enable you to fully reach your music teaching business goals!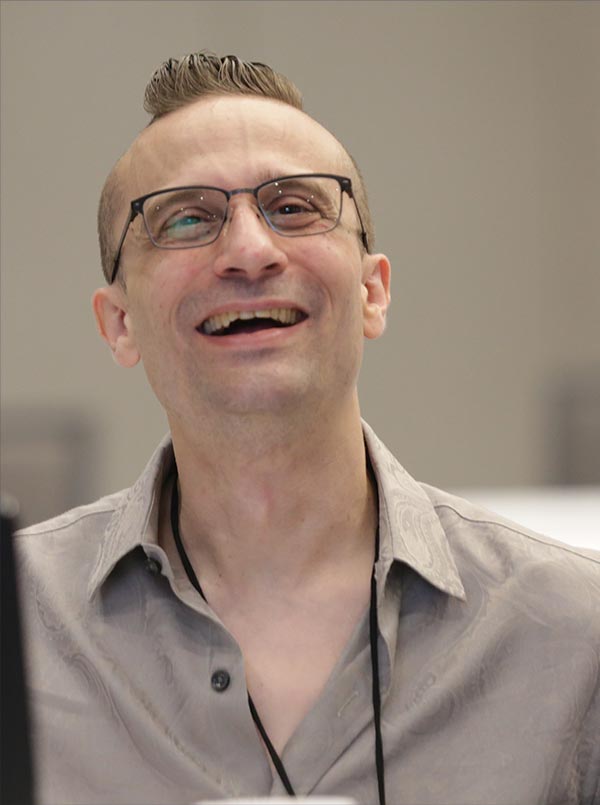 Thanks for helping me build a better business and life! And thanks for helping me give my students the best guitar lessons!
- Jeff Wiggins, USA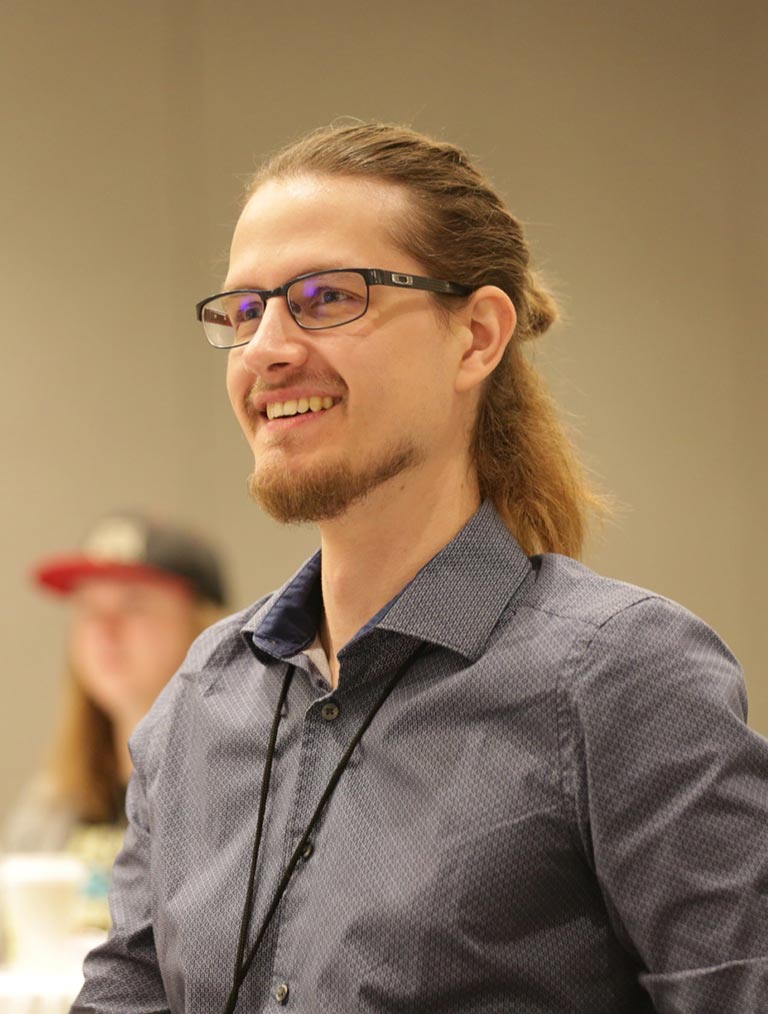 I attend the events regularly because of the immense value I get here - knowledge from some of the best teaches in the world; a whole lot of concepts and principles to apply to my teaching. Most importantly, the motivation to build the life I want to live. Thank you THMC for changing my life for the better. See you next year!
- Janez Janezic, Slovenia
When you have these crucial pieces in place and your business runs more smoothly, profitably and with less stress, think about all the extra money you'll have left over to put into vacations, your music career, family or whatever else you wish to do.
So Here's The Bottom Line With Guitar Teaching Business Growth Summit: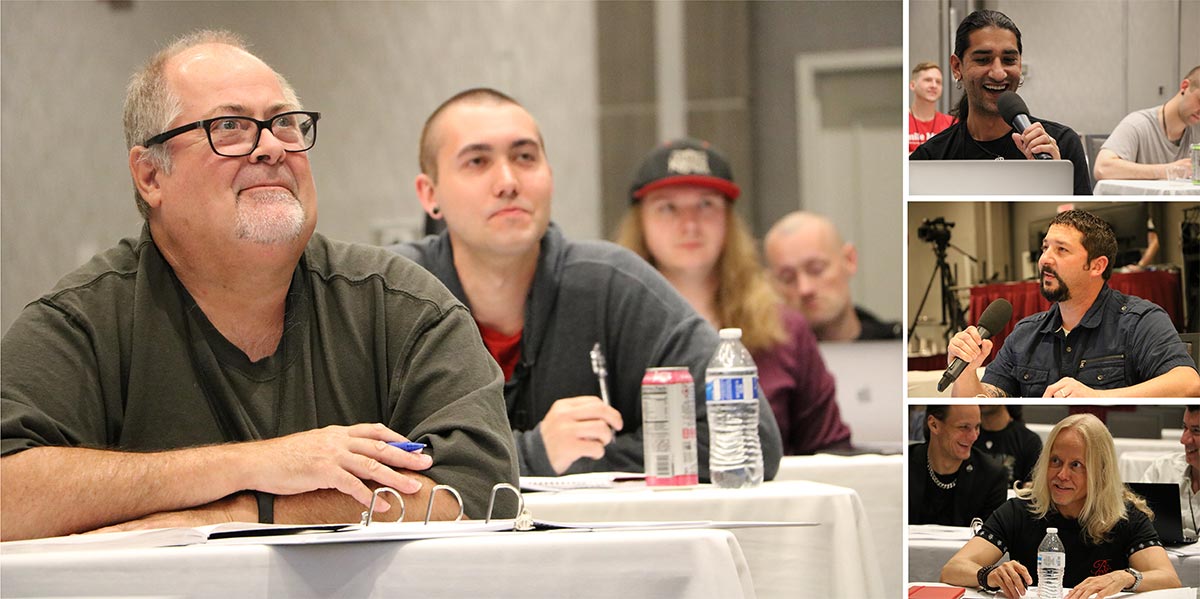 This special, one-time-only event is not about getting to "the next level".

It's about catapulting you to the next 10 levels.

It's not simply about learning new strategies and tactics that are proven to work, it's about getting them implemented in your business.

Because great ideas are worthless if they are not put into action and making money for you – that's what this event is about and why you don't want to miss out.
NOTE: Elite Guitar Teachers Inner Circle Platinum Membership Required: In order to attend the Guitar Teaching Business Growth Summit event, you must be an active member of the Elite Guitar Teachers Inner Circle (not already a member? Get started here).
You get all of this for only $1497...
So go ahead and order your ticket right now and you'll be on your way to enjoying the life you deserve!


Yes! Tom Hess, I want to get in.
Please enroll me in your upcoming

Guitar Teaching Business Growth Summit

June 10-12, 2024
In Crystal Lake, Illinois, USA

$1497


To your success
Tom Hess
P.S. - Every minute you wait is another student you miss who will just go to a competitor down the street or around the corner. Take action now and get your business to GROW.