Attention - Guitar Teachers!!!
Are You Wasting Your Valuable Time Searching The Web For Chord And Scale Diagrams For Your Lesson Plans or Articles?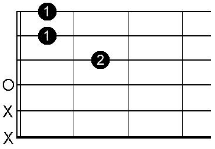 Dmin7 Chord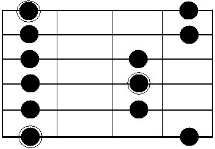 Minor Pentatonic Scale
One of the biggest challenges facing new guitar teachers is in building a repertoire of quality lesson plans to hand out to their students. The major obstacle in doing so is the amount of time required to develop a library of high quality scale and chord diagram images.
Many guitar teachers start out wasting countless hours trying to find usable images on internet sites, only to be disappointed by low resolution images and/ or branded/ copyrighted materials. This can be frustrating!
While there are several good programs available to create notation and tablature, there are very few available for creating high quality, high resolution chord and scale diagrams, and if you find one, you still will likely have to invest hours of your time creating diagrams yourself.
The Guitar Teacher's Toolkit is an affordable, easy-to-use solution to the issues faced by many guitar teachers.


The Guitar Teacher's Toolkit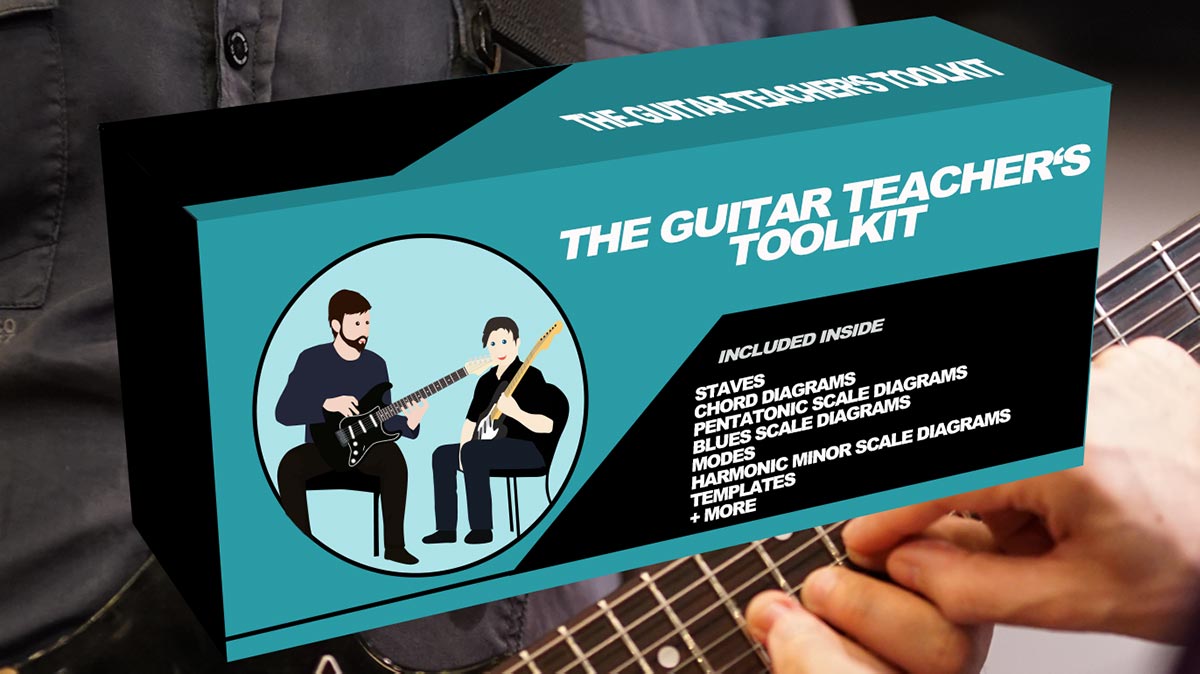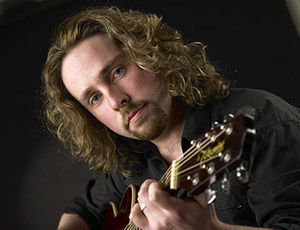 "Time is a very valuable thing when you are a professional teacher running your own business, or especially if you are a part-time teacher who has to contend with a day job as well.
Tom and Paul understand this fact and have provided a very reasonably priced product, which will allow you to create your lesson plans much quicker, and look much more professional."
Trevor Darmody (Ireland)
How Much Is Your Time Worth?
Calculate the amount of time you waste searching the web for diagrams and then multiply that by your hourly teaching rate. How much money are you losing?


Benefits of Using The Guitar Teacher's Toolkit:
Save Time: No more scouring the internet hoping to find usable diagrams.

Pre-made Diagrams: the Guitar Teacher's Toolkit includes high quality diagrams (in JPEG format) for the most widely used chords and scales.

Easy To Use: Simply import included images into Word documents and resize as needed (instructions included) to create your own custom lesson plans.

Create Custom Diagrams: Photoshop template (and instructions) included to easily create your own custom chord diagrams.

No Copyrights or Branding on Images: Pay once and you have full ownership to use the images as you please for your lessons plans, articles, etc.

Consistency:- Your materials will have a clean, consistent, professional look.

Over 100 Items Included ...
Staves:



(1) Blank guitar tab staff image
(1) Word Doc w/ 8 guitar tab staves and footer for your info
(1) Blank guitar standard notation and tab staff image
(1) Word Doc w/ 5 guitar standard notation and tab staves
(1) Blank bass tab staff image
(1) Word Doc w/ 8 bass tab staves and footer for your info


Chord Diagrams:



(1) Photoshop Chord Template
(3) chord templates
(34) commonly used open chord diagrams (maj, maj7, min, min7, dominant)
(5) root 6 barre chord diagrams (maj, maj7, min, min7, dominant)
(6) root 5 barre chord diagrams (maj, maj7, min, min7, dominant)
(2) diminished 7th chord diagrams
(2) augmented chord diagrams


Pentatonic Scale Diagrams:



(5) minor Pentatonic Shapes w/ circled roots
(5) Major Pentatonics w/ circled roots
(2) diagonal pentatonic scale diagrams


Blues Scale Diagrams:



(5) blues scale shapes
(2) diagonal blues scale diagrams


Modes:



(7) modes - standard shapes
(7) modes - 3 note-per-string


Harmonic Minor Scale Diagrams:



(2) harmonic minor scale diagrams (2 different fingerings)
(1) harmonic minor w/ diminished arpeggio
(1) harmonic minor w/ circled roots and highlighted 7ths
(7) hamonic minor w/ 3-note per string fingerings


Templates:



(1) template to create your own scale diagrams
(3) blank fretboard images (6-fret, 10-fret and 12-fret versions)

Free Bonus: Minor Pentatonic Scale lesson plan to use with your students!!!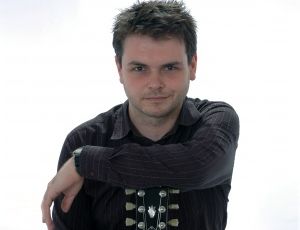 Anyone who cares about creating first class materials for their students will recognize the importance of making materials that are not only presentable, clear and understandable but also consistent with everything else you use.
Working with this package and a program such as Word, it is possible to create entire programs that have a continuous high visual standard. In addition to this, materials can be quickly reproduced on demand without having to resort to second rate hand drawings and scribbles."
Jonathan Vipond, UK
Order The Guitar Teacher's Toolkit Now



Only $19.95

We are confident that you will find the Guitar Teacher's Toolkit to be a huge time saver and great value.


| | |
| --- | --- |
| Tom Hess | |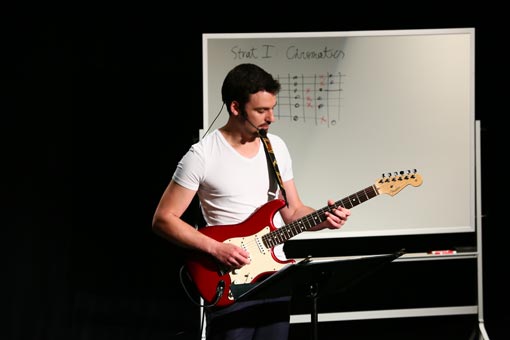 "Since I started teaching I knew I had to have a great software program that would enable me to write out and present various chord and scale diagrams for my students. It wasn't until I learnt about the Guitar Teachers Toolkit that I finally had everything I need to present high-quality looking content for them"
To be honest I was very surprised that this very valuable tool goes out at such a low price.

The results that I got from working with the toolkit are bigger than I could ever imagine. I'm now able to create content for my students in no time. Since it now costs me less time to create materials, I can take on more students or just have more time off.
Antony Reynaert, Guitar Teacher and Professional Musician, Ostende, Belgium
"The guitar teachers toolkit has been a fantastic time saver for me."
When I need to make new lesson materials, I have everything I need at the ready and don't need to waste time searching for it in google. For the one purchase price it was well worth it.
Eoghan O'Neill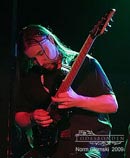 The Guitar Teacher's Toolkit is simply indispensable for guitar teachers. It saves me loads of time creating lesson materials, and it couldn't be easier to use! Thanks Paul and Tom - you guys are life-savers!
Jason Aaron Wood, Washington D.C.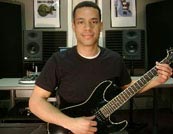 "The guitar teachers toolkit is pretty much everything I needed to make handouts and materials for teaching guitar."
I have used it to add chord and scale diagrams to my materials as well as to create blank tab paper for my students to use. The GTT is great because all the work is basically done for you - all the chords and scales are there ready to go. All I had to do was drop it in my document. I can honestly say it sped up my workflow and enhanced the appearance and quality of the materials I give to my students.
Jared Priest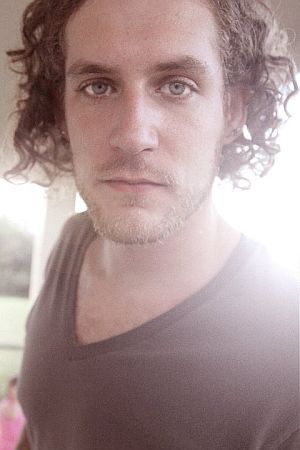 The Guitar Teachers Toolkit is simple to use. It really gives you what you need to start putting lessons together. The potential with what you can do with it is huge.
Ryan Duke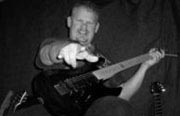 "Starting a business of any kind can be a scary deal. Purchasing the Guitar Teacher's Toolkit was one of the best decisions I ever made in starting my own Guitar Teaching Business."
Tom and Paul have really came up with a great Toolkit for us teachers. Not only does it save you valuable time from not having to search the internet for scales and chord diagrams but the Toolkit allows you to create and customize your own diagrams. I highly recommend the Guitar Teacher's Toolkit. It is a must have for any guitar teacher who cares about giving your students the very best!
Wes Davis

"Guitar teachers toolkit is an invaluable, time-saving er.....toolkit!"
I'd be surprised to learn of another guitar teacher that thought otherwise! Being a bit of a computer numpty I had editing issues but have to say, when asking for help, the response was prompt and solved the problem instantly. Many thanks indeed!
Richard Silvester

"If you're looking for chord and scales diagrams to illustrate your lessons, don't go and waste your time trying to find inappropriate diagrams on the internet (as I used to do in the past)."
I've been using the Guitar Teacher Toolkit for a couple of years now and was able to make my own library of lessons, copying and pasting the different diagrams from the toolkit, and this with no efforts. The Guitar Teacher's Toolkit will definitely save you time and hassle!
Patrice Revel, Guitar Teacher in Dublin, Ireland