The Ultimate Cheat Sheet To Troubleshoot ANY Guitar Technique Problem
Whatever guitar technique problem you may sometimes struggle with, this ultimate cheat sheet will show you how to troubleshoot the problem so that you can get back to having fun playing guitar!
Improving your guitar playing just got easier. Simply answer the easy troubleshooting questions and get the exact solution you need to play guitar better.
No more guesswork. No more wasted time. No more frustration.
Download the ultimate cheat sheet today to troubleshoot your guitar technique problems. Now you can: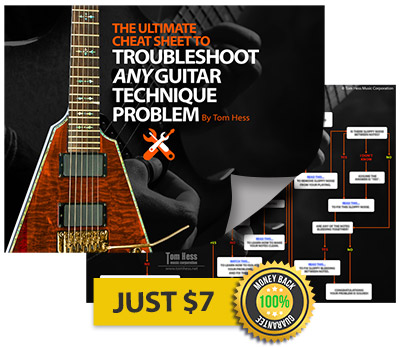 Find a solution to any guitar technique challenge in just minutes.
Learn what to focus on when you practice guitar to make your playing sound exactly the way you want.
Discover 3 reasons why you might struggle to play guitar fast, so you can overcome them and build lighting fast speed. (Hint: none of them have anything to do with moving your hands quickly.)
Eliminate 4 common causes of sloppy guitar technique from your playing forever.
Learn how to make your guitar technique feel effortless, so you can play fast and clean for a long time without becoming tired.
Discover the best metronome practice strategies to track your progress and improve your guitar speed.
Understand the best way to focus on your guitar technique problems and fix them with laser-like precision.
The cheat sheet is available for instant download on my website, so you can access it right away (nothing is shipped).
Don't you just want to be done with all the guesswork, frustration and struggle of improving your guitar technique? You can be done today. With this guitar technique cheat sheet, you'll never have to guess again.
Download your cheat sheet to troubleshoot your guitar technique problems right now for only $7 and stop struggling to play guitar the way you want.

P.S. Naturally talented guitarists follow this troubleshooting process instinctively to improve their technique a lot faster than everyone else. You can learn to use the same process they use!
Click here to get started
.
"I decided to take Breakthrough Guitar Lessons with Tom Hess, because unlike anything else online, or unlike a book, he actually creates a unique lesson plan to address my specific problems." - Chris Hirsch, USA