The 21 Things You Better Know About How To Teach Guitar Before You Ever Teach Guitar Again
94% of guitar teachers in the United States have not even read a book on how to teach guitar.
95% of all electric guitar teachers in the USA have no formal training, coaching or mentoring on the subject of how to teach guitar!
96% of all electric guitar teachers in the USA report that they have not reached their financial goals as guitar teachers.
….and now you know why a small percentage of guitar teachers are experts and totally dominate the competing guitar teachers in their city/local area. The proactive guitar teachers who seek out coaching are the teachers who are typically in demand. The other 95% of guitar teachers without training often struggle with different areas of their guitar teaching and their overall guitar teaching business, often just barely making enough money to make ends meet.
Fact is, getting trained on how to teach guitar is not only in your own best interest, but it is also your very first ethical responsibility to your students to be the best teacher you can be. You sure don't want to be one of the losers who advertise oneself as a real 'guitar teacher' who takes money from students but isn't qualified to really be teaching anyone.
So, there are two main things you need to learn next:
1. You need to learn many things that you probably don't yet know so that you can quickly become a much more effective guitar teacher, help your students progress faster, and ultimately earn more money.
2. You need to 'unlearn' many common but ineffective, sloppy or just downright wrong ways of teaching guitar. Sadly, most guitar teachers teaching in the ways of 'conventional wisdom' get very poor results. You already know this, simply think about all the students the common guitar teacher has taught… but those same students STILL cannot play guitar well! Sure, some students don't put in the time and effort required to improve, but many do and yet their progress is not very good. One can only blame the teacher's failed conventional wisdom methods for these lame results, frustration and a collection of guitar students who never make it to the advanced levels.
Before becoming the leading guitar teacher on the internet I invested nearly two decades teaching tens of thousands of guitar lessons in music schools and in an Illinois college - developing, testing and refining the very best guitar teaching methods and practices. Since 2006 I've been coaching, training and mentoring guitar teachers from around the world to become not only top guitar teachers, but also to start, grow and run their own highly successful 6-figure income guitar teaching businesses.
Big claim, I know.

So, here are some of the guitar teachers I've helped telling you about their success in their own words:


"The Elite Guitar Teachers Inner Circle program is so valuable because of the amazing material and teaching ideas Tom introduces. This program is truly one of a kind. It teaches you how to teach, but more importantly how to run a 6 figure guitar teaching business. If you want to have total freedom and enjoy every second of your actual day job, meet amazing people and have a blast, this program is for you."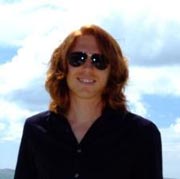 I quit my day job only 3 months after joining the EGTIC, and I already earn twice as much teaching guitar and working 16 hours per week as I did in a 45 hour week as a candidate attorney and this will soon be much higher.
I am truly grateful for Tom sharing this information with us, but even more so that he awakens the giant within you to believe that you too can be a full time music teacher. Now I have the time to also pursue a full time music career and get the satisfaction of teaching other students.
George Engelbrecht
Vredenburg, South Africa

For years guitar teachers have asked me specific questions about how to teach this, or how to teach that. So I decided to develop an eCourse for guitar teachers like you to get the answers to these (and other) questions answered in detail so that you get the insights, knowledge and training that you need to become a great guitar teacher who can attract more students, teach them better, keep them longer and make a lot more money in the process.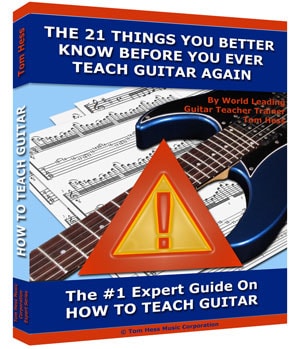 Here Is What You Will Learn In This eCourse:
How and what to teach intermediate guitar students. Many guitar teachers look for one specific method to teach their intermediate guitar students. This is the exact WRONG approach to teaching intermediate students. Learn how to do it right, so your students don't quit on you.

How and what to teach beginning guitar students. Beginning guitar students are BY FAR the most difficult type of student to teach correctly and effectively. Fact is, average guitar teachers (you know, the ones who have no real training teaching guitar, but think they know it all) lose most of their beginner students within the first few months of lessons because those teachers simply do NOT know how to teach beginners correctly.

How to balance giving guitar students what they want with giving them what they need. You must learn to do both at the same time. The trick is to understand how to do that for each specific student type. A one-size-fits-all approach will definitely not work here. Learn to get this right and you'll have a lot of very talented, happy and loyal students for a very long time.

What you should do if you don't know what to teach someone. There will be many times when you don't know what you should teach a student next. 'Not knowing' is ok, the problem is that the vast majority of teachers deal with the problem in all the wrong ways - or worse, they don't even try to deal with it and they just 'wing it' because they are too lazy or arrogant to get the training they need to solve this reoccurring problem once and for all.

If, when and how to start teaching guitar students to read music. There are 3 main things you need to know: 1. If you should teach a particular student to read music notation, 2. When to begin (or continue) to teach this and 3. How to teach it in the best way possible.

How to inspire and motivate your guitar students to practice. You can give your guitar students the best possible lesson materials, you can use the best guitar teaching methods, you can teach your students with the best explanations, demonstrations and guidance, but until and unless you teach, train and coach your students how to practice the guitar, none of the other stuff matters... their improvement as a guitar player will be slow, difficult and frustrating. Learn how to teach, inspire and motivate them to better, longer and more often and your job (and their improvement) will become much easier.
When to teach guitar scales and modes. Obviously teaching scales and modes is very important for the vast majority of guitar students to learn. However, 'when' to teach this in the student's musical development makes a big difference in how well your student will learn to apply and integrate this knowledge with other skills and knowledge he already has (or will have in the future). If you teach this too early or too late, you'll run into problems with many guitar students… timing is important.

How to teach guitar scales and modes. How many times have you heard other people say this cliché: 'scales are boring'? Truth is, scales and modes are absolutely NOT boring, but THE WAY many guitar teachers TEACH scales and modes would even put me to sleep (and I love scales and modes :) Learn how to teach this correctly and you won't be hearing students telling you how boring scales and modes are.

When and how to teach music theory. Some guitar teachers teach music theory too early, others teach it too late. The trick in learning how to teach music theory to guitar players is to not teach music theory in a linear way. Almost all books, classes, courses etc. teach music theory in a linear way and the result is not good for most guitar students (as you already know!!) How many times have you heard guitar students complain that music theory is boring? Now you know why they feel that way. Music theory is actually very interesting, but how and when it's taught will make the difference between guitar students loving it, hating it or feeling indifferent. I'll show you what to do in order to make your students enjoy the process of learning music theory, get them to really understand it and apply it.

When is the best time to teach guitar students to apply what they have learned to real music. Most guitar students learn a bunch of 'stuff' but are never really taught how to apply any of it to real music. Not only should all guitar teachers be focused on helping their students apply what they learn but the timing of 'when' to teach this is of critical importance. I'll show when to do this and how to go about it.

How to teach guitar chords and chord changes. It's not enough to say to a student, "here is a D chord, here's where to put your fingers, go home and practice this every day." That is NOT teaching at all. Yet that's what most guitar teachers do and it's the reason why students take weeks or months to master very simple chords that they should be learning and mastering in a few short days!!! I'll teach you how to teach chords and chord changes the right way for better, faster and easier results.

When to teach improvising. You probably already know that teaching your guitar students to improvise melodies and lead guitar solos is an absolutely critical aspect of teaching guitar to most students. However, most guitar teachers wait way too long before starting to teach improvisation and when they finally do, don't teach it effectively. I will show you what to do to enable your students to become great musicians and have fun improvising.

How to teach improvising. Teaching improvisation well requires a lot more know-how than simply showing students which scales, arpeggios and chords fit together or showing them how to incorporate licks over chord progressions. I'll show you important and little known elements of how to teach improvisation well.

Whether you should teach guitar students in group classes or not. Teaching group classes may sound scary to you if you are just starting out and it even is for more experienced teachers but fact is, there is no reason for you to be nervous about teaching guitar students in group classes. Learn why mediocre guitar teachers falsely think that teaching group classes is worse than private guitar lessons and why they are essential to your success as a guitar teacher and your students' musical development.

How to teach guitar students in group classes. Teaching group classes is one of the most important aspects of teaching guitar because the things that can be learned in a group can never be learned in a private lesson. Most teachers don't know how to teach group guitar classes effectively and struggle to teach people of different skill levels and knowledge levels at the same time in the same class. This leads to teachers either giving up on group classes or only teaching beginner classes, both are enormous mistakes. I'll show you exactly what to do in order to teach any group class to virtually any mixture of students with different skill sets and backgrounds AND how you provide massive value to them all. This alone is worth 10 times the amount money you will invest in this awesome guitar teaching eCourse.

How to help your guitar students progress FASTER. There are 7 primary elements to helping your guitar students progress fast. Most guitar teachers fail to focus on all 7 elements. In addition to learning what these are (and how to use them with your students) you also need to integrate them together. If you know anything about me, then you know I have a great track record in getting huge and lasting results for my guitar students (you can easily verify this yourself by watching and listening to many of my students who are now excellent guitar players. I don't mention this to brag, I do so to impress upon you that I really do know exactly what you need to do in order to get big results for your students.

If you should teach songs or not. A LOT of mediocre guitar teachers focus on teaching their students songs. Fact is, doing so won't help your students to become the guitar players they want to become because they get sidetracked by those specific songs and never truly get enabled to creating their own music etc. Learn how to incorporate songs into your lessons in a way that is not damaging your students' development.

How to teach someone who doesn't 'get it' no matter how many times you review the same thing with them. Not knowing how to deal with a student who simply doesn't seem to "get" something you are teaching them can be one of the most frustrating things any guitar teacher has to deal with. This frustration can push you as far as not wanting to teach this person anymore as well as the student giving up. I will show you how successful guitar teachers deal with this problem so that you can approach such situations in new ways that will help both you and your students finally solve this killer problem.

How to avoid bad habits in your students' guitar playing and how to fix bad habits if your guitar students already have them. Not knowing when to deal with avoiding or breaking students' bad habits is a very common problem that many guitar teachers struggle with. You will learn what to do and WHEN to do it. Hint: Most of the time, fixing all of your student's bad habits is NOT the first thing you should focus on.

Learn about the very best guitar teaching method to use when teaching your guitar students. The traditional 'linear' guitar teaching model you typically see with untrained and struggling guitar teachers is not the model you want to use to teach your guitar students. Your students deserve only the best, I'm sure you agree :) The key to effective and successful guitar teaching is to use the Geometric Guitar Teaching Method™. Your students will love it, learn faster and stay with you longer.

Putting It All Together – Your Blueprint To Success. As you can see, this eCourse covers a lot of topics and strategies that all contribute to getting you on the right path to becoming a great guitar teacher. However, to also build a highly successful guitar teaching business, there are a lot of other aspects besides 'how to teach guitar' that need to be learned and mastered. This is why I decided to give you:

A Very Special Bonus To Help You Build Your Guitar Teaching Business MUCH
Faster And Expedite Your Success:


EXCLUSIVE FREE 45 DAYS PLATINUM MEMBERSHIP OF MY
ELITE GUITAR TEACHERS INNER CIRCLE
(not valid for existing or previous EGTIC members)

Discover Insider Secrets of Successful Guitar Teachers and earn more money working less hours through innovative and powerful teaching models.

Get step by step teaching and business templates that will eliminate trial and error and enable you to easily get started right away using the right strategies, right methods and right ideas.

Find out how to effectively teach guitar and maximize the benefits ALL your guitar students receive from you.

Discover how to keep your students inspired, motivated and engaged in the process of learning from you so that they continue to take lessons from you for years to come.

Earn 3, 4, or even 5 times more money compared to what typical guitar teachers earn.

Learn how to successfully create and teach group classes and rotating formats. Use specific (and proven) group teaching materials, methods and activities (which work even if your students are at different skill levels). The huge results your guitar students will get will make them want to do group classes with you.

You will also get constant feedback about your ideas, problems, challenges and goals on the Elite Guitar Teachers Inner Circle Platinum Member Forum.

Meet and connect with BOTH highly successful teachers and other like-minded people in the process of growing their guitar teaching skills/businesses. This instant support will help you evaluate opportunities, address challenges and help you to keep moving forward.
"Tom's taught me how to really inspire my students, motivate my students and push them to achieve more than I would've been able to on my own. When I first started teaching I failed a couple of times. I even had my own studio before, and messed everything up, and had to go back to a regular job. And then, you know I was looking on the internet and I found Tom. And I decided to join because I was looking for a mentor who could help me achieve a teaching business that really supported the life that I wanted."
Since joining the Elite Guitar Teachers Inner Circle, my guitar teaching skills have dramatically improved. My guitar teaching business went from complete crap to extremely well-off. Not only did it create a paradigm shift in my mind, you know it gave me every step I needed to for every problem I had. Every little frustration, anything from the financial side of things, to the marketing side, it gave me exactly what I needed to know… and from this, it's just helped me get through every road block that I could've possibly come up against with ease, I didn't even have to struggle.
This program has made a massive impact on my life. I went from barely making any money, in debt… you know struggling to get by to earning well over 6-figures and actually now into double 6-figures. It's really made a huge difference on the quality of life. You know, instead of struggling and being scared of how to pay the bills every month to having so much more money each month than the average person makes in a year.
Literally Tom delivers to you so much value in this program that the amount of money you'd invest in the first month would be made back almost immediately. If you put in the effort and take action on what he tells you to do, within the first month you'll definitely already make your money back. Within the first couple months I gained 30 students from this program… so it way exceeded my expectation.
It's really inspiring to be in this program with other teachers who are also trying to accomplish the same goals. It really helps in the fact that you can talk to other people who are trying to do the same things as you, that are business-minded and are going through the same things that you are and you can actually talk to them, and use each other to figure out solutions to the problems you run into as a music teacher. It's you know, extremely motivating because you'll be more inspired to grow your business because you'll be with other people who are trying to do the same thing and you'll want to live up to that expectation too.
Jacob Melling, Richland, Washington
"Tom Hess has changed my life. He has helped me teach my guitar students better, and helping me get over the fact that I don't need tons and tons of material to teach… I need concepts, and I need to teach the student rather than teaching a class. I would say that that is the single most important thing."
Honestly, I wasn't seeking help, it came to me. A friend of mine sent me this sweep picking video of Tom, he was like check out this guy he is crazy good. I was like wow this is really good, and at the bottom of the YouTube video it said do you want to make 6-figures a year teaching guitar, I said yes, so I clicked. I didn't think it was possible to have a full time teaching business, so it had never occurred to me until that point and then I made the decision that that was going to be my career.
I sent an email to a few people who had testimonials on Tom's sales page, and one of them emailed me back and said he was a 6 week paid vacation from teaching on the beach in the south of France, and that I needed to sign up right away.
My confidence level in teaching has gone way up. Also I can teach groups now, I only taught private lessons at first and Tom showed the benefits and the value of actually teaching in groups, and how it is more effective than teaching in private lessons, and that alone has made a huge difference in my business.
Let's talk about how Tom Hess is making me rich. When I started out, I was making like 10 -20 thousand dollars a year teaching. And now, not only is my business running much better than it was… there's a lot of work to do, it's running a lot better than it was… but now, I'm in the 6-figure club. I set a goal when I joined the Elite Guitar Teachers Inner Circle to make $100,000 a year, and Tom Hess helped me get there. And now, we're on the way to the 7-figure mark, and I have no doubt that he will make it happen. I mean, I have to obviously do the work, but he will help me make it happen.
My life has more flexibility now because of the Elite Guitar Teachers Inner Circle. I have more money to be able to do things that I need to do for the business, and for the family. If you have $200, or if you don't, sell your car, and invest the $200 and you will make it back. If you do everything… for me what happened is I said "alright we'll give Tom Hess one month and we'll see if he can really help me", and within that month I already had made my money back.
The forum is amazing value. To not be in the Platinum group and not have access to the forum is the craziest thing I've ever heard. Because the forum is such a valuable support system of people where you provide value and you receive value from others, we help each other work through questions and a lot of the times we don't even need Tom to help us solve our issues. Granted, there are times when we do, but on the forum a lot of those things can get solved so that when we do have our phone calls with him we don't have to focus on those minute details, we can focus on the big picture.
Sometimes just working through my frustrations with my students or the way my business is running, I'll get on the forum and post that question or frustration, and immediately get 10 responses that say I've been there, I know exactly how you feel, and I'm like ok, I'm not crazy. You know, everybody can relate to me.
Tom Hess has changed my life.
Eric Bourassa, Ft.Worth, Texas, USA
Stop struggling and begin investing in yourself so that you can become a great guitar teacher, attract more students, keep them learning longer and help them get the big results they are paying you for! You don't want to be one of those guitar teachers that squirms every time somebody asks you what 'guitar teaching' qualifications you have. When someone asks you how you learned to 'teach guitar' do you really want to have to look that person in the eye and say, "I have no guitar teacher training, I was too lazy to invest a few dollars to get it. So instead, I simply take student's money and 'wing it' even though I don't know the best ways to teach guitar".


"I had 4 students when I started out 7 years ago in my teaching business. It really improved rapidly. In the first year, I got to 100 students. 7 years later we have hundreds of students and 3 locations."
We have a team of 14 different teachers working for us and it's just been the nicest thing ever cause I never have to work a day of my life. I can do pretty much anything that I want ... and I just love my job so the Elite Guitar Teachers Inner Circle pretty much helped me developing that. I couldn't imagine being anywhere near the level of success that I am riding on without the program.
When I first started teaching guitar, I was 22 years old and didn't really knew what I was doing. So I was member of the Music Careers Mentoring Program with Tom Hess. And I figured if I want to have a music career, I might as well learn to coach students and create students… I was teaching anyway, I had 4 students at the time. So I had to find a way to really step up my game and I couldn't really afford to not look into the program, so that made me realize that it's like a one-time opportunity. I've been here in the Elite Guitar Teachers Inner Circle for 7 years now, and it's been steady progress and the learning curve is excellent, the support and the people on the forum is worth the entire investment in the program, and I'm really content about the progress I've made so far.
I think Tom Hess is the number one in the area of teaching businesses as far as the whole online courses go. I've never really checked out other resources on this topic. I have read a couple of articles written by other guys, but if I guess if you don't have built your own business to the point that you can be really successful at teaching, there's no point at teaching others. And that's what separates Tom Hess from all his competitors. He's doing it. He has build a massive amount of presence on the internet. So I think that is what most people are drawn to. He doesn't only talk about it, he does it. So that's why for me, there's like no one else that comes close in the area of coaching you on the teaching business.
My life really looks awesome right now, so couldn't be any happier. Me and my fiancée just travel whenever we want, we do whatever we want, like that's a big part of why I decided to join the program because I didn't want to have shitty day job. And I just wanted to build my own lifestyle and we did ever since.
Antony Reynaert, Ostend, Belgium
| | |
| --- | --- |
| Tom Hess | |
P.S. Remember, you also get an EXCLUSIVE FREE 45 DAYS PLATINUM MEMBERSHIP OF MY ELITE GUITAR TEACHERS INNER CIRCLE!