How To Consistently Break Through Guitar Speed Barriers, So That You Can Finally Play Without So Many Limitations - Even If You Won't Practice Any More Than You Do Right Now - GUARANTEED!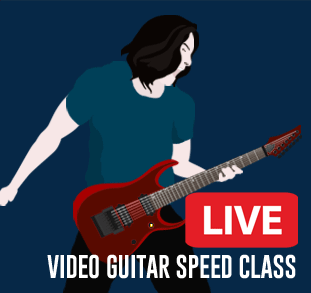 By submitting your info, you agree to send it to Tom Hess Music Corporation who will process and use it according to their privacy policy.
Join us for a free live video guitar class on Saturday, August 8 at 10:00 am, Central Daylight Time (Chicago time).
You learn:
Why the traditional way of practicing to build guitar speed doesn't work well – if it did, millions of people would be able to play lightning fast by now. I'll show you exactly why this doesn't work and what DOES work every single time instead.

The one thing that kills your guitar speed improvement that you must eradicate immediately because it costs you years of wasted practice time.

Why copying what many famous guitar players say is a dream-crusher and causes so many people to give up in frustration. You don't need a "10-hour guitar workout" that you'll likely never use (who has 10 hours per day to practice? I sure don't. How about you?). What you need is something you can actually use that builds your guitar speed in ONE hour or less… not 8, 9 or 10. :)

The #1 missing piece from your guitar practice that will leapfrog you over your guitar playing friends. How do I know it's missing in your practice? Well… I don't know for sure, but to date, it's been missing in every student I've ever taught until I taught it to them. Almost everyone misses this, and nobody talks about it, but it's a big key to you unlocking the doors to massive guitar speed. (This principle is shockingly simple but only the bravest of the brave will ever use it. See if that's you when you tune in.)

And much, much more.
Who is this for?:
Electric & acoustic guitar players from anywhere in the world.
All skill levels (except total beginners).
All musical styles.
What you need to bring to the class:
Your guitar
Paper and pens to take notes
an amplifier is optional
Technical requirements: Webcam or smartphone
Reserve your spot on this live video guitar class below. NOTE: There are limited spots available, so do it right now.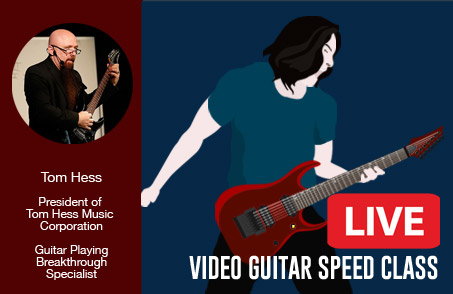 By submitting your info, you agree to send it to Tom Hess Music Corporation who will process and use it according to their privacy policy.
Tom Hess Music Corporation is not in any way affiliated with Facebook Inc.