Grab This Free Music Business eGuide By Music Career Breakthrough Specialist Tom Hess & Discover:
An Easy Way To Stand Out In The Music Industry… Even If You're Just Starting Out & Nobody Knows Who You Are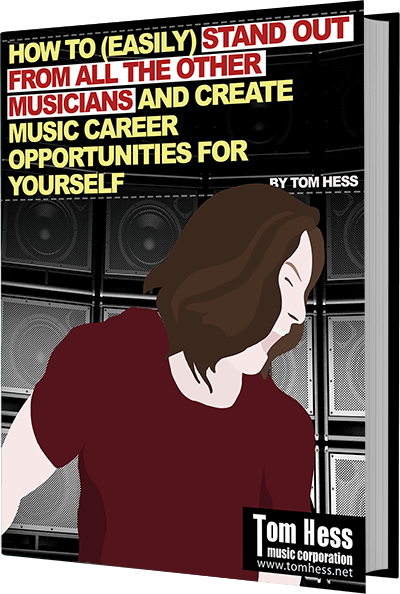 By submitting your info, you agree to send it to Tom Hess Music Corporation who will process and use it according to their privacy policy.
As crazy as it sounds…
… This little-known music career secret gives you a borderline-unfair advantage over other musicians who are trying to break into the music industry and build a music career, even if
you are not the best player on your instrument…

you're not the greatest songwriter in your style

there is nothing unique or special about your look or sound
And the reason why this secret helps you stand out in the music industry is because it enables you to solve
The #1 Problem ALL Bands, Record Companies, Managers, Booking Agents Are Desperate To Solve.
When you solve that problem, it's almost impossible for them to even *think* about working with anyone else who is trying to break into the music industry.
This free music career eGuide shows you exactly what that #1 problem is and how to (easily) solve it.
When you do, you increase your chances of becoming successful in the music business and building a thriving music career.
This eGuide on how to stand out in the music industry also shows you:
The exact "Weight-Puller" music career strategy I've used to get a record deal, tour the world (multiple times) and join every band I've ever wanted to play in. (Dozens of musicians I've mentored also used it to do the same.)

5 musicians to "model" if you want to become the hero in the eyes of record companies, booking agents or any band you want to join.

How music industry gatekeepers can tell if you're an amateur or a pro without ever hearing you play your instrument.

2 "power words" to say when you want to get attention from key people in the music industry. Of course, it's up to you to deliver on the premise of these 2 words. But when you say them in the context I teach in the eGuide, it becomes hard to ignore you, even if you've done nothing in the music industry and have ZERO credentials.
The music career eGuide: "How To (Easily) Stand Out From All The Other Musicians And Create Music Career Opportunities For Yourself" is available for instant download on my website, so you can access it right away (nothing is shipped).
To learn (for free) how to jump start your career in the music industry, enter your name and email address and click the 'Give Me Access Now' button.
All information is kept 100% private and confidential.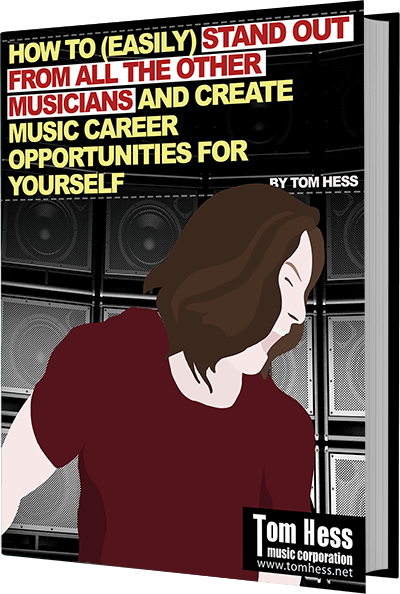 Enter Your Name And Email To Get Access:
By submitting your info, you agree to send it to Tom Hess Music Corporation who will process and use it according to their privacy policy.