Do THIS And You'll Get A Lot More Guitar Students

Free eBook
By submitting your info, you agree to send it to Tom Hess Music Corporation who will process and use it according to their privacy policy.
How effective are you at getting guitar students? If you aren't getting at least 5-10 new students per week, you are not doing as well as you could and should be. Does it seem unrealistic to get this many students every week? It's not - the top guitar teachers I train get this many (or more) students in an average week. (If you cannot take on that many students, then something is wrong with your teaching model – for example, you only teach private lessons)

Good news: if you aren't getting a lot of new students right now, the problem is not with you, your location, or your guitar teaching experience. Attracting lots of new guitar students really is very simple. Knowing what to do and how to do it is all it takes.
Here is what you need to know:
The 5 most common reasons why you are not getting at least 5-10 new students per week (#4 will shock you!)

Simple (and super effective) conversion methods for turning people who contact you into actual guitar students

The best way to follow up with potential guitar students. This method can bring you as much as 9 times more new guitar students. (it's so simple, it will blow your mind)

Exactly how much to charge for your lessons to make sure you always attract the most serious and most motivated students

The 3 most important questions you must ask all guitar students who contact you. These questions will increase the demand for your lessons

What potential guitar students really want from you (it's not at all what you think) and how to easily give it to them - making them hungry to learn from you immediately

Why some guitar students are much more valuable to you than others and how to make those valuable students seek you out
If you are tired of struggling to fill your guitar teaching schedule and instead want a waiting list a mile long of people wanting to pay you for lessons, then enter your name and email, and click the 'Give Me Access Now' button. All information is kept 100% private and confidential.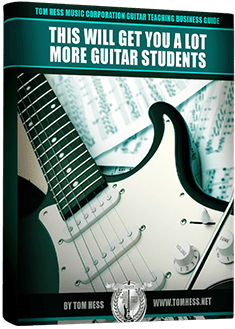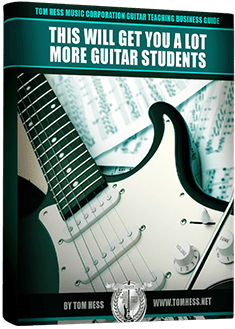 LEARN HOW TO ATTRACT A LOT OF
NEW GUITAR STUDENTS
ENTER YOUR NAME AND EMAIL TO GET ACCESS
By submitting your info, you agree to send it to Tom Hess Music Corporation who will process and use it according to their privacy policy.