[Video Guide] – Combine Sweep Picking And Tapping On Guitar
By Tom Hess
---
Play Guitar 10% Faster
In One Day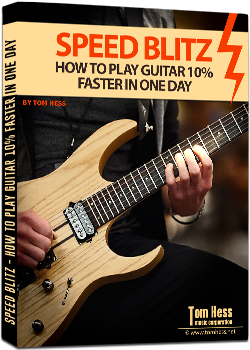 ENTER YOUR NAME AND
EMAIL TO GET ACCESS
FREE EGUIDE
By submitting your info, you agree to send it to Tom Hess Music Corporation who will process and use it according to their privacy policy.
If you like sweep picking and 2-hand tapping...
... this might be the most exciting page you'll read today.
Here is why:
I'm going to show you how to move beyond playing sweep picking & tapping in isolation…
… and combine them to create your own fun sweep tapping licks.
Play Guitar 10% Faster
In One Day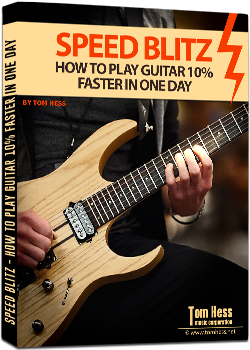 ENTER YOUR NAME AND
EMAIL TO GET ACCESS
FREE EGUIDE
By submitting your info, you agree to send it to Tom Hess Music Corporation who will process and use it according to their privacy policy.
Best part?
Learning sweep tapping isn't hard.
It doesn't take a long time either.
Simply follow the 4 steps I show you and you'll be on your way.
Let's get into it:
To begin, watch this video that shows you 4 simple things you need to do sweep tapping well.
(Then use them in your next guitar practice session to make your arpeggios sound better.)

Ok, now that you've learned the basics, what's next?
Check out these tips on how to master sweep tapping more quickly and make it a permanent part of your guitar playing:


Sweep Tapping Tip #1: Avoid "Distorting" The Rhythm
What is rhythm distortion?
It's where you take an arpeggio that ought to be played in 16th notes (or triplets)…
…and play the hammer ons, pull offs (and tapped notes) much faster than the other notes.
There are 2 problems with this:
1. It makes your playing sound bad.
2. It's nearly impossible to speed up arpeggio licks where you play some notes faster than others.
Good news is: this is very easy to fix.
Simply practice with a metronome and focus on making all notes last the same length (including hammer ons, pull offs and tapped notes).
Watch this video to see how:

Sweep Tapping tip #2: Use Speed Bursts
If I only had one way to practice for speed for the rest of my life – this would be it.
Speed bursts help you quickly break through your speed plateaus (often in 1 practice session) without doing boring slow practice.
The downside? You need to have attention to detail.
See what I mean in this speed bursts tutorial:

Note: speed bursts work amazingly well for all techniques (from rhythm guitar to legato, to scale sequences and of course… sweep picking and sweep tapping).
Sweep Tapping Tip #3: "Snipe" Your Mistakes
What are the hardest guitar playing mistakes to fix? Answer:
The ones that happen near your top speeds and disappear when you slow down.
This means you need to practice kind of fast to even have a chance at removing these mistakes from your playing.
But fear not:
There is a way to "snipe" such mistakes one by one (and train your ear in the process).
Here is how: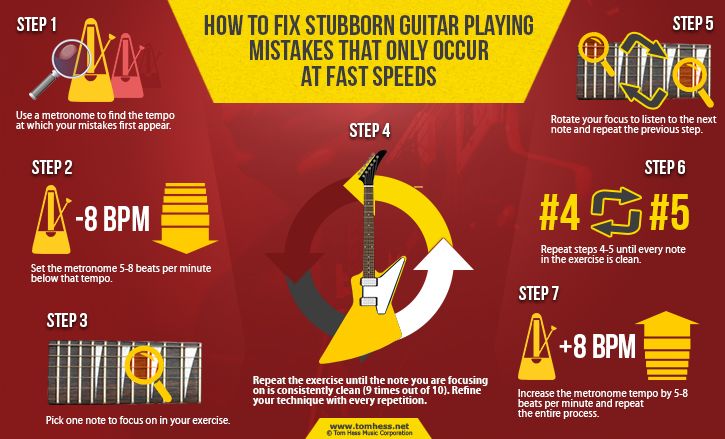 Sweep Tapping Tip #4: Integrate Sweep Tapping With Other Techniques
Integration is one of the pillars of guitar mastery.
When you learn a new technique, practice combining (integrating) it with all your other skills.
The sooner you do this, the faster it becomes truly usable in your playing.
For example, check out this video on how to integrate scales and arpeggios together:

Apply these tips to your guitar playing & practicing, you'll feel yourself improving almost every time you pick up your guitar.
Want to get a 10% boost in your guitar speed by tomorrow? Check out this guitar speed eGuide and discover a simple (but not obvious) practice method I (and my students) use to bust through any speed plateau.
---

About Tom Hess: Tom Hess is a guitar teacher, music career mentor and guitar teacher trainer. He teaches rock guitar lessons online to students from all over the world and conducts instructional live guitar training events attended by musicians from over 50 countries.
Make a breakthrough in your guitar playing by taking
Guitar Lessons Online
.