Attention Frustrated Guitar Players...
Think All Guitar Lessons (Online or Offline) Are The Same? They Are Not. Lame Ass Guitar Teachers Almost Made Me Quit...
You Can Only Go So Far On B.S.
How To Transform Your Guitar Playing Into Totally Freaking Awesome, Top-Level Guitar Playing... Even If Your Guitar Skills Kind Of Suck Right Now
Have you practiced countless hours and still can't play guitar the way you want? Do you have to fight really hard just to make tiny (and slow) improvements because nothing comes easy when trying to master new things on the guitar? Are you disappointed that you are still not the advanced guitar player you hoped, expected and should be by now?
It's not your fault. You simply didn't know exactly what to do and how to do things in order to turn this all around.
If you're anything like most struggling guitar players, you often (or at least sometimes) feel like you just don't have enough natural talent, potential or skills to ever be as good as your favorite guitar players... you're wrong...
Everyone (yes, every average, normal or ordinary person) has the potential to become a great player... you do NOT need "natural talent". Why? Because talent is something you learn to have... and if it can be learned, it can be taught... Problem is, most guitar teachers don't know this and have no idea how to teach you to reach your true, untapped and undiscovered potential... Instead, their approach to teaching is to merely teach you "stuff" (scales, chords, techniques, licks... you know... "stuff")
You probably already know this to be true if you've ever tried to learn from typical guitar teachers in your local area, books, videos, free generic internet guitar lessons on YouTube or even when trying to teach yourself... you know that stuff doesn't really work... in fact, it can cause more harm than good in some cases.
That's got to be frustrating!
Hi, I'm Tom Hess
I've been where you are...
In the past, I struggled too at every level of my guitar playing - even once I became an advanced guitar player, I sometimes kind of sucked at certain things.
I wanted to feel confident, excited and good every time I picked up my guitar... but I wasn't. I struggled to learn how to play guitar faster, cleaner and more creatively. For example, I spent years trying to learn how to sweep pick fast and cleanly... It wasn't really working.
I also went almost insane trying to improve my improvisation skills. Back then, I had no way to measure something so abstract like improvising, phrasing, creativity or songwriting so I had no objective way to even know if I was getting any better or not... but it sure felt that I was just spinning my wheels and not really getting anywhere.
... It was as frustrating as trying to pick the fleas off a dog's back while wearing boxing gloves!
At first, I didn't have a teacher and was trying to learn from friends, books, guitar magazines, videos, etc., basically teaching myself. Then I got my first part time job at 14 making $4 per hour just so I could pay for intermediate level guitar lessons (and an amp).
So I had a teacher... I assumed he was a good "teacher" (because he played guitar better than I did). I improved a little, but it was still too slow. As a result, I switched teachers many times and eventually started to notice that some teachers were clearly better at helping me than others... but still progress was slower than I wanted.
So, then one winter, things started to go through the roof... My picking speed more than doubled and more importantly, for the first time, it was totally clean & accurate. But it wasn't just my picking that was better, almost all areas of my guitar playing were improving fast and just continued to improve more and more.
I practiced about one hour per day, 4-6 days per week... and I never had to practice boring exercises, everything I learned and practiced was both challenging & fun... but never boring.
What had happened?

Well, I had finally found an outstanding guitar teacher who was clearly different from all the others. I knew some of his other students and most of them were advancing quickly, so I figured, "This is the teacher for me!". I studied with this guy for several years, followed everything he told me to do (to the letter!), and I was finally becoming the guitar player I always wanted, wished & hoped to be...

25 Years Ago (When I Started Teaching Guitar), I Didn't Really Have A Clue What I Was Doing As A Teacher
In the beginning, I made the same dumb mistake that most guitar teachers make. I assumed that once I became a really good guitar player, I would be qualified to teach guitar to anyone who was not as good as I was... Back then, real training for guitar players who wanted to learn how to teach guitar didn't exist...

I began by learning from other guitar teachers. Problem was, none of them had any real training either... they learned through trial and error – which leads to mediocre results.
So, I found the very best and learned from them but was still not satisfied and began testing everything with thousands of students over many years, developing the very best teaching ideas, concepts, methods, approaches, philosophies, strategies, tactics, etc. along the way.
After years of research, testing, refinement, more testing & bloodied-nose experience, other guitar teachers began begging me to teach this unique expertise to them.
Today, most of the world's top guitar teachers are trained in the Elite Guitar Teachers Inner Circle. There, they are taught, trained and coached to become the very best guitar teachers on earth – light years beyond the average guitar teacher. I created the Elite Guitar Teachers Inner Circle and teach, train, coach and certify those teachers.

Since 2007, I'm the leading & most successful guitar teacher worldwide with a track record that proves it.

"Our mission is to transform ordinary people into outstanding, world-class, top-level guitar players." - Tom Hess

Tom Hess Music Corporation is the world leader in personalized online guitar lessons, teaching thousands of people (one student at time) from more than 100 countries with unparalleled expertise, success and results.

We have been helping guitar students become great guitar players for more than 25 years.

Our unparalleled success has been built upon our core principle of doing whatever it takes to break down every obstacle, overcome any challenge and bust through any wall standing between where students are and where they want and should be...

Our greatest satisfaction comes from seeing students become greater guitar players than they ever thought possible.
I don't say this to impress you, I say it to impress upon you that I know how to get your guitar playing from where it is right now to exactly where you want it to be... and beyond.
3 Big Mistakes 99% Of Guitar Players Make That Stop Them From Becoming An Awesome Guitarist, Becoming A Musical Badass And Feeling Great Every Time You Pick Up The Guitar
Mistake #1: Taking guitar lessons from a typical guitar teacher (either locally or online via

). Most guitar teachers simply are not qualified or certified to be teaching anyone, they have no training and do not consistently produce big results for their students... which leads to the next point; no proof of results. A great teacher will always be able to show you overwhelming proof of results by showing you the skills of his actual students.
...The worst part is not that they aren't qualified nor have any proof of it... no, the worst part is they often (unintentionally) cause damage to their students' development. I see this all the time when their students come to me to help them finally get on the right track.
Those students often have moderate to severe bad habits, massive holes in their knowledge and skills or have simply learned things incorrectly, in the wrong order and cannot even use the disorganized, incomplete, wrong information and skills that they do have... it's often a disaster.
So I've become really, really good at fixing this for students and making them as good (and often better) guitar players than they ever thought possible once they begin taking online guitar lessons with me.
Mistake #2: Teaching yourself: You just read how much frustration, struggle and even damage typical (and unqualified) guitar teachers can cause you. These guys teach local or internet guitar lessons for a living, you probably don't... so that means the unintended damage, bad habits and problems you may cause yourself may very likely actually be worse.
Mistake #3: Learning guitar from free (or cheap) video guitar lessons online. This alone is no way to learn. First, these videos & "lessons" are typically created by the same unqualified and uncertified guitar teachers mentioned above... or worse, they are created by people not even teachers at all!
Second, even if the video lessons for guitar were good (which most aren't), you're still basically teaching yourself without even a hint of a strategy as you try to decide which ones to learn from, which ones to ignore, how to learn from those so called "lessons" by yourself... alone.
Third, even if you were able to resolve the first 2 problems, the biggest problem for you is that these wannabe electric guitar lessons are just "pieces". Pieces will not make you the guitar player you want to be... only the right strategy will. A strategy specifically, uniquely and personally designed for you by an actual expert guitar teacher and someone to keep you on track and hold your hand through the process.
But I've got good news for you...

Imagine How Much Better And Faster Your Guitar Playing Will Become When You Now Learn To Master Guitar From The Authority On How To Transform Ordinary People Into World-Class Guitarists
What if you no longer felt lost, and stopped doubting yourself and your potential to become a great guitar player?
What if you didn't feel like an amateur guitar player anymore?
What if you actually had a personal guitar lessons strategy uniquely created just for you that puts you on the fast track to reach your guitar playing goals?
What if you stopped wasting time practicing things that don't work and focused only on things that repeatedly have been proven to get big results?
What if you stopped wasting time on lessons for guitar that don't work?
What if you actually knew how to practice guitar so that you are 100% sure to make improvement every time you practice?... Believe it or not, just because you are practicing does not necessarily mean you are getting "better" until and unless you know how to practice correctly.
What if you no longer struggled to reach your guitar playing goals, and instead felt confident, excited and motivated by how great you are finally able to play guitar. It's an amazing feeling to be admired by LOTS of people and simply hear yourself play at such a high level.
Now I'm going to take you through the exact same proven & personalized process I've created for hundreds of guitar players to transform them from ordinary to extraordinary players... But I'm not just showing you what to do, I hold your hand through the entire process to make each step easy for you.
The Most Powerful Guitar Lessons Online
· Personal · Coaching · Training ·

Mentoring ·

As you learn guitar with me, you're not simply getting a bunch of cookie-cutter things to practice like you would from everyone & everywhere else. You see, I don't teach "guitar"... I teach YOU!
What does that mean? It means everything we do together is based around you, who you are, what your goals are, what you need, what your challenges are, what your strengths are, what your weaknesses are, what your learning styles are, what your experience is, what your frustrations are, what you are struggling with, what you are already good at and who you want to become.
This is why before we do anything else, you will complete a comprehensive evaluation form so that I learn everything I need to know about you in order to create the best possible personal success strategy for you. This will be the basis for all the online guitar lessons we will do together so that you are sure to reach each and everyone of your guitar playing & musical goals.
Other guitar teachers offering lessons online or offline won't ask you any important questions about 'you' since they have no personalized and customized plan to teach YOU. They teach all students in the same cookie-cutter way, or have no plan at all...!
So after I create a very detailed, specific strategy for you, I hold your hand through the process, coach you and mentor you along the way. This ensures you reach your goals and go far beyond what you ever thought was possible for you.
This is the easiest part of my job. I don't just teach my students guitar. I give them the knowledge, skills, motivation, confidence, guidance, and every other ingredient that they need to become at least as good if not better than they ever imagined they would be.
And through all of this, I have earned my position of the leading guitar teacher worldwide.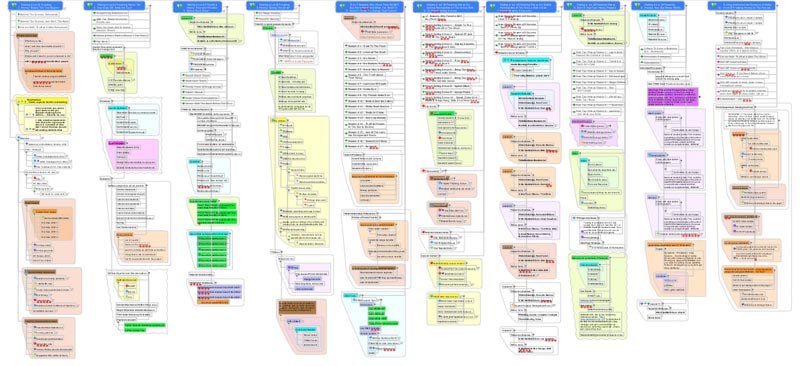 A Perfect Fit Because It's Custom Made For You
You already know that my online guitar lessons for electric guitar have been proven to work better than anything else you've ever seen simply by looking at well over 100 of my students, but what you may not know is that the vast majority of these excellent guitar players started out as just ordinary people.
They didn't have any more natural talent than you do. Most were nowhere near the advanced guitar playing level when I began teaching them. They were simply normal, average, regular people who followed what I taught them, trained and coached them to do. If these guys can do it, so can you!
Many of my students are now professional musicians (yes, that means making real money in music), but others are simply hobbyists who now can play guitar at a professional skill level.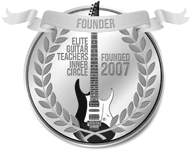 Whether you are a teenager, in your 80's or anywhere in between, I've successfully taught many people in your age range in all forms of rock, metal, shred, blues & pop style guitar lessons.
Did You Know...?
Most of the world's best guitar teachers today came to learn in my online guitar lessons and to be trained by me in the Elite Guitar Teachers Inner Circle.
"When I came to Tom for online guitar lessons, I already had a decent overall level of technique and understood the basics of music theory pretty well. I had taken lessons with other teachers before, and went through several guitar method books that promised to teach me how to become a great lead guitar player. I learned all the materials in these books and courses and picked up some useful tips and knowledge along the way.
Yet for some reason I still wasn't feeling like a musician.
I struggled very much with writing my own songs, creating my own solos and pushing my guitar technique and speed to a higher level (especially sweep picking, alternate picking, and playing clean at high speeds).
When I started learning from Tom, the main thing that made him different from other teachers was that he was showing me how to excel in all aspects of my guitar playing by applying the skills that I already knew together with the new material that I was learning from him.
He made me aware of both strengths and weaknesses in my playing that I did not even know I had. From there he gave me the knowledge, tools and guidance to literally transform my guitar playing by enabling me to overcome things that were preventing me from becoming a truly creative and self-expressive guitar player. These were the kinds of things that none of my previous guitar teachers and books I studied were able to do for me.
After Tom made me aware of all the things I was missing in my guitar playing and provided me with the strategy and tools for solving them, I began to make very fast progress in all areas of my guitar playing.
I can now write my own music and can create lead guitar solos that I am happy and fulfilled with. I also have the technical skills to confidently and easily play anything that I want to express. I have overcome all of the lead guitar challenges that I struggled with before, and increased my guitar speed to virtuoso levels. More importantly, I have the knowledge and understanding of how to continually improve my guitar playing and musical skills to higher and higher levels to continue expressing myself with my music. Overall, I have definitely transformed in a huge way as a musician and as a person through my lessons with Tom Hess. I am grateful to him for guiding me towards becoming the guitarist I always wanted to be!"
Mike Philippov, Indiana, USA
"I started out learning by myself, and as many others, I got stuck and I had a few issues I wanted to get by. When I met Tom Hess, and talked with him and started lessons with him, he opened up a whole new world of possibilities of what guitar playing can be. I feel very very very grateful that I found lessons from Tom because I then did what worked from the very beginning."

Many guitarists I see have played way longer than I did and have built up so many bad habits. With Tom, from the very start, there were clear instructions of how to practice correctly so you build up the ability for high speed or whatever you want from the very beginning and you don't waste time doing inefficient things.

Magnus Gautestad, Norway

"The amount of knowledge and practical, straight-to-the-point instruction that I've gotten from Tom's lessons, it's just such a wealth of useable stuff that Tom will cram into every lesson."

What I found to be really great was the fairly extensive application. You fill out a questionnaire and he really does do a great job of assessing where you are, what your personal goals are and I do feel like every single item I get as part of a lesson is exactly focused on where I want to be as a player. It's almost overwhelming where I feel like I can't keep up with this stuff but it's so good! So I go through it at my pace and find ways to use everything, which is great!

Jesse Froebel, Texas, USA


"Before I started online guitar lessons with Tom, I was basically stagnant in my playing, I kind of reached a pinnacle, and I started looking for what's next, what's bigger and better. Tom has helped me tremendously, I know I can do things on the guitar that I could have never dreamed of 5 years ago."

The biggest change that has happened since taking lessons with Tom is playing like a true musician & kind of separating myself from all the wannabes. Tom's lessons are easy-to-understand, very in-depth and tailored to what YOU want to learn versus private teachers who are often using their students as guinea pigs trying to figure out how to teach. Tom knows what he's doing! He's an ordinary guy, but he's doing extraordinary things.

Ty Morgan, Arizona, USA
"It is hard to compare Tom and his teaching to any other guitar teacher out there. His knowledge and technique are unbelievable. It is ridiculous to see how much better of a musician I have become."

My technique and speed have drastically improved and my knowledge of music theory and other related things have grown to levels that I would never have been able to reach without his help. Tom's teaching methods are so incredible and helpful. His great playing inspires me to work harder at all the musical areas I am studying.

Zack Uidl, Professional Guitarist, Composer and Guitar Teacher, Illinois, USA

"My experience with Tom has been outstanding, he has been the best teacher I had. Tom had exactly the kind of information that I needed to break a barrier in my playing."

I've improved quite a bit, the initial problem that I was most frustrated with was that I had reached a peak on my speed and Tom has really helped me blow the lid off of that. I've now probably doubled my practical playing speed and I'm very pleased with the results.

I feel a lot more confident with my guitar playing, I can do things that I couldn't have done before the guitar lessons online with Tom.

Chad Crawford, South Carolina, USA
See More Reviews About My Guitar Lessons Online. Watch Videos And Listen To Songs Of My Students Playing.

The fastest way for you to get from where you are now to where you want your guitar playing to be is to join these guitar players and do what they have done ... start your online guitar lessons today.
Play Guitar The Way You've Always Dreamed Of... Here Is What You Get:
Personal guitar lessons based on a proven & powerful strategy specifically created FOR YOU so that you have the exact blueprint you need in order to become a badass guitar player fast.

Having strategy driven guitar lessons instead of random bits & pieces or one-size-fits-all cookie-cutter lessons (like you get everywhere else) is the only predictable way to ever get where you want to go.

You get the very best guitar teaching concepts, rapid guitar mastery methods, fast learning approaches, problem solving strategies and short-cut tactics so that you advance your guitar playing skills as fast as possible.

Depending on what your specific goals are, you will:

Master your guitar speed – actually you should expect to at least double your speed AND make it perfectly clean & accurate. My mission for you is to join the ranks of the 1,000-Notes-Per-Minute Badass Speed Club that so many of my students have earned their way into.

Master your picking accuracy, precision & speed so that you stop making mistakes, playing sloppy and begin sounding like a pro.

Master the dexterity, speed & accuracy in your fretting hand so that you are able to reliably and consistently play all the hard, fast & complex licks, riffs and chords on guitar that you want.

Master your phrasing and make your guitar soloing more creative so that your playing sounds original, expressive and just plain awesome! Fact: creativity can be learned and therefore it can be taught... most other guitar teachers do not know this and therefore don't teach it.

Master your guitar improvisation skills and effortlessly impress your friends, jam with other talented musicians, join a better band and have a lot more fun with your guitar playing.

Master your songwriting so that your songs are not only better, but easier & faster to create. You'll learn secrets that professional songwriters use to write great songs fast!

Master your rhythm guitar playing. I'll teach you to make it super tight and more expressive so that your playing grabs people by the throat!

Master your aural skills so that you learn all aspects of guitar playing faster, become far more creative and stop making mistakes when you play & improvise.

Master music theory even if you've struggled to understand and apply music theory in the past. It's absolutely critical that you learn and master theory so that you vastly (and quickly) improve your guitar soloing, phrasing, improvisation, songwriting, aural skills and actually understand how music works!

Improve your guitar playing every single time you pick up your guitar – my Guitar Practice Mastery® system will ensure you do.

The secret to great, fast and accurate guitar playing that pro guitar players rely on when they are nervous (in the studio, on stage, etc.)

The best online guitar lessons that are based around you, who you are, what your goals are, what you need, what your challenges are, what your strengths are, what your weaknesses are, what your learning styles are, what your experience is, what your frustrations are, what you are struggling with, what you are already good at and who you want to become... I don't teach "guitar"... I teach "YOU"!

You will finally overcome, breakthrough & eliminate bad habits in your playing, fill in the missing pieces in your knowledge and skills that were likely caused by being self taught, learning from unqualified guitar teachers, or learning from conflicting sources.

Discover the one big problem guitar players face as they start picking up speed (or as they get older)... and how to overcome it once and for all.

The one drill to perform that will melt away tension in your shoulders, arms, elbow, wrists, hands and fingers so you can play as fast as you want, not burn out from crippling tension and avoid injury.

You get critically important training on how to apply everything you know, are learning and have learned on guitar. Until and unless you are actually able to use what you know, it's all useless!

Learn how to integrate your guitar skills together so that you can fluently, effortlessly and quickly play whatever you want. Integration is one of the four pillars to becoming a great (or even a good) guitar player, because without it, you're going to suck. Amazingly, most other guitar teachers don't teach integration – because they don't know how. You can see this simply by listening to their students struggle to play fluently. Learning from me, you will NOT be like them!

You get my personal feedback on your guitar playing so that we are able to fix any technique problem, mistake or bad habit that you may be totally unaware of and/or are unsure how to fix.

You get only things to practice that you truly need to work on so you stop wasting time practicing things that are not directly relevant to your specific goals or just don't work.

You will never get mindless, boring or meaningless exercises that are just busywork. Yes, you are going to do real work, but that work is going to be relevant, goal-driven and fun.

You get the one big thing that will transform your guitar playing from playing it right sometimes to playing it right every single time, even if you're playing on stage in front of lots of people.

You get more than a guitar teacher, you get a coach, a trainer, a mentor and hand holding through the entire process to make each step easy for you. In your guitar lessons online, I give you the knowledge, skills, motivation, confidence, guidance, and every other ingredient that you need to learn and master everything quickly, reach your goals and go far beyond what you ever thought was possible for you.

You get the best guitar lessons online, the training, the coaching, the support, the strategy, the shortcuts, the hacks and the friendly kick in the butt you need to advance your guitar playing faster than anything else you could possibly do. You're going to be so motivated you're going to WANT to play guitar more than ever before.

You gain the freedom to learn from anywhere in the world, any time of the day or night, without traveling to and from lessons, without being on a rigid lesson appointment schedule and without ever leaving your home.

How one tip from a famous Hollywood filmmaker can immediately make your guitar solos, phrasing, improvisation and songwriting more dramatic, more expressive and more original... Try learning that from your local guitar teacher.

You are guaranteed to never forget anything you learn from me because everything I teach you in your electric guitar lessons will be fully documented and you can always refer back to any lesson at zero cost to you – forever...

When you take guitar lessons with other teachers, very little is documented. Since humans only remember 20% of what they see & hear, 80% is wasted. The worst part is, those teachers will review what you have forgotten in the past lesson, but now you're PAYING for that in the next lesson... You will never pay twice to review the same things you already learned from me.

You get not only better guitar lessons, but also about 7 times more actual lesson content per lesson than you could get from a typical guitar teacher online or offline.

You won't get ripped off by having to PAY to get your questions (correctly) answered... Other teachers trick you into paying to ask/answer questions by only addressing your questions during your paid lesson time. This also means that valuable lesson time is wasted on questions instead of teaching you new things. Learning with me, you ask questions anytime through my website and get (correct!) answers ... for free of course.

Be surrounded by like-minded WINNERS (my other students) who push you forward and love to help you instead of being dragged into some ghetto-like guitar community where people hide behind fake names, tear you down and give uninformed advice.

Here, you will get massive positive support, won't be just an anonymous number, make great friends, connect with me personally, be able to join in on musical collaborations and experience big (musical) life changes.

How to imprint your unconscious mind so that you increase your level of motivation, determination and desire to learn, practice and master guitar.

You learn from the leading & most successful guitar teacher worldwide with a track record that proves it. You benefit from my 25+ years of bloodied-nose experience, unparalleled success and having taught students from over 100 countries worldwide.

In addition, you learn from the founder of the Elite Guitar Teaches Inner Circle, the school of guitar teaching where the world's top guitar teachers are taught, trained, coached and certified by me... so you are sure to learn from the best.

I don't say this to impress you, I say it to impress upon you that I know how to get your guitar playing from where it is right now to exactly where you want it to be... and beyond.

We are going to do whatever it takes to break down every obstacle, overcome any challenge and bust through any wall standing between where you are now and where you want to and should be... a total guitar playing badass

There's no feeling in the world like being a killer guitar player, being able to play anything you want and being admired by people who hear you play.
Your guitar playing will be something you can be exceptionally proud of.
You'll never have to worry about feeling insecure, doubtful or frustrated with your guitar playing.
You Get It All: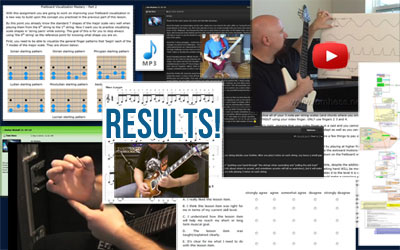 The best personal online lessons, the training, the coaching, the support, the strategy, the shortcuts, the hacks and the motivation to advance your guitar playing fast.
You get the custom-built for you guitar lessons strategy.
You get personalized guitar lessons from me including: video guitar lessons, audio lessons, text lessons and tab lessons, all easily accessible via your personal student account at my website.
You get personal feedback from me on your guitar playing and learning development.
You get 24/7 guitar learning/lessons support.
You get to give me feedback about every part of every lesson to make 100% sure you and I are always on the target with our online guitar lesson strategy.
You get RESULTS, RESULTS, RESULTS!!!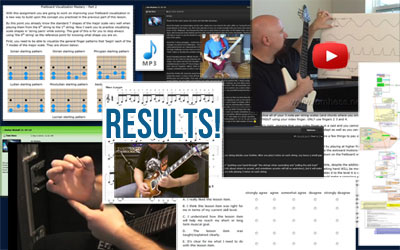 Plus, You Get Killer Bonuses... How Many? Not One, Not Two, Not Three...
Try SIXTY-FOUR!
But it's not the quantity that makes this offer insane... it's the unparalleled QUALITY that makes guitar players willing to crawl across broken glass on their bare naked knees to get these must have bonuses so powerful they should be illegal!
With each of your guitar lessons, you will be able to pick one of these bonuses: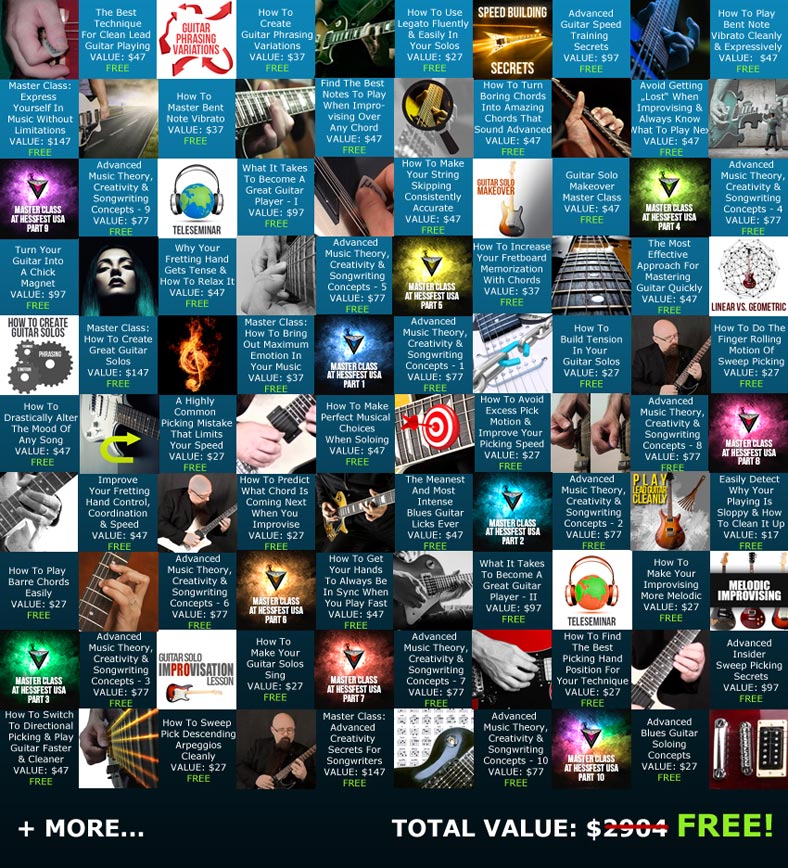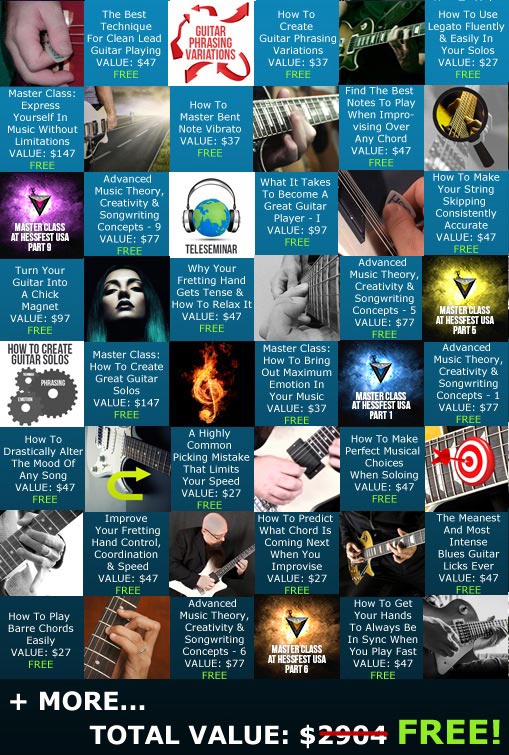 "Tom Hess' Online Guitar Lessons are amazing. I really feel a lot of support from the lessons and the forum."

Tom really wants you to exceed, and as a world class virtuoso he knows exactly what the next step for is you. He keeps on pushing you to greater levels, lesson after lesson. Before I started online guitar lessons with Tom Hess, I was an intermediate player, now I can really feel how I will totally dominate as a blues guitar player and an upcoming force in the music industry. Thanks a lot, Tom!
Antony Reynaert, Professional Musician and Guitar Teacher, Belgium
www.antonyreynaert.com
"When I found Tom's site, I had a few things in mind that I wanted to accomplish. I saw in him that he had a lot of the abilities technically that I wanted to develop. And I could tell from his articles and his thinking that he was really studied up on many of the concepts that I wanted to learn as well."

So I started and what happened is, you always end up getting MORE than you expect and that is a very pleasant surprise. In addition with the Correspondence Guitar Lessons, you get access to a private forum that is FULL of people who are EXCITED about learning and love to share and help other people out. There is absolutely, without any doubt, no forum that can beat the Hess forum when it comes to support.

Randy Johnson, Ohio, USA


"Tom Hess is truly a master at what he does! The lessons I have received are excellent in content!"

Musically I am seeing a progression in techniques that had taken months and months on my own with very little forward progress. Now I am moving forward and becoming more and more confident in my playing and attitude! A HUGE IMPACT! Great stuff and very inspirational!

Tevis Maloney, Arizona, USA

"You've taught me 10,000% more in the last 1½ years than I had learned in the prior 15 years before that being "self taught". I'm able to do things now that I thought I'd never be able to do, that were just waaaay out of my reach."

Scotty Woodward, Virginia, USA

"The Correspondence Guitar Lessons with Tom are fantastic! He was able to teach me in 10 months what nobody was able to teach me in 10 years practically. Really precise and focused and what I asked him to teach me. I've seen other students basically changing their lives, and I wanted to be part of it! It's fantastic!"

Originally, I read one of Tom's articles and I knew this guy knew his stuff. I said, ok, I don't care what style this guy plays, I don't care who he is, HE HAS IT... and I want it! I just want to study with him!

The genius of Tom is, he is not just teaching one thing, but he found a way to put it all together in a coherent 'system'. It works!

Tommaso Zillio, Professional Musician, Canada
www.tommasozillio.com
See More Reviews About My Online Guitar Lessons. Watch Videos And Listen To Songs Of My Students Playing.
The time for asking "what if?" is over... put an end to the wishing... the doubting... the un-acted upon dreams – because the truth is, you don't have to be stuck in a rut anymore, you can be the badass guitarist others look up to.
Here is what you need to do right now:
Scroll down and click on the big yellow button below.
On the next page, tell me about yourself, your musical skills, knowledge, strengths, weaknesses, frustrations, background and guitar playing goals - so that I can build the perfect guitar lesson strategy specifically and uniquely for you. This ensures you advance your guitar playing fast.
Do it right now.

P.S. You wouldn't be here if you were already satisfied & happy with where your guitar playing skills are at right now. You're now standing at a crossroad... do you continue to be stuck in a rut, or do you commit to become a badass guitarist? Nothing will change until you decide to change it. Right now is the time to make that change. Get Started Now.
P.P.S. Don't just envy other great guitar players, become one. Learn from the leading guitar teacher with an unmatched, proven track record for transforming people just like you into badass guitarists!
You simply can't get guitar lessons like this anywhere else (online or offline).
Look, each one of the 64 bonuses alone is worth as much as or more than the guitar lessons... and these bonuses are currently free, but only for a limited time... so get them now while they're still available. Get Started Now.
What Styles Do You Teach?
Answer: I teach rock and metal guitar lessons as well as progressive, neoclassical, shred, pop, indie, classic rock and blues styles.
I Just Started Playing Guitar A Few Months Ago, Can I Take Your Online Guitar Lessons?
Answer: If you've been playing guitar for only 6 months or less, then these lessons are not for you. Once you've been playing for at least 7 months, you are ready for intermediate guitar lessons and ready to get started learning with me. I teach intermediate, advanced and virtuoso guitar lessons.
I Want To Get To The Next Level In My Guitar Playing, Can You Really Help Me Get There?
Answer: Yes, but why would you want something so small? Wouldn't you rather get to the next TEN levels? Getting you to the next level is pretty simple... My goal for you is to get you to the next 10+ levels!
Do You Only Teach Electric Guitar Lessons?
Answer: I teach guitar lessons for electric guitar but also other topics (songwriting, aural skills, music theory, etc.) but all lessons are based on electric guitar.
Do I Have To Follow Everything You Say And Teach Me In Lessons?
Answer: Only if you want to improve your guitar playing as fast as possible. ☺
Do I Need A Webcam?
Answer: No. Here is how the lessons work.
My Friend Takes Lessons From You, Can't I Just Learn From The Lesson Materials That You Gave Him?
Answer: That won't work for you. This is not some "guitar course" where all students get the exact same lessons. In order for YOU to become the guitarist you want to become, you need personalized guitar lessons with a custom-built strategy based on you, who you are, what your goals are, what you need, what your challenges are, what your strengths are, what your weaknesses are, what your learning styles are, what your experience is, what your frustrations are, what you are struggling with, what you are already good at and who you want to become.
How Much Personal Interaction Is There Between You And Me? I'm Kind Of Shy, So I Worry About This.
Answer: Yes, of course there will be personal interaction between us. However, you have nothing to be nervous about at all. I won't bite you. :)
Do I Need To Live Or Travel To The USA?
Answer: No. You can take my electric guitar lessons online from anywhere in the world.
How Do I Know If I Need Intermediate Guitar Lessons Or Advanced Guitar Lessons, Which One Do I Choose?
Answer: You do not choose anything. You simply fill out the online guitar lessons evaluation form. Based on your answers I'll be able to determine your skill level and know if you need intermediate or advanced guitar lessons.
Can I Take Progressive Rock Guitar Lessons, Shred Metal Guitar Lessons And Maybe Blues Guitar Lessons Too? How Do I Choose All Of These Types Of Guitar Lessons?
Answer: Yes, of course you can take guitar lessons in several different styles at once. When you fill out the online guitar lessons evaluation form, you simply tell me what specific styles you want to master and I'll build your lessons within those styles.