Learn How To Get Better At Guitar Fast By Developing Excellent Playing Habits
---
Great guitarists have the best guitar playing habits. No matter what skill level you are at, you quickly improve any technique when you train yourself to use correct playing habits like them. This is done by slowing down what you are playing and focusing on the fundamental movements being used. With correct, focused guitar practice - you massively improve any skill in a matter of days.
Watch the below to learn how to train yourself to become a better guitarist fast using effective playing habits:
Click on the video to begin watching it.
See my other guitar playing videos, available to my YouTube subscribers - follow my channel by clicking the button below:
Here are a few other guitar practice habits that speed up your playing quickly:

Guitar Practice Habit 1. Separate Your Hands When You Practice
Very often your biggest challenges on guitar are caused by inefficient motions in one hand.
But guess what?
Most people play everything using both hands and don't put their full attention on the hand that is causing the mistake.
The result is: slower progress and a lot of frustration.
To solve this: practice the motions of each hand in isolation. For example: mute the strings with your fretting hand (don't fret any notes) and only practice the picking motions.
Or conversely:
Cover the strings with your picking hand and practice fretting notes (without picking them) with your fretting hand.
Do NOT do hammer ons or pull offs while doing this. You don't want to hear any sounds – you are just practicing the motions.
This approach helps you refine your guitar technique very fast.

Guitar Practice Habit 2. Set Micro Goals For Every Guitar Practice Session
You know how you have your long-term, medium-term and short-term goals?
These goals are something you want to reach anywhere from 1 month to a few years from own.
But how can you tell if you are on track to reach your goals in the meantime?
Enter: micro goals.
Micro goals are things you intend to achieve in 1 practice session.
They should be small enough to achieve, even if your practice time is very limited…
… but concrete enough for you to KNOW you have achieved them.
For example:
- Increase your speed with an exercise by 1-3 beats per minute.
- Read a chapter in a music theory book (or read a music theory article online).
- Repeat an exercise 500 times with a new picking hand motion to ingrain it into your muscle memory.
The idea is: you will move towards your short, medium and long-term goals one micro-goal at a time.
Guitar Practice Habit 3. Track Your Progress
Can you get where you are going if you don't even know where you are today?
Of course not…
And that's why tracking your progress on guitar is so valuable.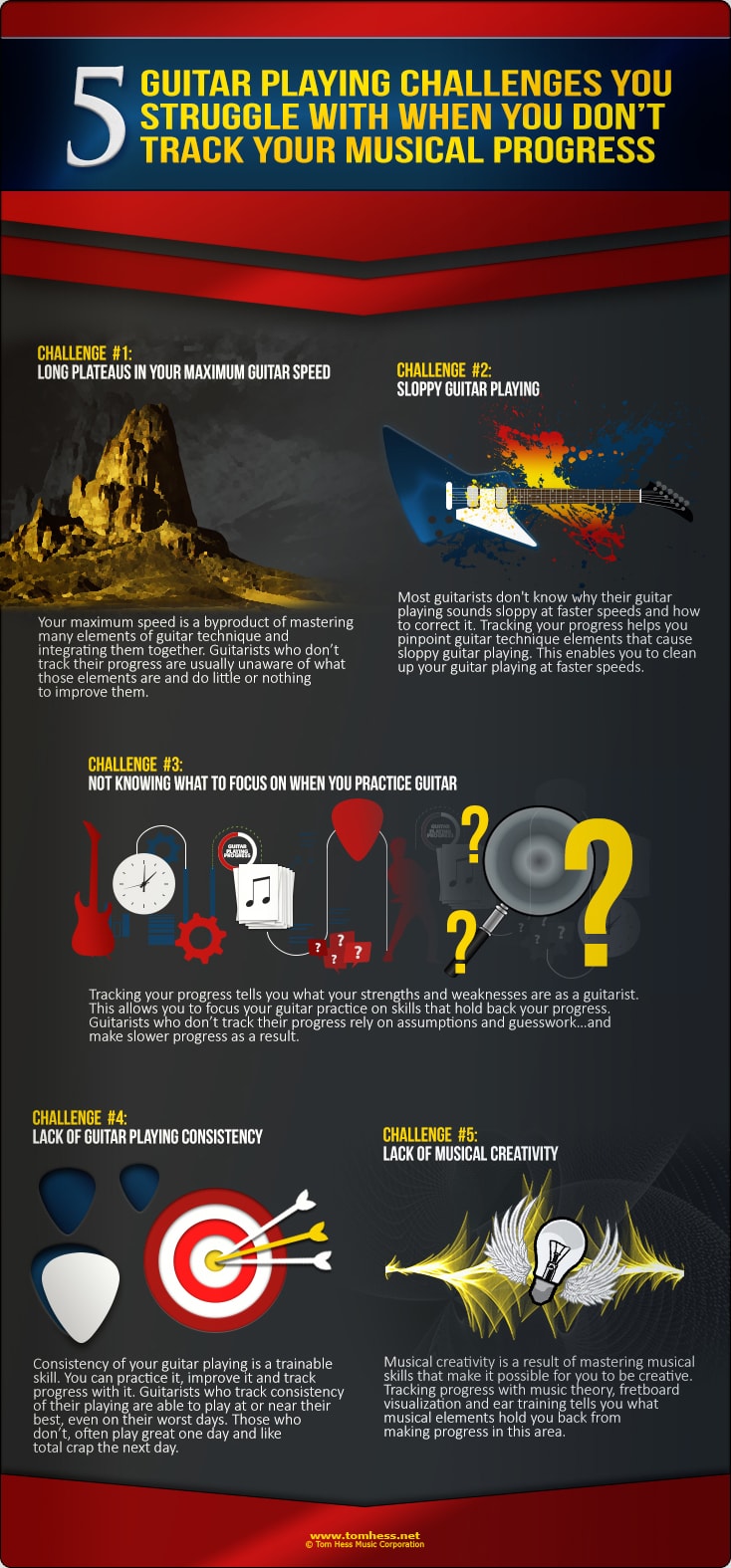 Tracking progress allows you to:
- identify your strengths and weaknesses on guitar with laser-like precision. This tells you what you should be practicing to improve most quickly.
- spot where your practice time is being wasted (on things that aren't making you better). If your practice time is limited, this can be a life-saver.
- make guitar practice fun. What can be more exciting than seeing yourself improve week after week?

Guitar Practice Habit 4. Use The 5-Minute Trick To Motivate Yourself To Practice Guitar On Days You Don't Feel Like It
Here is how the 5-minute trick works:
Pick up your instrument and practice guitar just for 5 minutes.
Give yourself permission to put the guitar down if you don't feel like practicing more after 5 minutes.
9 times out of 10, you won't feel like putting your instrument down and will practice guitar much, much longer than 5 minutes.
There are 2 reasons why this happens:
The hardest part of getting yourself to do anything is simply getting started. After you practice guitar for 5 minutes, it takes more discipline, willpower and mental energy to stop practicing than to continue practicing.

Practicing for 5 minutes is very realistic for everyone. You always have 5 minutes to practice guitar – no matter how busy you are. This means you can always use this trick to give yourself guitar practice motivation :)

Guitar Practice Habit 5. Improve While You Warm Up Your Hands

Your warmup time should never be mindless.

What's the worst thing that can happen during your warmup?

The answer is...

...your brain falling asleep and going on autopilot. This causes mindless practicing and creates bad habits in your playing.

How do you stop this from happening?

Make sure your warmups force you to concentrate to play them correctly.

Simply ask yourself: "How can you make your warmup drill more challenging (without playing fast)?"

Check out these ideas for some cool drills you can warm up with (and improve your creativity at the same time):
Transpose the licks you normally practice into another key (or mode). This forces you to combine your music theory knowledge (and fretboard visualization) with guitar technique.

Create sequences from the scales you practice. This helps you become more creative with scales instead of feeling bored with them.

Change the rhythm of the licks and exercises you are playing. This can help you create new guitar solo ideas and adapt other people's licks into your own guitar style.

Double pick any picking exercise. This is a great way to challenge (and improve) your 2-hand synchronization.
Now you know how to get more from your guitar practice. The next step is to transform the rest of your guitar playing (everything from your guitar technique to music knowledge, creativity, lead guitar soloing and more).
I can help you with that in my personalized Breakthrough Guitar Lessons.
Here is how it works:
You tell me everything about your guitar playing strengths, weaknesses, musical background, and musical goals. I then create your personalized guitar lesson strategy. As you practice your lessons, I give you a ton of feedback to help you master your guitar lessons and reach your musical goals.
Here are the results my guitar students are getting:

"I started lessons when I was a young kid. I was in school. I had a casual teacher, but he only taught us chords, like basic stuff if you want to learn like 3 chord songs. But I wanted more than that, so I went to a local guitar teacher. But he also gave me the same thing. But after like 5 or 6 years of lessons, like I found myself, like if I heard a backing track or something, I couldn't play with someone. I mean I didn't feel like a musician, I feel like someone who can just move his fingers from like fret 1 to fret whatever. But with Tom, he's giving me the tools to become what I want to become, become the musician I want to become. And this is exactly what I want."
Tom Hess was basically the only guy on the internet with the credentials and the reviews, and basically everyone recommended him. He even had his own students webpage. All his students were like established guitar teachers and professional musicians and they had their own sites and I contacted like 7 of them, and they all recommended Tom Hess, and that's why I joined him.
I like taking lessons with Tom because he gives me what I want. It's not like something general for everyone. Like if you want to learn blues, he gives you lessons for blues, but I want to become a metal player and also a neoclassical player, so he's giving me exactly what I need and what I want. And if I have a problem I just post a thread on the amazing forum, and I get like answers, not just short answers, but really detailed answers. I feel like I am taken care of, I don't have to worry about anything. If I just follow everything word for word what Tom gives me in all of the lessons, that's if I have time, because they're so big, I mean every lesson, people think it's overpriced, but each lesson, if you want to master it, take everything out of it, is going to take you like 4 weeks of 2 hours of work every day.
Mohamed Karim Koleilat, Beirut, Lebanon

"Before the online guitar lessons, I had a lot of trouble with phrasing. I couldn't make good note choices, I was always fishing for the next note. I was trying to think of ways that I could play, but it didn't sound good. I didn't know how to write songs, it was absolutely terrible, everything sounded the same. I couldn't really… I didn't feel confident with my playing. I definitely couldn't build speed for anything, I was really sloppy and I was dissonant… and it was really painful to play."
I chose Tom Hess because when I read his articles they blew my mind away. I got so much out of that, that I didn't get anywhere else.
The main reason I like taking lessons with Tom online is because, number one: yes it was the personalized lessons strategy… I read everything about it, and it was so compelling, just like that he really takes everything that I can or can't do into account, and then he'll take what I want to be able to do and then basically map out every step of the way until I get there. And that was just really powerful, and that I'd be able to get feedback every 6 weeks, and the fact that we've got the forum. We've got instant help and they all really know what they're talking about… they're not just like anybody… they… I mean some of them are virtuoso guitar players... I mean, they know their stuff and then of course the mindset of this whole environment. The friends I've made here just… I can't really put into words.
I didn't have a budget when I started. I had a good enough job that I could take lessons for however long I wanted, so that wasn't a problem, but I feel like I've gotten 100 times what I paid you know.
Matteo Miller, San Diego, California, USA
"When I met Tom Hess, I knew that this is the guy. Just going through the evaluation form, all the questions, different questions, and he was digging deeper and deeper into all my goals and all that stuff... and no one has ever done that with me before, so I felt right away that this is the guy."
The level that I was at before I went to Tom for lessons was that I could play pretty fast, I could play sloppy, I didn't know nothing about music theory, so I was kind of unbalanced, I was uneven. I was a good player technically, but I knew very little about music theory. So I wanted to even that out, and Tom has helped me, not only evening that out, but also exceeding my expectations. So now I'm playing at a level that I didn't expect that I could play at. So that's... I'm very happy with that.
I like lessons with Tom because of the format basically. He gives a variety of formats... not just one format, like video for example, but also pdf files and audio files that you can take with you if you're doing something else... you have to do labor that day, laundry or whatever... then you can listen to the sessions and while... you can actually benefit when you're not even practicing, so it's a no brainer.
Gottfrid Norberg Waxin, Sweden
"I found Tom Hess on the net through articles, and I read quite a few of those before I went to Tom's website. Even though I'm not a metal player at all, and Tom is obviously a metal player, I could still see that his ideas and way of teaching could really benefit me. So I pretty much signed up for online guitar lessons with Tom straight away once I'd gone through the website, and it's just been a real eye opener with the way he teaches…"
... the integration of concepts that he'll give you and having a really structured strategy… not just week to week lessons, but things that - you can see from one lesson to the next - really develop and continue to work on your technique and your theory and aural skills and those types of things. So I'd played a long time… 20 years before I really caught onto Tom, and I'd had a lot of lessons, and I'd taught and played but I can really see improvements in my technique, sweeping, and picking which weren't strong parts of my playing.
I feel like Tom has a good gauge of where you're at as a guitar player and what you need, and there just seemed to be so much more stuff in the lessons week to week than what you'd ever get in an hour or so in a one on one lesson… way more. So yeah I think that and the forum. I think, I'd pay the money just for the forum. That alone would be fine… I wouldn't have a problem with that at all. So that alone is massive!
The price for the lessons, that's nothing... nothing. You know, I think it's, pretty cheap to be honest. I don't mean that in a bad way, cheap. Cheap is not a good word, but I just think it's great value… awesome value. I mean, you know, you could pay that for one-to-one lessons and you just don't get the same results and support of the forum and the content and the strategies.
Other teachers I've had have been good players, and some have become good friends too. But when I've started lessons with Tom I've got something to compare that to and a lot of it is just sort of teaching songs from week to week… a lot of the lesson will be left up to you… you'll go to your lesson and they'll be like what do you want to do today? At the time I said, oh do this song or that song, but with Tom you start to realize that you know, there's more to it… the goals and you know he's sort of more in contact with what you want to be able to do as a player, because he's asking you the questions and then setting up the strategies, so I find that really good.
Yeah I can see more results in 18 months in a lot of areas in my playing than you know 20 years. So it's sort of, you know, would've been great 20 years ago to have met Tom.
Simon Candy, Melbourne, Australia

To begin getting similar results in your playing too, click the green "Start Now" button below.