The Secret To Adding Fire And Emotion To Any Guitar Lick
(Even If You Can't Play Guitar Fast Yet)
Free eBook
By submitting your info, you agree to send it to Tom Hess Music Corporation who will process and use it according to their privacy policy.
You want your guitar playing to sound awesome no matter what you play, right? Of course you do - everyone wants this! Here is a secret that most guitar players do not know about: learning more guitar licks, exotic scales or flashy techniques won't do much to make your guitar playing sound great. What you really need is to learn how to add fire and emotion to every guitar lick you already know. This isn't hard to do, and you are about to learn how to do it.
In this free eBook about adding fire and emotion to your guitar licks, you will discover:
The #1 mistake guitar players make that causes their playing to sound boring (and how to easily fix it)

What "playing guitar with feeling" is really about, why most guitarists can't do it and how you can make your guitar playing drip with emotion

How to take all guitar licks you already know and make them sound so awesome, you will hardly believe it's you playing them!

A simple process for turning the most plain sounding notes into dozens of killer lead guitar licks

How to build massive excitement in your guitar licks and make the listener beg to hear the next note you play
To learn (for free) the secret to playing guitar licks with fire and emotion, enter your name and email, and click the 'Give Me Access Now' button. All information is kept 100% private and confidential.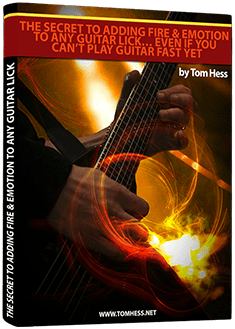 THE SECRET TO ADDING FIRE AND
EMOTION TO ANY GUITAR LICK
ENTER YOUR NAME AND EMAIL TO GET ACCESS
By submitting your info, you agree to send it to Tom Hess Music Corporation who will process and use it according to their privacy policy.