Ultimate Creativity And Guitar Soloing Training Week - Ultra Badass Package
This is the biggest, coolest, most intense live guitar training package ever assembled anywhere on Earth. You are going to attend the following events:
1 Ultimate Creativity And Guitar Soloing Mastery Training Week
2 Ultimate Creativity And Guitar Soloing Mastery Training Week - Elite Force Special Training
3 HESSFEST
Plus, lots of bonuses (see details below)
Ultimate Creativity And Guitar Soloing Mastery ELITE FORCE Special Training
June 23-25, 2019
(immediately after Ultimate Creativity And Guitar Soloing Training Week - at the same location)
in St. Charles, Illinois, USA
With ELITE FORCE Special Training you will get Three More Full Days (8 Hours Each Day) of the world's best guitar training, but it gets even better for you because in your 3 extra days you will be in a very tiny private group of only some other Elite Force students.

That means your ELITE FORCE Special Training will be even more hardcore, intense and mind-blowing than the already kick ass training you are going to go through at Ultimate Creativity And Guitar Soloing Mastery Training Week. Why? Because it's going to be you, some other students and a rotating team of ultra elite trainers all locked in a room for the ABSOLUTE MAXIMUM POSSIBLE EXTREME GUITAR TRAINING IN THE UNIVERSE!!!
Here Is What You Get:
3 Extra Days Of Creativity, Phrasing, Improvisation and Soloing Training - 6 days is great, but 6 days of killer training plus 3 MORE days of

ELITE FORCE Special Training

is much better.

Absolute Maximum Level Training Intensity – Training this intense will push your guitar playing development to the limit – FORCING your playing to massively improve, expand and soar.

More Individual Feedback and Coaching For You – your

ELITE FORCE Special Training

group is tiny in size (you and only a few other students), but virtually limitless in its maximum power to remove the limitations you now have in your playing and put you on the fast track to ultimate mastery.

Total Solidification Of Everything You Learned, Trained And Experienced In The First 6 Days Of Your Creativity And Guitar Soloing Mastery Training Week – The most important aspect of any training is that you are sure to remember it perfectly when you go home… this is something the Ultimate Creativity And Guitar Soloing Mastery Training Week definitely will do for you. The next level of mastery is to not only remember all of your training but to already make it a perpetual 'habit' in your playing all the time. Your

ELITE FORCE Special Training

will put that habit forming process into overdrive for you.


ELITE FORCE Special Training

gives you 'higher level' training even beyond the super Ultimate Creativity And Guitar Soloing Mastery Training Week – With more time (3 extra days), and a tiny group, we will take your training to the final level of mastery training: INTEGRATING all your new skills together!!!

Official Elite Force Status – If the Ultimate Creativity And Guitar Soloing Mastery Training event is like joining the US Military, the

ELITE FORCE Special Training

is like becoming a Green Beret, Navy Seal or other special elite force… and only you and a small group of guitar players will be in this elite group.

---
June 13-16, 2019
in St. Charles, Illinois, USA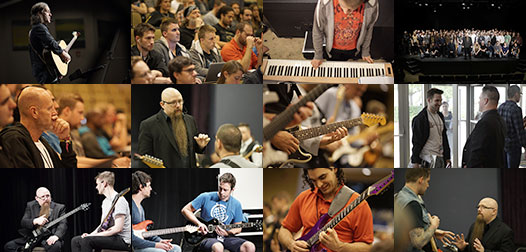 HESSFEST – A 4-Day/4-Night Guitar & Music Event Jam Packed With The Best Master Classes, Seminars, Lessons, Jamming, Performances, And Hanging Out With More Than 100 Other Musicians Just Like You Who Have Traveled From All Over The Planet To Be There
Have you ever had a time in your life when all you did was learn super exclusive knowledge and insider secrets about music & guitar from the world's leading guitar teacher?
4 Days and 4 Nights of nonstop music learning, guitar playing, jamming, master classes, lessons, seminars, performances, hanging out, having fun day and night. There is only one event on Earth where you can be, do and have all of that: HESSFEST.

Here Is Why You Are Going To Love HESSFEST
You Get One-On-One Guitar Lessons With Me. You may have one guitar lesson with me on a topic of your choice so that you overcome your biggest challenge and make immediate breakthroughs in your guitar playing. Like a good doctor, I'll quickly diagnose the root cause of whatever is holding you back and give you the cure.

You Experience The Latest And Greatest Master Classes and Seminars Every Day – These innovative, exclusive and powerful master classes are filled with strategies, tactics and insights you will not find anywhere else. With this secret sauce of guitar mastery, you leap forward, become a better musician, remove frustrations and feel confident as you play.

You Get One-On-One Lessons With Up To FIVE More World Class Guitar Teaching Masters. These 5 master teachers travel all over the world to be with you and specialize in rock, metal, blues, acoustic and music theory. All these personal guitar lessons alone are worth much more than the entire ticket price for the entire event!

You Meet & Spend Time With Some Of The Most Passionate Musicians And Students From Literally All Over The World. If you have been to one of my live events before, then you already know exactly what I'm talking about and you know how massively life changing it is! These people are the best friends you can find. They, unlike most friends at home, support you, are very positive, encouraging, above average and share your passion for guitar and music.

You Learn From & Jam With Other Cool Musicians Who Are As Serious, Dedicated And Passionate About Music As You Are… and the best part is, they are all very cool people who are easy to talk to, are very open, welcoming and approachable – so even if you are a shy person or feel insecure about your guitar playing, you'll feel comfortable right away.

You WILL Leave HESSFEST A Better Musician Compared To When You Arrive! You get a massive injection of musical steroids. How? You become totally inspired and on fire with motivation to practice & improve your music skills. This causes you to make better choices, take better actions and use better tools… all of which leads to greater results and makes you become better faster.

Massive Amounts Of Fun! Coming to HESSFEST is like going to Disney World or Las Vegas. It's the ultimate fun for musicians. You experience moments that you remember and smile about forever. This is why people come back every year!

Great Hotel At Affordable Rates: In addition to all the master classes, 1-1 lessons, performances, jamming and other music fun, you will be staying at a comfortable (but not expensive thanks to our low special group discount rate!) hotel with large lounge areas, restaurants, bars and a swimming pool. Plus, free local bus shuttles to area shopping. And of course lots and lots of music fun with cool people!

If you watched the video above, then you already know that you DEFINITELY want to attend HESSFEST… How do I know that? I know because EVERYONE wants to come to HESSFEST, and everyone who has ever been to HESSFEST loves it – and you will too.
Look How Far People Travel To Come To HESSFEST!
| | | | | |
| --- | --- | --- | --- | --- |
| Canada | Mexico | England | Ireland | Germany |
| Holland | Belgium | Sweden | Norway | Finland |
| Denmark | Poland | Russia | Malta | Italy |
| France | Estonia | Greece | Slovenia | Croatia |
| Austria | Switzerland | Spain | Lebanon | Israel |
| South Africa | New Zealand | Australia | South Korea | India |
| Singapore | Czech Republic | Argentina | Japan | Syria |
| China | Malaysia | Ukraine | United States | Brazil |
| Paraguay | Lithuania | Hong Kong | Sri Lanka | Vietnam |
| El Salvador | United Arab Emirates | Bangladesh | Chile | Scotland |

Coming to Hessfest man, I mean dude, my life is just changing day by day. My skills, my guitar playing coming here it like gets so much better each day that it… I don't know how to explain this man… It's just so freaking awesome being with all these people man. I love everybody man, on such a deep level… everybody. It's not like having friends, it's more like having family. Really care. Like literally it almost brings me to tears sometimes, the fact that I'm here you know.

Matteo Miller, San Diego, California, USA

Hessfest is a huge event. I mean, it's a lot of fun, because you get to meet with other musicians and other people who are really, highly motivated. I mean, most of the other musicians I meet and talk to on a regular basis are just kind of dragging their feet. But when you come to Hessfest, it's dozens and dozens of people who are highly motivated and want to be here, and want to become better and have a lot of fun. And the environment is really cool, everybody is here to help each other out. There's not really a sense of competition or anything, and so it's a really cool environment to be in as a musician away from you know, competition with other bands or other musicians at home. It's a really exciting environment and it's really unique.

It's completely worth the cost, that's for sure. And that's why I did come again. Even my wife, she's not as much of a musician as everybody else, she sings and she can play a little and she's great at what she does. Even she comes and has a really good time, and enjoys being around everybody and getting to meet everybody. But because, you know each year the master classes and stuff we do are different, each year there are different people. It's totally worth the money invested for it… I mean, tenfold. The things that I learned last year, that I've gone and taken and implemented have made me more money than what it cost to come… so it's totally worth it.

Brad Litton, Vernal, Utah

It's been pretty much amazing. Like everyone is amazing. Starting from the master classes, one on one lessons, I just had mine, was pretty amazing. I have a lot of practice. And especially the jamming at night after midnight, that's totally amazing, because you can interact with all the other musicians and you get feedback, and you just have a lot of fun you know. And it's like being with people who want to achieve the same thing but who are totally different. Like people coming from everywhere, not just the US, or Europe or Canada… but everywhere. I mean, I came from the Middle East from Lebanon, I flew like 5,000 miles just to be here so... It was really cool and worth every penny.

Mohamed Karim Koleilat, Beirut, Lebanon

Hessfest. Just the days before Hessfest, I had the feeling of being a child and waiting for Christmas presents. It was, the excitement even before I got here was like… just that was part of the cool experience. Then I actually got here, and it's just constantly cool. You know, it's just having fun all the time and learning like, just being in the room with all those musicians, and you started talking and go jamming at the hotel rooms. And you know, even if this was it, it would be worth it. And it's only been three days. it just kicks ass!

My favorite part about Hessfest is coming around so many musicians that are all, like if they traveled from the other side of the Earth, they have a love for music and they're very dedicated. Sometimes if you're serious about music, you kind of feel like you're alone on an island sometimes. And when you get here, you totally see yourself in many other people, in almost everybody… you know, it's kind of really really cool to see so many other people that do the same as you do, or that are at a higher level than you are, and that's something I really like about Hessfest, and it really opens your eyes to what's possible in music. And of course, the interactions with Tom Hess, you get to talk with him on a personal level. It's also very very cool. He'll say very inspiring things and he helps out with all kinds of things and it's great.

Magnus Gautestad, Norway

Hessfest is to me, it's a very special event, because it's not something you can sort of find in any city really around the world. It's a sort of one of a kind thing. What's really special about it is, the people there are very enthusiastic and passionate about music, and also all the actual program, the content is very, it's very unique too, it's not sort of standard text book stuff, it's really interesting, exciting things that are taught. And it's very inspiring to learn things like that and you kind of feel, you feel like you've learned something that you can't just go and learn somewhere else. It's a real good feeling.

It's definitely worth the investment. You can't sort of go to somewhere like this. Melbourne is a big city, but I know there's nothing going on in Melbourne that's like this. And it's just and incredible environment, because there's so many like-minded people, and you just have fun. That's what it's all about. You keep learning, but it's just really fun because you're surrounded by passionate people that are enthusiastic and share a lot of the interests you share and you just learn some really cool stuff, and you play a lot of guitar, and you have fun.

Chris Ball, Melbourne, Australia

"In a nutshell, I was FLOORED by this whole event. I can't imagine that it could have gone any better. I'm not sure really what I was expecting, but I can tell you that I came away feeling like my life has been changed in some significant way."

Nick Layton, Vancouver, Washington, USA

"We got to watch the master at work... Seeing Tom Hess play on a screen is one thing, seeing him play from about 25 cm away as it happened at one point is a whole different experience... The sheer sight of us all trying to analyse every micro-movement Tom Hess's hands were doing hardly leaving him any room to breath must have been absolutely hilarious from the outside... Imagine 40 people literally bending over-backwards to try and get the best possible angle on Tom Hess's hands as he's demonstrating a sweeping lick, but that was absolutely invaluable as an experience since you hardly get the chance to see players of that caliber from so close who are willing to share their experience and explain in minute details what they're doing and how they're doing it... And Tom Hess absolutely did..."

Chris Martins, France

Fun. People. Hessfest is great. I mean, coming and meeting all the people I talk to on the forum, people that help me out, or I give them help with whatever questions they have. It's great to finally meet them, and just have a good time playing guitar and learning.

When Tom Hess teaches stuff it's just… well I've had many guitar teachers besides Tom Hess, so when he teaches things, it's mind-blowing, I mean he teaches things that others don't teach, and so it's exciting to learn new stuff and it's very high quality.

Preston Howard, Salt Lake City, Utah, USA

Love Hessfest. It's a place where all kinds of guitar fanatics get together, and people who are serious about guitar. That's where you can meet up with them.

Ty Morgan, Phoenix, Arizona


I think one of the best things about Hessfest is the other students. I don't know how to describe it being way more than I expected, but not only just the lectures and the information, but like I said, the other students, and meeting people from all over the world kind of surprised me. I kind of anticipated that, but not quite what I had expected. You know for me, I took lessons about a year and half ago, online lessons from Tom Hess and… I think his level will take me where I want to go. And for me to be here, is going to accomplish that goal. It's going to kick me back… kick me in gear to do what I want to do. To me the Hessfest is covers the whole gambit. I was somewhat expecting to be intimidated by other great famous guitar players, and I find that I'm just kind of in the middle, kind of like everybody else. There are guys that are way better than me, there are guys, guys and gals that, you know are on my level. I don't feel intimidated, I feel a lot more comfortable than I expected to be.

Michael Rowcliff, Minneapolis, Minnesota, USA

It's been a life-changing experience. I got to meet Tom Hess which is fantastic. He's given me a lot of tips. It's definitely improved my guitar playing, just in these few days. And I've got to meet heaps of great people from all over the world. And it feels like everyone here is my friend. You know, I don't feel like an outsider. I don't feel like there are other outsiders here, everyone is on the same page here, and they're excellent people.

Greg Trotter, Melbourne, Australia

The moment I heard about such an event or read about such an event… To me it was something completely new. I don't care that it's half way across the world… I wanted to be here at Hessfest since I heard about it.

So the moment I joined correspondence lessons with Tom Hess and I knew that I had the opportunity I wanted to be here every year since 2008. I even bought the ticket once, but I couldn't make it unfortunately. But you know, now that I'm here, being in the same room with so many awesome, helpful people… I don't have a community like this anywhere else. And you know, I would say, this is my life… all these people here at Hessfest. Meeting all these great guitar players and just drawing inspiration from all of them… it's just massive for me.

Vishaal Kapoor, Kuala Lumpur, Malaysia


I think Hessfest is probably one of the best places I've ever been to get together with a group of musicians. Mostly just a lot of like-minded people who have great attitudes and are just fun to be around. And having been a musician for almost 15 years now, that's not an easy thing to come by.

I always walk away from every day feeling great, feeling excited about the next day and I always feel great, just I meet so many people every day. So that part of it is just the best part for me.

Andrew Tintle, Richmond, California, USA


"I always expect a lot from Tom Hess and he over delivers on a consistent basis. I am surprised that my face muscles are not sore from all of the smiling I did over the past week! Thank you Tom Hess for everything you have done for me and for yet another experience I will never forget!"

Paul Tauterouff, New York, USA

"Thank you Tom Hess! Thanks for making this happen! I had a blast in all possible ways. Meeting such talented, ultra cool people just blew my mind. All the Master Classes and one-on-one lessons were great, I learned and got so much out from those that it will take a while to digest everything. I feel that the HESSFEST gave me an inspiration boost for life!"

Risto Kivela, Illinois, USA


"This was truly an awesome event. Mega thanks to Tom Hess for putting this on, to the hardworking staff, and to all who attended. I must admit, when I first arrived, I expected I would feel like an outsider, being both a newbie to the event, and a non-guitarist, too. That melted away within minutes of meeting you all. By the time I left, it felt like family. Being a singer in a very guitar heavy environment, I got to learn the true meaning of the term "cross-pollenation." I was really surprised how much of the material I could apply directly to my own musical world. Tom Hess's "Pro-gression vs. Retro-gression" tip is going to affect every song I write from now on, and the inevitable rewrites of existing ones. Pretty freakin' WOW! Can't wait to see you all again next year!"

Jim Dix, Florida, USA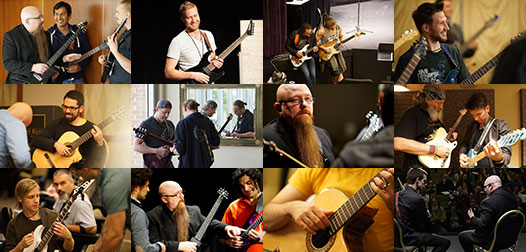 Tickets are limited and HESSFEST sells out every year. 2019 will be no different. Get your ticket before someone else gets your ticket!
This is my second HESSFEST that I've attended and the first time I had no idea what I was in for and then it exceeded my expectations. And this is my second HESSFEST that I've attended, and once again it's completely exceeded all my expectations.

The master classes are absolutely incredible. The content that's provided is like no other content that I've ever been exposed to. The comradery amongst all the musicians is fantastic. There's spontaneous jam sessions that just happen in the hallways here at this facility. Magnificent. Tom Hess hanging out after the event. Just hanging out in the hallway like one of the guys. That's worth the price of admission right there.

Absolutely best value for your dollar. Ever. Ever. Ever. Both times.

Fantastic. I mean it's nonstop 110% guitar orientated goodness. Absolutely, I'll be back next year.

Mark Turko, Thomaston, Connecticut, USA

"So far it's been incredible. It's been eye-opening, incredibly informative and I've felt a pretty big shift in mental paradigm for sure."

The master classes are, like they're quite something. Tom Hess's master classes were, as expected, great. You know there was some stuff that was sort of refreshing my mind of things I've learned in my correspondence lessons, but there's also a lot of new concepts being introduced and master classes from the other guest teachers were, you know phenomenal.

Ryan Mueller, Toronto, Ontario, Canada

HESSFEST is a lot of fun because it's a unique collection of guitar, well not just guitar players cause we have a lot of other people that come that aren't just guitar players... But it's a really unique collection of people who are dedicated and passionate about music and whether it's guitar playing or singing or having a music career or teaching business or whatever it is... ... you don't find a group of people that are as positive and as dedicated as you do with the people that come to HESSFEST.

The master classes are always a lot of fun. I take pages and pages of notes, I learn lots of stuff and then I get to take that stuff home and teach it to my students too which is great. ... and it's awesome to get to see other people get up and perform and do their lessons because I can learn from all that too. I mean I've had some many questions answered about my own guitar playing stuff just by watching someone else's guitar lesson because they had a similar problem or they had a problem that I didn't realize that I had. And so that gets solved just by watching that. Then of course, it's a lot of fun to watch people get up and perform and just see how much talent is sitting in that one room... it's pretty amazing.

Brad Litton, Vernal, Utah, USA

"Have you ever had the feeling where you met somebody and you felt like you've known them for a really long time? That's the feeling that I get around everybody around here."

We're all into the same...We all have the same passion. We're all motivated. We're all very dedicated, because some of these people travel from all over the planet to be here... it's absolutely inspirational because everyone here is just trying to better themselves and consequently they're trying to better each other and lift each other up as well.

Josh Beetler, Taunton, Massachusetts, USA
---
Here is your schedule for the Ultimate Creativity And Guitar Soloing Training Week - Ultra Badass Package events:
HESSFEST
6-13-2019 - Thursday
6-14-2019 - Friday
6-15-2019 - Saturday
6-16-2019 - Sunday
Ultimate Creativity And Guitar Soloing Mastery Training Week
6-17-2019 - Monday
6-18-2019 - Tuesday
6-19-2019 - Wednesday
6-20-2019 – Thursday
6-21-2019 – Friday
6-22-2019 – Saturday
Ultimate Creativity And Guitar Soloing Mastery - ELITE FORCE SPECIAL TRAINING
6-23-2019 – Sunday
6-24-2019 – Monday
6-25-2019 – Tuesday

Here Is What You Are Going To Get:
1. Ultimate Creativity And Guitar Soloing Mastery Training Week Event

$1,997.00 value

2. Ultimate Creativity And Guitar Soloing Mastery Training Week

ELITE FORCE Special Training

Event
$997.00 value
3. HESSFEST Event Ticket
$497.00 value

Plus You Get These Huge Free Bonuses:

4. HESSFEST Event Ticket Free For A Friend

*You can give your free ticket to any friend you want over the age of 18 who is also not a current or former client/student of mine.

$497.00 value
5. Ultimate Creativity And Guitar Mastery Training 100+ Page Training Manual
$1000.00 value
6. Ultimate Creativity And Guitar Mastery 12-Week Pre-Training
$684.00 value
7. Certificate Of Guitar Creativity Training Completion
Priceless!
Plus you get these additional bonuses free:

1. HESSFEST VIP Front Rows Seating
2. Priority 1-1 lesson time with Tom Hess at HESSFEST
3. Priority Student Performance Critiques at HESSFEST
4. Priority Event Registration
---
Complete Package Value

$5,672.00

Total Value
Ultimate Creativity And Guitar Soloing Mastery Training Week –

Ultra Badass Package Deal

$2,997
Click here to return to the main Ultimate Creativity And Guitar Soloing Mastery Training Week page.