How To Build Lightning Fast Guitar Picking Speed
Learn how to build
lightning fast guitar
picking speed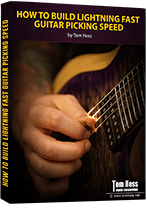 ENTER YOUR NAME AND
EMAIL TO GET ACCESS
FREE eGuide
By submitting your info, you agree to send it to Tom Hess Music Corporation who will process and use it according to their privacy policy.
Most guitar players struggle to pick clean & fast… but you don't have to be one of them. You can develop incredible picking speed even if you've struggled to do so in the past and don't have a lot of time to practice.
I've created a free eGuide that tells you exactly what to do in order to pick faster, cleaner and more accurately than you ever have before.
Here is what you learn:
Why you don't need hundreds of exercises to build your picking speed and what to practice instead to break through any speed plateau over the next 9 days.

How to master the 4 types of picking motions that let you play anything you want as fast and as clean as you want.

The exact steps to take, precise metronome tempos to use and specific licks to practice to make maximum progress in minimum time.

How to use "Speed Bursts" TM to quickly get comfortable with playing at very fast speeds without boring slow practice.

What to focus on while you practice, to make sure you get results even if you only have 10-20 minutes to practice guitar each day.

What to do after you break through your picking speed plateau to improve the rest of your guitar playing and become the musician you've always wanted to be.
To learn (for free) how to build lightning fast guitar picking speed, enter your name and email address and click the 'Give Me Access Now' button. All information is kept 100% private and confidential.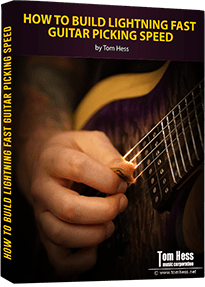 LEARN HOW TO BUILD LIGHTNING FAST GUITAR PICKING SPEED
ENTER YOUR NAME AND EMAIL TO GET ACCESS
By submitting your info, you agree to send it to Tom Hess Music Corporation who will process and use it according to their privacy policy.