How To Get Your Guitar Students To Refer You To Their Friends
by Tom Hess
---
Here is a simple way to get more guitar students through referrals:
Create an event for all your students to attend (for free) and allow them to bring ONE friend. At the event, teach about a universal guitar playing topic that relates to everyone in the room. For example: If you teach rock guitar lessons, teach about how to play cool guitar solos using different techniques, how to play badass guitar riffs, etc.
Holding an event like this helps you attract students in the following ways:
It's a fun thing that your student can plan for with his/her friend. Attending the event creates a shared positive experience they can share. This makes it more likely they'll think about it in the future… leading to increased probability that the friend will consider taking lessons.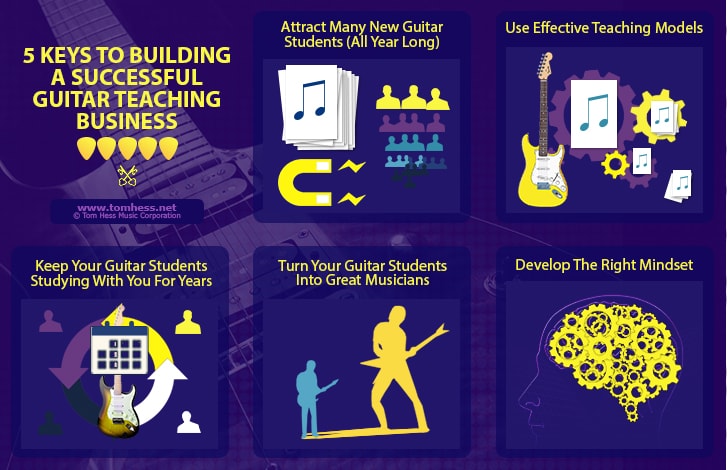 It's a noteworthy event your student will mention to everyone he/she knows. Your student (and invited friend) is likely to tell friends and family about your cool event. This makes other people who play guitar curious about it and curious about you.
Holding events like this is a lot of fun for you and your students. They give you a creative way to teach cool musical topics and can be leveraged to help you sell products, classes and future events. It's also an excellent way to keep your students taking lessons for years to come.
Want to get more ideas for how to get more guitar students? Learn 5 reasons why you struggle to get guitar students and start earning more money as a guitar teacher.
---

About Tom Hess: Tom Hess is a guitar teacher, music career mentor and guitar teacher trainer. He trains guitar teachers from all over the world how to earn 6-figures per year teaching guitar, while working less than 40 hours per week.
Get started teaching guitar as a profession and earn a 6-figure annual income.