How To Instantly Turn An Average Lead Guitar Solo Into A Great One Using Backslides
by Tom Hess
---
The Secret To Adding Fire &
Emotion To Any Guitar Lick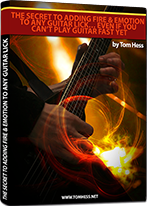 ENTER YOUR NAME AND
EMAIL TO GET ACCESS
FREE E-BOOK
By submitting your info, you agree to send it to Tom Hess Music Corporation who will process and use it according to their privacy policy.
I'm about to reveal to you one of my all-time favorite lead guitar techniques to add fire and emotion to any lead guitar solo.
The lead guitar technique is called:
Backslides

What are backslides?
A backslide is a guitar phrasing trick that consists of 3 steps:
1. You play a note in your guitar solo
2. You slide away from that note (up or down), to add guitar phrasing to it.
3. You slide back to the note you started from and continue playing your guitar solo.
And no, backslides are NOT the same guitar phrasing element as "descending slides". A descending slide happens when you slide to any note from a higher pitch.
Descending slides don't have 3 parts like backslides do.
Backslides are easier to demonstrate (and play) than they are to explain…
...so here is a lead guitar lesson video showing you how to do backslides with many guitar solo examples:


Want to know other guitar phrasing techniques that are just as simple as backslides that can add fire to your guitar solos?
Check these out:

Lead Guitar Phrasing Technique #1: Pinch Harmonics
Pinch harmonics are fun to use in any guitar solo and they are an example of guitar phrasing technique you can combine with backslides. This makes your lead guitar playing sound better right away.
Watch this video where I show you how to pinch harmonics the easy way to make any guitar solo scream with emotion:


How do you combine pinch harmonics with backslides when you play a guitar solo?
Simple: play a note you will do backslides from and articulate it with a pinch harmonic first. Then do backslides from it. You can also do backslides first and end them with a pinch harmonic.
Question: "Tom Hess, does it matter how many frets I slide up to when doing backslides in my guitar solo?"
Answer: Not at all. That is the beauty of backslides as a guitar phrasing element. When you use backslides in a guitar solo, you can slide up as many frets as you want. Nobody's ear is so good that they'll notice how many frets you are slide up to. Backslides are always a guitar phrasing ornament of a single note - they are not 3 different lead guitar notes.
And they are to be done fast. Keep this in mind when you work on your guitar phrasing.

Lead Guitar Phrasing Technique #2: Delayed Resolution
Music is about 2 things: tension and resolution.
When you delay resolution of a lead guitar lick, you build more tension. And this forces your listeners to pay attention to your guitar solo.
Here is a simple example of using delayed resolution with backslides in your lead guitar playing:
Play any guitar solo note you want to ornament with backslides. (For example: fret 7 on the G string.)
Quickly slide away from it (as you do when playing regular backslides). Then slide back to a note 1 fret below your original note (For example: fret 6 on the G string) and slowly bend up to the 7th fret.
That's an example of building tension in your guitar solo. And you combine 2 guitar phrasing techniques in your lead guitar playing: backslides and string bends.
It can be as simple as that.
They key to delaying the resolution (as a guitar phrasing idea) is to slow down the string bends. This adds a ton of musical tension to your guitar solo and makes your guitar phrasing sound more dramatic.
Bonus lead guitar tip for your next guitar solo:
Simply delay the release of the bend. Slow it down and don't give your listeners the satisfaction of hearing the bent note come down all the way. (More on this below.) This is one of my favorite guitar phrasing tricks ever.
Check out this video to see and hear delayed resolution in action.

Lead Guitar Phrasing Technique #3: Delayed Vibrato
Most guitarists do vibrato instantly in their lead guitar playing. Meaning: they play a note in a guitar solo and instantly add vibrato to it.
What's wrong with this? Nothing – except if you do it all the time, your guitar phrasing (and the rest of your lead guitar playing) starts to sound boring.
You can add variety to your vibrato by delaying it sightly. Here is how:
Step 1: Play any note in your guitar solo .
Step 2: Let the note ring (with no vibrato) for 1-2 seconds.
Step 3: Add vibrato to the note.
Watch this video to see and hear how to do delayed vibrato:



This is similar to how (rock) singers often do vibrato.
As an aside, you can improve your guitar solos by studying great singers. What you do is: transcribe their vocal melodies on your guitar…
… and focus on matching the nuances of their phrasing (of which delayed vibrato is one).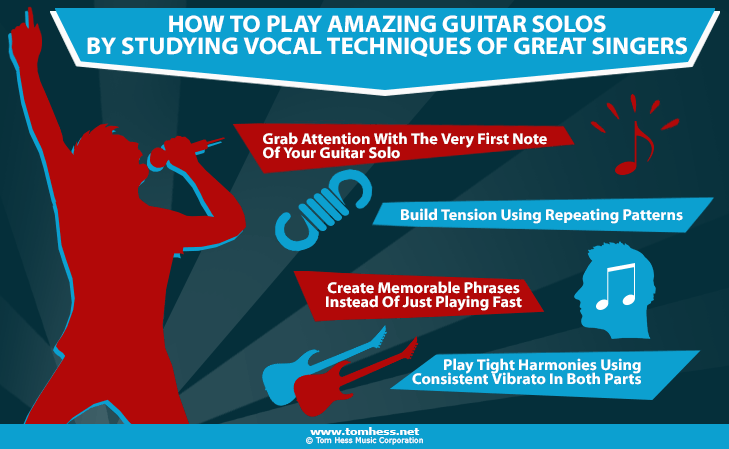 Now, I know you are thinking:
What does all this have to do with backslides?
The answer is: you can combine backslides with delayed vibrato to add more drama to all your guitar phrasing. This makes your guitar solos sound way more expressive.

Lead Guitar Phrasing Technique #4: Use Dramatic String Bends In Your Guitar Solos
The Secret To Adding Fire &
Emotion To Any Guitar Lick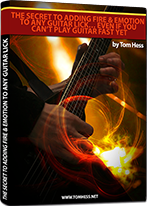 ENTER YOUR NAME AND
EMAIL TO GET ACCESS
FREE E-BOOK
By submitting your info, you agree to send it to Tom Hess Music Corporation who will process and use it according to their privacy policy.
You can add a ton of drama to your string bends by exaggerating the release of each bend.
This can happen before, during or after using backslides in a guitar solo.
Here is how:
- Use more pre-bends as part of your guitar phrasing arsenal. This means: bends the string first (without picking it). Then play the note when the string is bent and only sound the release.
This almost makes the note sound like it's crying.
- Slow down the release of the string bend. The release cannot be too slow – it can only be too fast.
Watch this video to see what I mean:



Bonus tip: rest your thumb on the lower (in pitch) strings when you do string bends. This keeps the lower strings from ringing out and keeps your playing clean.
Also, you can minimize string noise even more when you use your index finger (of the fretting hand) to mute the higher in pitch strings.
Don't barre the strings or use any pressure. Just rest the finger lightly on the strings to keep them from vibrating.
It looks like this: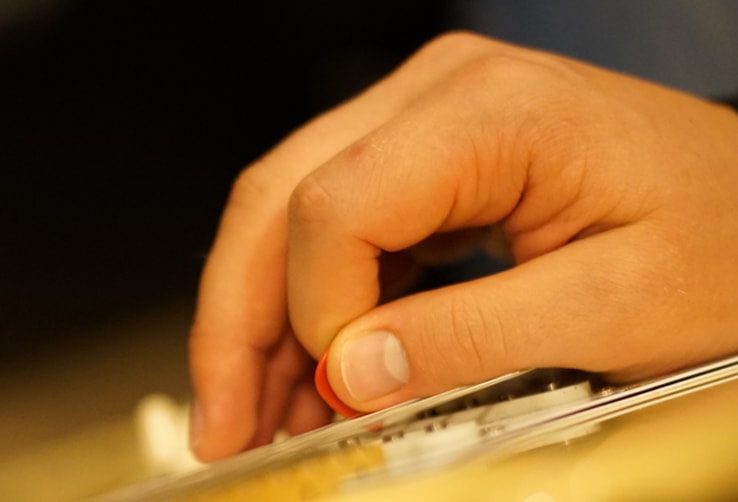 The idea is to combine these guitar phrasing ornaments (with backslides) to build your lead guitar arsenal of expressive guitar phrasing techniques.

As you use them in one guitar solo after another, you start to build your unforgettable lead guitar soloing style that sounds like you.

Lead Guitar Phrasing Technique #5: Rubato
Rubato is one of my all-time favorite guitar phrasing techniques.

It makes every lead guitar solo you play as unique to you as your fingerprints.
Here is why:
There are only 12 notes in a chromatic scale and a relatively small number of rhythmic divisions of a beat.
And all 12 notes and all rhythmic divisions of the beat have been used in countless songs and guitar solos.

That means: it's impossible to create a unique lead guitar style by relying on note choices alone. And it's very hard to be creative in your guitar phrasing if all you do is play strict divisions of the beat in your lead guitar licks.
Enter: rubato.
Rubato lets you "create" new and unpredictable guitar phrasing using rhythm. This adds a lot more variety to every lead guitar lick or solo you play.
Learn how to play amazing lead guitar licks using rubato by watching this guitar solo video:

Question: "Tom Hess, are you saying we should all try to be as original as possible?"
Answer: No, not at all. I'm only saying that if you want to put more uniqueness into your solos, rubato will help (a lot).
And no, I'm not saying standard divisions of the beat are bad or that you should avoid them.
Only that rubato adds a heck of a lot more musical options you'd never have otherwise.
Now that you know how to add more fire & emotion to your guitar licks, I want to help you transform the rest of your guitar playing (for free). To do that, I give you:

4 Pillars Of Guitar Mastery That Let Almost Anyone Play Lead Guitar As Well As They Want
This isn't a magic pill.
But I've used these 4 pillars with hundreds of students who now play lead guitar at very advanced levels.
And many of them practice guitar less than 1 hour per day - doing very specific things that make their fast progress possible.
You can start using these 4 pillars in your practicing today, if you want. And it's free.
Check out: https://tomhess.net/Guitar-Mastery-Decoded
And here is what my guitar students are saying:
"When I first heard about Tom Hess, I saw that he was a teacher that was very dedicated and serious about it, and that drew me in immediately. That this is a guy that has a plan, has a goal and really if you're serious about learning guitar, this guy is equally as serious in a way. So it resonated with me straight away."
I started out just learning by myself and as many others I got stuck. I had a few issues I wanted to get by, but when I met Tom and talked with him and started lessons with him, he opened up a whole new world of possibilities of what guitar playing can be.
I feel very grateful that I found lessons from Tom since I then did what worked from the very beginning. Many guitarists I see that played way longer than I did, they have build up many bad habits. That from the very start, there was clear instruction of how to practice correctly. You build the ability for high speed and whatever you want from the very beginning and you don't waste time doing inefficient things. So I'm very grateful that I did that, and now I really feel I am able to reach whatever level I want.
The reasons why I think I feel so motivated all the time is because I know that the thing I'm working on is relevant for me and it's exactly the direct thing I need to get.
The forum just kicks ass. The people in the forum - it's just like unconditional help all the time. They love to help out, and you also get very inspired by seeing someone just really getting speed really quick and then you say if he can do it, I can do it. It works on the mental side of being a guitarist and that of course that's the most important thing. Just being around other musicians like that, is just you learn so much faster, is so much less frustration when you can see that all the people are having the same issues that you do, not anything special or anything. It's just part of learning process, so it kicks ass.
Magnus Gautestad, Norway
"I wasn't really at the level I wanted to be at, and I didn't really know how to get there, and Tom just showed me the way, how to get to that level, how to practice properly, how to improve."
Tom is a great teacher, he knows what he is talking about and he doesn't just, like a lot of other guitar teachers, teach songs. Tom tells me what to practice, what's good for me to practice. There is a lot of free stuff on the internet, but there is nobody really telling you what to do, what's good for you, and that's what Tom is great at. Tom just knows so much about teaching, he knows how to deal with all the problems. Other teachers are not able to help me in the way that Tom does.
Ike Biedermann, Guitar Teacher, Leipzig, Germany
"I just love guitar lessons with Tom, he literally takes the time to make a specific lesson plan and sends you lessons as you need it."
My last lesson I took with a local guitar teacher before joining Tom, I was struggling with a sweep picking pattern, which was the 5 string root major, I was really struggling to get the rolling technique down. I took it to my guitar teacher and I was like "Help me with this, I don't know what I'm doing wrong." This is his exact phrase: "At high speeds, it doesn't really matter if you can play it clean or not, no one can hear it anyway." At that point, I was just like, "Ah man." But thankfully, in that same message, he mentioned Tom's name. Then the doors opened. That very night, I went home and looked at every single lesson Tom had, had my guitar in hand, every YouTube lesson on you know "correct motions", "play this over chords"... just applied it instantly, and it was instant results within an hour... just from his free stuff. I was like, oh man, I've got to do lessons with this guy.
I remember when I first started out with lessons, I instantly jumped on the forum to greet myself, and it's amazing how there's like 30 responses. Just like, "Hi welcome." and stuff... "Hi Dan, great musical tastes". That made me feel really at home and welcomed into Tom's forum and community. Every time I've had an issue when I was first starting out be it like theory or technique, there's always been someone there who's helped. Otherwise it could've been this potentially awkward process where I'd have to wait a whole week to get an answer from my teacher, who even then may not have answered it correctly and may have never solved it. Whereas there are guys on there who have been with Tom and have been through exactly what I've been through. They know exactly how to help, in what order, what information you need... it's just a friendly atmosphere really.
Dan Mayhew, Stowmarket, UK
Want to get the same results in your playing to make every guitar solo a great one? I can help you with this in my Breakthrough Guitar Lessons online. Click the green "Start Now" button below to learn more.
---

About Tom Hess: Tom Hess is a guitar teacher, music career mentor and guitar teacher trainer. He teaches rock guitar lessons online to students from all over the world and conducts instructional live guitar training events attended by musicians from over 50 countries.
Love the sound of backslides? This is just the beginning. Become the lead guitar player you've always wanted to be with the most proven
rock guitar lessons online
.