Learn How To Play Guitar Cleanly And Fast With Ease
---
If you are struggling to play guitar fast and clean and want to change it, this page will show you how.


The first thing to know about speed is:

Playing guitar fast has nothing to do with moving your fingers (or pick) fast. (You probably already have way more raw guitar speed than you realize.)

What's holding you back is:
Lack Of Efficiency

You read correctly.

The easiest way to get a guitar speed boost is to move your hands more efficiently.

Take your fretting hand for example.

Here are two huge mistakes most guitarists make in their fretting hand:
Curling your thumb around the back of the neck with your fretting hand. (Or letting it point towards the head of the guitar - parallel with the guitar neck).

Picking scales using inefficient picking motions. Until you correct these two poor playing habits, playing guitar fast and clean will be a struggle.
How do you fix these mistakes?

This video demonstrates how to play guitar fast with ease. It shows how to use better picking motions in the picking hand and better posture with the thumb of the fretting hand:

Click on the video to begin watching it.
See my other instructional guitar videos, available to my YouTube subscribers - follow my channel by clicking the button below:

Common questions about efficiency:

Question: "Tom Hess, what about string bends and vibrato? Doesn't the thumb have to come up over the top of the neck when doing these techniques?"

Answer: Yes, it does. When you bend strings (or do vibrato), the web between your thumb and index finger gives you the a pivot point for doing these techniques.

You need to practice switching between the thumb-over and thumb-behind-the-neck positions when you practice. (It's not hard and doesn't take a long time, but it is a nuance you need to focus on.)

Question: Tom Hess, my thumb generally stays in a good position until I shift positions. Then it points towards the head of the guitar. What should I do?

Answer: This is very common. The solution is to isolate position shifts.

Like this:

Step 1: Isolate the last 2-3 notes of "part 1" (the part your fretting hand plays before the position shift …
… and the first 2-3 notes of "part 2" (the part your fretting hand plays after the position shift).

Step 2: Practice switching from one isolated fragment to another without picking any notes.

Don't use any hammer ons or pull offs (unless they are part of the lick) – just fret notes in silence.

As you do Step 2, watch your fretting hand thumb like a hawk. And play as slowly as it takes to keep it from shifting.

Here is the good news:

You can easily get your thumb to do what you want (it won't take long at all – a couple of weeks at most.)

That's because the problem is almost entirely mental, not physical. And the way you fix any mental guitar playing problem is by slowing down enough to do the motion the right way.

That's all there is to it.

Question: "Tom Hess, I can't keep my thumb behind the neck when I am playing on the highest frets. What should I do?"

Answer: This is normal. Here is why it happens:

To keep your thumb behind the neck of the guitar, it has to come down (and become closer to the high E string than it would normally be).

However, on most guitars, the guitar body begins to dig into the back of your wrist when you do this.

That means: proper hand position on the higher frets (on most modern guitars) is not possible

Good news is: this doesn't matter. Many great players let their thumb come up and wrap the fretboard while they play on the highest frets.

On higher frets, this is not a problem, because the frets are so close together. Just make sure to use proper hand position when you are playing on the lower frets.

Now that we covered efficiency of the fretting hand, let's make your picking hand more efficient too.

It all starts with keeping your pick close to the strings between notes and making your picking motions smaller.
(Avoid moving your pick too far away from the strings.)

THIS is where efficiency (or lack of it) can make or break your guitar speed.

Also, be mindful of "pick wobbling".

What is pick wobbling?

It's where your guitar pick moves around in your hand as you play.

Here is why this is a problem:

After your pick moves, it takes a moment for it to adjust back into position. This inefficiency gets in the way of your 2-hand synchronization and makes playing fast very hard.

Find a way hold the pick so it doesn't move when you play.

And speaking of guitar picks…

Use a guitar pick thick enough to not flex when you play. Here is one more BIG tip for your picking hand efficiency.

Use directional picking in all of your lead guitar playing.

Directional picking is more efficient than strict alternate picking and it helps you build more sped with less effort.

What is directional picking?

It's where you use alternate picking on a single string … and when you change strings, you pick in in the direction of the string you are going to.

Said another way: when you are ascending (moving to the string that is higher in pitch), you change strings with a downstroke.

When you are descending (moving to the lower in pitch string), you change strings with an upstroke.


Question: "Tom Hess, does directional picking only work for 3-note-per-string scales? What if I want to play pentatonic scales or other scales that don't have 3 notes on every string?"

Answer: Directional picking works for everything you play (with zero exceptions).

The principle of directional picking is to use the shortest possible path to the next note you play. Sometimes the shortest path to your next note is to use alternate picking. Other times, the shortest path is to use sweep picking to change strings and NOT use alternate picking.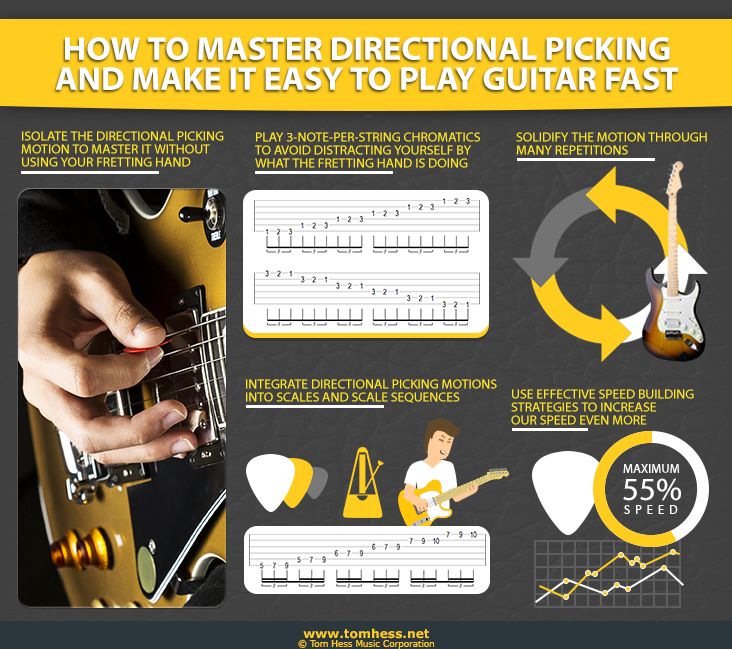 Back to the topic of speed:

Once you work on these elements of efficiency to your guitar playing, your speed will have no choice but to increase.

Same way it increases for guitar players I teach in my Breakthrough Guitar Lessons.

"When I came to Tom for online guitar lessons, I already had a decent overall level of technique and understood the basics of music theory pretty well. I had taken lessons with other teachers before, and went through several guitar method books that promised to teach me how to become a great lead guitar player. I learned all the materials in these books and courses and picked up some useful tips and knowledge along the way.
Yet for some reason I still wasn't feeling like a musician.
I struggled very much with writing my own songs, creating my own solos and pushing my guitar technique and speed to a higher level (especially sweep picking, alternate picking, and playing clean at high speeds).
When I started learning from Tom, the main thing that made him different from other teachers was that he was showing me how to excel in all aspects of my guitar playing by applying the skills that I already knew together with the new material that I was learning from him.
He made me aware of both strengths and weaknesses in my playing that I did not even know I had. From there he gave me the knowledge, tools and guidance to literally transform my guitar playing by enabling me to overcome things that were preventing me from becoming a truly creative and self-expressive guitar player. These were the kinds of things that none of my previous guitar teachers and books I studied were able to do for me.
After Tom made me aware of all the things I was missing in my guitar playing and provided me with the strategy and tools for solving them, I began to make very fast progress in all areas of my guitar playing.
I can now write my own music and can create lead guitar solos that I am happy and fulfilled with. I also have the technical skills to confidently and easily play anything that I want to express. I have overcome all of the lead guitar challenges that I struggled with before, and increased my guitar speed to virtuoso levels. More importantly, I have the knowledge and understanding of how to continually improve my guitar playing and musical skills to higher and higher levels to continue expressing myself with my music. Overall, I have definitely transformed in a huge way as a musician and as a person through my lessons with Tom Hess. I am grateful to him for guiding me towards becoming the guitarist I always wanted to be!"
Mike Philippov, Indiana, USA
"Before I took lessons with Tom Hess, I wanted to learn how to do some sweep picking and I also wanted to fill in a few gaps that I thought I might've had in my playing. And also I was feeling a little bit frustrated with not knowing where to take my playing. I didn't really know how to get better. I felt like I reached a plateau, so that's why I sought out Tom."
I've had a few other guitar teachers before I took lessons with Tom, and most of them weren't very good. And after reading a few articles online that Tom had written, I could tell that this guy was going to be the teacher for me.
The biggest thing that I really like is the actual guitar lessons themselves. I'm finding that I'm learning new things that I never even considered every single time I get a lesson. Something new to apply to my playing each time. But of course, I really enjoy the forum as well, because thanks to the lessons with Tom, I've been able to meet people from all over the world who have similar experiences and similar goals, so that's been really motivating as well.
Before I took lessons with Tom I really didn't like improvisation. I knew scales, and I knew kind of how they applied over chord progressions, but I just didn't like it. Since taking lessons with Tom, some of the lessons are focused on that specific issue, and now I feel really comfortable about getting up in front of people and playing over any type of… in any key any backing track, I feel pretty comfortable doing that.
Tom actually knows what my goals are and gives me specific lessons that will help me achieve those goals. Other teachers that I've had before just do it their way… it's either their way or the highway. And they don't really care about what I wanted to do, and they didn't really listen, and they didn't really look into what I was doing or what my interests were and didn't really play into that.
It's really motivating to get to know people who are also students of Tom. It's really good to have positive-minded musicians around even if I'm just talking to them online, or if I meet them in person, either way it's still really motivating.
The forum has helped me because I am able to ask any music theory related questions or technique questions and I get those answered very very quickly. And I also like to participate in discussions and help share my knowledge as well with other people, which when I do that I feel that it's reinforcing the things that I know as well, so it helps with my music theory knowledge when I share as well.
Greg Trotter, Melbourne, Australia
"Before Breakthrough Guitar Lessons with Tom Hess, I was very very frustrated."
I've been a self-taught guitar player for 3 and half years. And then I got offline lessons for a year… a year and a half. I grew very dissatisfied with those lessons.
Tom Hess's goal-orientated approach has helped me more than any other guitar teacher that I had in the past, because I had never even heard of the term goals in relation to guitar playing. My offline teachers would never mention this phrase and it wouldn't even occur to me that setting goals was something that I should be doing, because it would actually force me to try to achieve things. So that was a bit of culture shock, but I've really gained from that because I now have a very good idea of what to practice... and if I practice it, I'm going to achieve my goals. So Tom Hess's goal-orientated approach has vastly… vastly improved my guitar playing.
Michael Hanna, Larne, United Kingdom

Want me to help you transform your guitar playing like this too?

Tell me about your musical goals and guitar playing challenges. And I'll create a customized lesson plan to get you playing guitar the way you want.
Plus: I'll track your progress, give you feedback on your guitar playing and hold your hand every step of the way to nearly guarantee your results.

To begin, go to: https://tomhess.net/Guitar