10 Simple Things You Can Do Right Now To Improve Your Live Shows... Even If You're Just Starting Out Playing Live

Give me 5 minutes and I will show you how to blow your audience away at your next gig and make the club owner glad they hired you.
You can do this even if you are a small local band and don't have a massive stage, an enormous P.A. system or a killer light show.
In this guide to improving your live shows, you discover: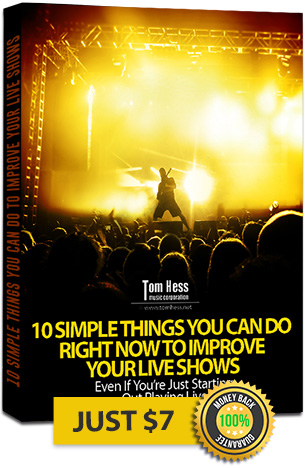 The very first thing to do when you walk into any venue to make your audience more excited and energetic during your show.

What to do when you play in front of an unfamiliar audience in a new city to make them warm up to you and enjoy your show.

The best way to engage everyone in the audience during your gig, so they have a great time and are more likely to come to your future shows.

Stage presence secrets that make your audience feel like you are playing just for them (all music fans LOVE this!).

How to use better stage positioning to make your shows, live videos and photos look amazing (so you can promote your future shows better and get more of your fans to come to your gigs).

How to make your audience enjoy your original music, so you don't have to only play cover songs at every show.

The #1 most common mistake to avoid at all costs that can sabotage your live shows and make it hard for you to get gigs.
The eGuide is available for instant download on my website, so you can begin learning right away (nothing is shipped).
Isn't it time for your band to become the most popular band in your area? Download the eGuide to improving your live shows for only $7 and blow your audience away at your next gig.

PS. These 10 ideas are very easy to implement even if you have no money to invest into improving your live show. You can add them into your live shows today and watch your band's career grow like never before.
Click here to get started
.
"I have left my day job and I'm making 5 times more money than before
and building my career very fast." - Antony Reynaert, Belgium