How To Get Better Results For Your Guitar Students & Grow Your Teaching Business
by Tom Hess
---
It's frustrating when your guitar students don't seem to be making progress and slowly stop coming to lessons. Good news: there are three ways to quickly turn this situation around and start getting better results to keep your students coming back for more:

1. Give Them Early Victories
Solve your guitar students' problems more effectively by having them fix easy problems first, before diving into deeper issues. This gives them the confidence that they CAN improve. This motivates them for times when they need to work harder to fix things that take a lot of effort (and might have been boring for them before).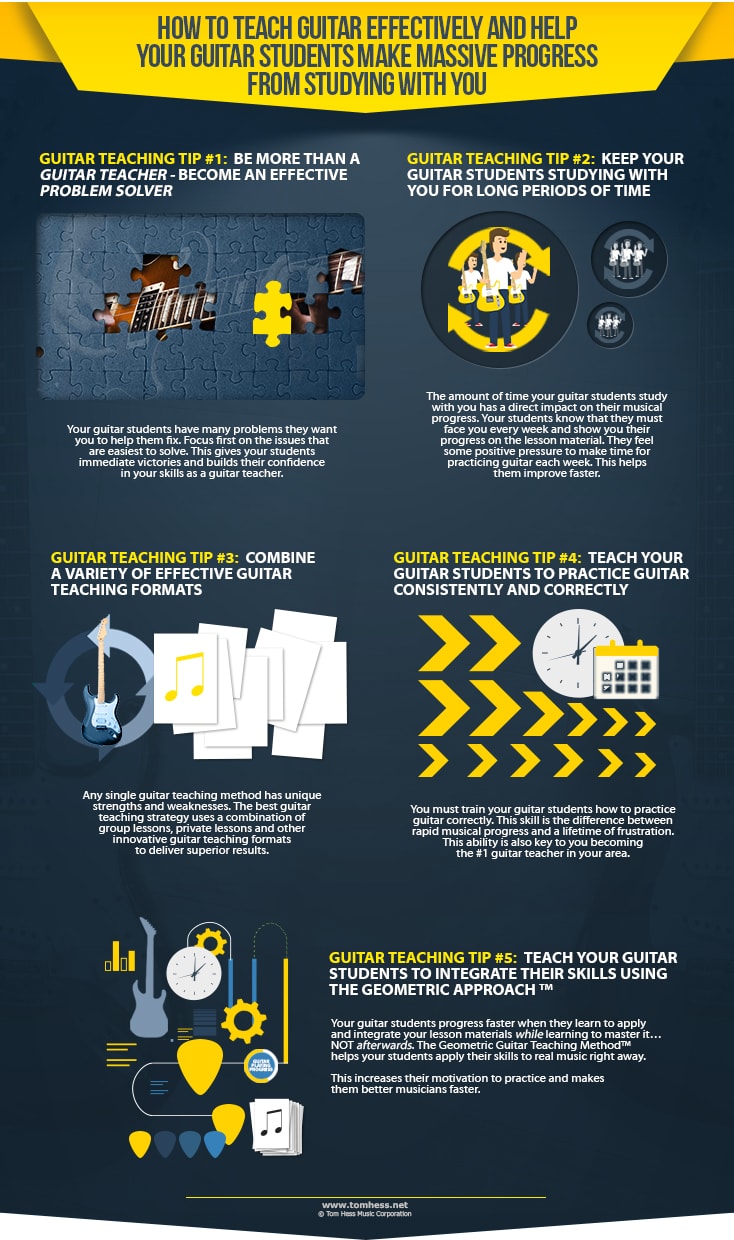 2. Teach Guitar In Different Formats
Your guitar lessons do NOT have to be limited to private/1 on 1 lessons only. Teach using a variety of different formats to get better results. For example: group classes, group classes about a specific topic or student events that are fun and promote a sense of community (which motivates your students to improve).

3. Teach Your Students How To Practice During Lessons
Don't just assume your students will practice on their own. Show them the correct way to practice during their lesson with you. Correct their mistakes so they know for sure how to practice the right way when you aren't with them. Then motivate them to practice at home to get the best results.
Note: These are just a few ways to get better results for your students and become a great guitar teacher. Read this article with free guitar teaching tips to learn much more about how to quickly become the number one teacher in town, helps your students improve faster and earn good money while doing it.
---

About Tom Hess: Tom Hess is a guitar teacher, music career mentor and guitar teacher trainer. He trains guitar teachers from all over the world how to earn 6-figures per year teaching guitar, while working less than 40 hours per week.
Get started working as a guitar teacher and make a great living in no time teaching music.