7 Things That Guarantee Failure For Guitar Teachers - Why Most Will Fail To Make A Living Teaching Guitar
by Tom Hess
---
Do THIS And You'll Get A Lot More Guitar Students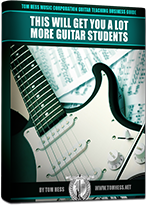 ENTER YOUR NAME AND
EMAIL TO GET ACCESS
FREE eGUIDE
By submitting your info, you agree to send it to Tom Hess Music Corporation who will process and use it according to their privacy policy.
Fact: most people who decide to teach guitar will not become successful and will never manage to help lots of people to learn guitar well.
Here are some staggering facts about the realities of working as a guitar teacher and teaching guitar:
The majority of guitar teachers earn less than $35,000 per year and struggle to make a living teaching guitar

Most guitar teachers have few (or no) truly great guitar students

Guitar teachers commonly report feeling burned out, frustrated and pessimistic about their potential to thrive in this business
In contrast to the above, the top 1% of guitar teachers:
Teach guitar part-time, earning 'at least' $100,000 per year

Help their guitar students achieve outstanding results in their guitar playing (faster than anybody else in the area typically can)

Have a lot of motivation, time and resources to invest into growing their business further in order to add lots of value to their guitar students

Work less than 40 hours per week (typically much less)
These statistics (about how lucrative it can be to teach guitar for a living) are shocking to most people. But they describe accurately how most teachers fall far short of their potential to make a living teaching guitar.
Do THIS And You'll Get A Lot More Guitar Students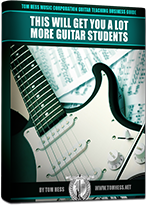 ENTER YOUR NAME AND
EMAIL TO GET ACCESS
FREE eGUIDE
By submitting your info, you agree to send it to Tom Hess Music Corporation who will process and use it according to their privacy policy.
I know these facts to be true because I mentor a large number of guitar teachers every month to make a living teaching guitar And I help them not only teach guitar, but dominate their local guitar teaching markets.
The worst part is that the things that cause many guitar teachers to fail to make a living teaching guitar often have NOTHING to do with how well they teach guitar, how talented they are or how much they care about their guitar students.
In most cases, guitar teachers fail to make a living teaching guitar by following many of the so-called 'common sense' and 'conventional wisdom' ideas in their guitar teaching businesses. These approaches might seem sound and logical on the surface until you dig deeper and realize how they are absolutely destroying your chances to successfully teach guitar for a living and at the same are actually hurting those guitar students in the process.
Here Are The Top Causes Of Failure For Guitar Teachers: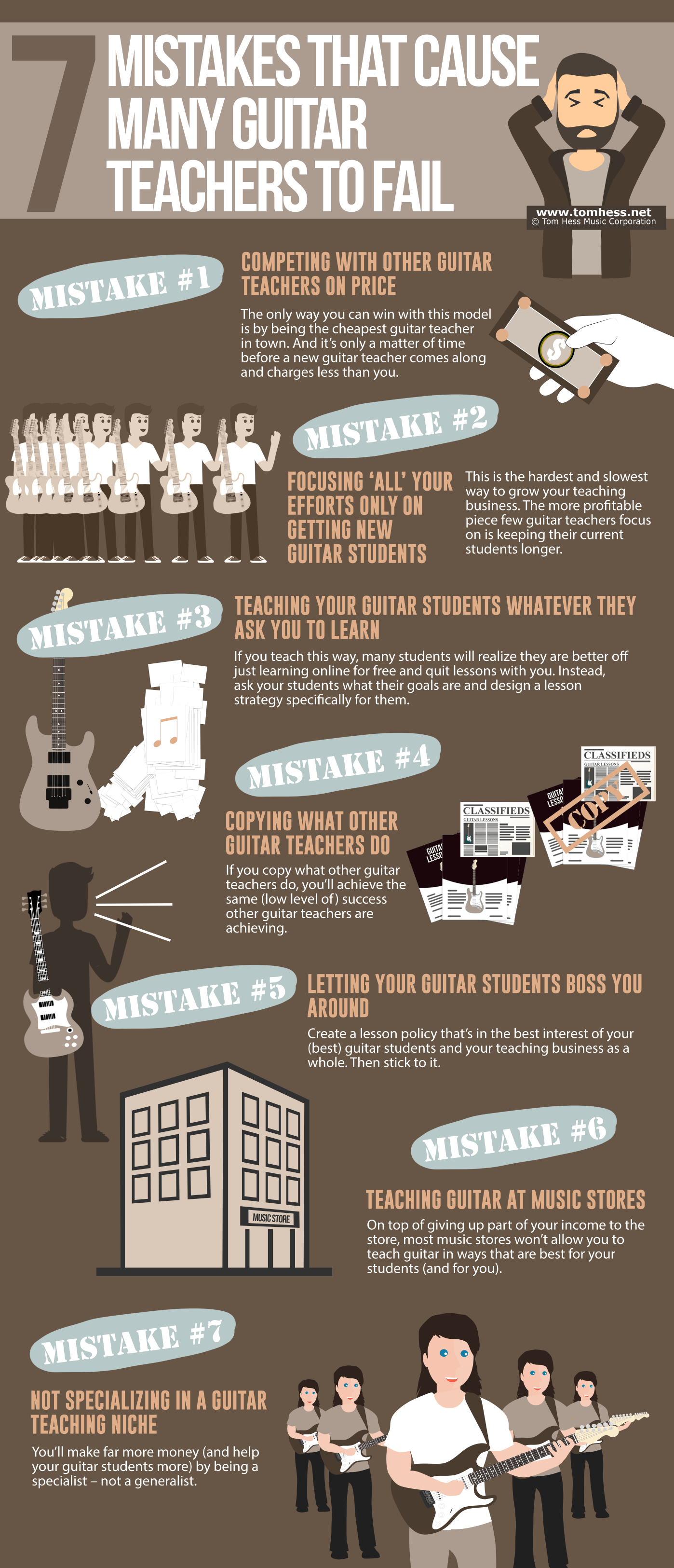 ---

About Tom Hess: Tom Hess is a guitar teacher, music career mentor and guitar teacher trainer. He teaches rock guitar lessons online to students from all over the world and conducts instructional live guitar training events attended by musicians from over 50 countries.
Get started
teaching guitar as a profession
and earn a 6-figure annual income.