7 Neoclassical Shred Guitar Licks From The Harmonic Minor Scale
by Tom Hess
---
start building lightning
fast guitar picking speed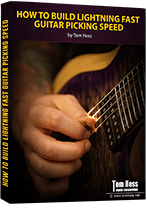 ENTER YOUR NAME AND
EMAIL TO GET ACCESS
FREE Ebook
By submitting your info, you agree to send it to Tom Hess Music Corporation who will process and use it according to their privacy policy.
If you like the dark sound of harmonic minor scales and shred guitar licks…
…I got 7 neoclassical shred guitar licks you're going to love.
Here is why:
These neoclassical shred guitar licks are not just great speed builders…
…they also sound great in just about any rock & metal guitar solo.
(Neoclassical or not.)
And as a side benefit…
They help you build your fretboard visualization with harmonic minor scales.
But don't worry...
They are also simple enough to play, even if you are not an advanced guitarist.
start building lightning
fast guitar picking speed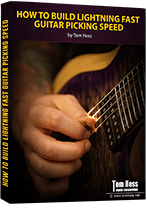 ENTER YOUR NAME AND
EMAIL TO GET ACCESS
FREE Ebook
By submitting your info, you agree to send it to Tom Hess Music Corporation who will process and use it according to their privacy policy.
(Or even if you are new to neoclassical guitar playing.)
Ready to use these shred guitar licks to start polishing your neoclassical chops?
Check out these harmonic minor shred guitar licks and enjoy:


Here are several more tips that help you play the neoclassical shred guitar licks you just learned faster and cleaner:

Neoclassical Guitar Shred Tip #1: Learn All 7 Positions Of The Harmonic Minor Scale
Harmonic minor scale is the bread and butter of neoclassical guitar playing, but…
Most guitarists don't truly know it!
Here is what I mean:
Most just play the very first shape of the harmonic minor scale and never learn the other 6.
The result?
They severely limit their neoclassical guitar playing.
And after learning shred guitar licks like the ones in this article…
…they get stuck only playing them the way they are written.
(And never move them around to other shapes of the harmonic minor scale.)
This gets boring pretty fast, even if you develop a lot of guitar speed.
The solution?
Learn all 7 shapes of the harmonic minor scale and practice them all over the guitar. Then, create harmonic minor scale sequences. This is a great way to get harmonic minor scales under your fingers fluently.
This video shows how (using the major scale as the example):


Neoclassical Guitar Shred Tip #2: Get Used To Wider Stretches
Harmonic minor scale has a wider interval between the 6th and 7th note in the scale.
(This interval gives the harmonic minor scale its unique sound.) That means:
Unlike the major (or natural minor) scale…
… harmonic minor scales put an additional demand on your fretting hand.
This stretch occurs in some of the harmonic minor shred guitar licks I show you on this video.
The solution?
Isolate fragments of the harmonic minor scale that have the stretch and practice relaxing into it.
Specifically: relax your jaw, shoulders, arms, stomach, thighs, calves & feet.
Practice fretting the 2-note harmonic minor stretch with fingers 2 and 4 and 1 & 3.
Like this:


Tip: don't practice this harmonic minor stretch in only one key. Move it around to lower in pitch keys (where the frets are further apart).
For example: move from A harmonic minor down to G harmonic minor, F# harmonic minor and even F harmonic minor.
The sooner you make the stretch feel easy, the easier it'll feel to play the neoclassical shred guitar licks I show you in this article.

Neoclassical Guitar Shred Tip #3: Use Thumb Muting
Know anybody who loves the sound of sloppy shred guitar licks?
Me neither. Especially when it comes to building guitar speed with neoclassical shred guitar licks.
Guitar speed means nothing if it's not clean.
That's why I tell all my guitar students (especially those who play neoclassical style and want to build guitar speed) to mute excess string noise using thumb muting.
What you do is rest your picking hand's thumb on the lower (in pitch) strings to keep them quiet.
Then slide the thumb up and down the strings as you play scales (and arpeggios) and work on building your guitar speed.
This is a great way to keep your shred guitar licks clean.
See this video where I show how to do thumb muting as you work on your guitar speed:


Question: "But Tom Hess, can't I play neoclassical shred guitar licks just as well using palm muting? Do I have to use thumb muting to play in neoclassical style?"
Answer: You don't have to use thumb muting… but thumb muting helps you build more guitar speed and makes your shred guitar licks sound a lot cleaner.
Here is why:
With thumb muting, your pick is at rest between strings. That means you can play more efficiently. And efficiency is key to playing fast neoclassical shred guitar licks.
Also, having the thumb on the strings makes your muting more consistent.

Meaning: you are less likely to accidentally let some strings ring out when you play your shred guitar licks.

Neoclassical Guitar Shred Tip #4: Use Directional Picking
Alternate picking is NOT the best technique for neoclassical guitar playing.
You'll have a much easier time playing shred guitar licks fast & clean with directional picking.
Directional picking is where you use alternate picking on the same string…
…and change strings by picking in the direction of the next string
Sometimes it means you'll be playing 2 downstrokes or 2 upstrokes in a row.
This reduces the motion of your picking hand by 1/3 (which is ideal for playing shred guitar licks).
This makes directional picking the ideal technique for neoclassical playing (where you need to building a lot of guitar speed).
Practice directional picking on the harmonic minor shred guitar licks I showed in this article.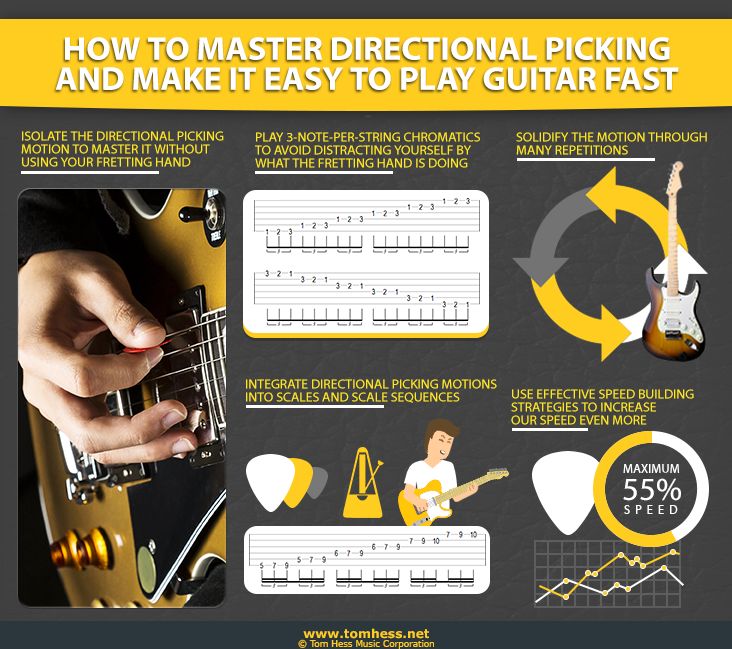 Question: "But Tom Hess, if directional picking is the best technique for guitar speed, why do many neoclassical guitar players use strict alternate picking in their shred guitar licks?"
Answer: Directional picking is a relatively new guitar technique compared to alternate picking.
Most guitar players from the 1980s & 1990s (when neoclassical guitar playing was gaining momentum) and 2000's did not have anyone to teach them directional picking.
So, they developed their guitar speed in spite of the inefficiencies of strict alternate picking… not because it is a superior technique. They had to work much harder (and longer) to play their shred guitar licks at fast speeds.

Neoclassical Guitar Shred Tip #5: Get Your Hands In Sync
To play these neoclassical shred guitar licks clean & fast, your hands had better be in sync.
How do you get your hands in sync?
First: find the gap between your overall top guitar speed on the neoclassical guitar licks I showed you…
… and guitar speed where you can keep your hands in sync.
This is called your 2-hand synchronization guitar speed threshold.
Then practice to close the gap between your 2-hand sync guitar speed threshold and your overall guitar speed with these harmonic minor licks.
See this video that shows how to do it:


Another way to get your hands in sync (and build guitar speed) is to:
Practice shred guitar licks on one string.
(This is a unique challenge for 2-hand synchronization). The better you can keep your hands in sync, the easier it becomes to stay in sync on all your other neoclassical licks.
Bonus guitar speed tip: alternate fretted notes with open strings. For example: alternate the notes of the E harmonic minor scale on the high E string with the open string, like this:




This not only helps you quickly create cool guitar licks (some of which can sound very neoclassical)…
…but also helps tighten up your 2-hand synchronization.

Neoclassical Guitar Shred Tip #6: Integrate Guitar Techniques
Most neoclassical guitar licks use more than one guitar technique. (Even the licks based on the harmonic minor scale.)
This is a big obstacle to building a lot of guitar speed in this style.
Meaning: just knowing the harmonic minor scale isn't enough to play shred guitar licks in this style well.
If you want to build guitar speed for neoclassical guitar playing, you need to practice connecting (integrating) several neoclassical techniques, like:
Scale sequences
Legato
2-hand tapping
Arpeggios
Pinch harmonics
The key is to practice building guitar speed by combining each of these techniques fluently.
The more you practice integration of techniques, the faster your guitar speed goes up. Best of all: this new guitar speed will now be usable in real-life guitar playing.
As a side benefit: you also get to practice creating shred guitar licks over your own. This is a much better way to build guitar speed than to always rely on someone else showing you shred guitar licks to play.
Watch this video where I show you how:


Here are some more ideas:
- test your guitar speed playing a neoclassical harmonic minor scale sequence first with legato, then with picking.
- practice building guitar speed on a single string (Yngwie is famous for playing many shred guitar licks on one string only)
- test your sweep picking guitar speed by inserting tremolo picking inside each arpeggio. This not only creates awesome shred guitar licks, but also tells you right away if your guitar speed is clean or not.
Note: your guitar speed with a shred guitar lick using just one technique will always be much higher than your guitar speed with shred guitar licks that combine several techniques. That's becasue the more guitar techniques you cram into a shred guitar lick, the harder it is to play (and the slower your guitar speed is with it).

Now you know how to build your neoclassical guitar chops, the next step is to transform the rest of your guitar playing (everything from your guitar technique, fretboard knowledge, creativity and music knowledge).

When you do that, you'll...

…Finally put it all together and feel like a real musician!
I can help you with this inside my Breakthrough Guitar Lessons.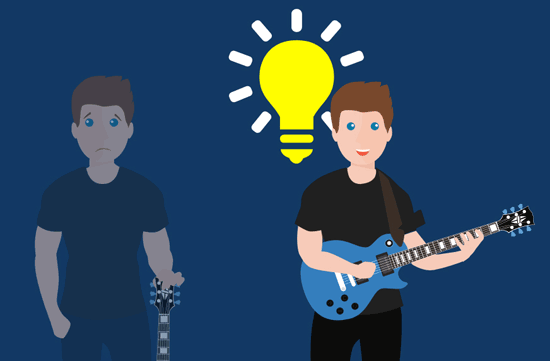 Here is how it works:

You tell me about your guitar playing challenges, current skill level, musical knowledge and your goals.

I then create a lesson strategy and your lesson materials tailored specifically for your musical strengths and weaknesses.
As you practice your lessons, I am here for you every step of the way.

I give you feedback on your guitar playing, answer your questions live on video every week, give you unlimited email support and train you in student-only live video classes.

And if you do your best to practice what I teach you at least 30 minutes per day, you almost can't fail to turn your guitar playing into something you feel really proud of.

To learn more, go here right now: https://tomhess.net/Guitar

Here are the results my guitar students are getting:

"Before Breakthrough Guitar Lessons with Tom Hess, I was very very frustrated."
I've been a self-taught guitar player for 3 and half years. And then I got offline lessons for a year… a year and a half. I grew very dissatisfied with those lessons.
Tom Hess's goal-orientated approach has helped me more than any other guitar teacher that I had in the past, because I had never even heard of the term goals in relation to guitar playing. My offline teachers would never mention this phrase and it wouldn't even occur to me that setting goals was something that I should be doing, because it would actually force me to try to achieve things. So that was a bit of culture shock, but I've really gained from that because I now have a very good idea of what to practice... and if I practice it, I'm going to achieve my goals. So Tom Hess's goal-orientated approach has vastly… vastly improved my guitar playing.
Michael Hanna, Larne, United Kingdom
"Before I took lessons with Tom Hess, I wanted to learn how to do some sweep picking and I also wanted to fill in a few gaps that I thought I might've had in my playing. And also I was feeling a little bit frustrated with not knowing where to take my playing. I didn't really know how to get better. I felt like I reached a plateau, so that's why I sought out Tom."
I've had a few other guitar teachers before I took lessons with Tom, and most of them weren't very good. And after reading a few articles online that Tom had written, I could tell that this guy was going to be the teacher for me.
The biggest thing that I really like is the actual guitar lessons themselves. I'm finding that I'm learning new things that I never even considered every single time I get a lesson. Something new to apply to my playing each time. But of course, I really enjoy the forum as well, because thanks to the lessons with Tom, I've been able to meet people from all over the world who have similar experiences and similar goals, so that's been really motivating as well.
Before I took lessons with Tom I really didn't like improvisation. I knew scales, and I knew kind of how they applied over chord progressions, but I just didn't like it. Since taking lessons with Tom, some of the lessons are focused on that specific issue, and now I feel really comfortable about getting up in front of people and playing over any type of… in any key any backing track, I feel pretty comfortable doing that.
Tom actually knows what my goals are and gives me specific lessons that will help me achieve those goals. Other teachers that I've had before just do it their way… it's either their way or the highway. And they don't really care about what I wanted to do, and they didn't really listen, and they didn't really look into what I was doing or what my interests were and didn't really play into that.
It's really motivating to get to know people who are also students of Tom. It's really good to have positive-minded musicians around even if I'm just talking to them online, or if I meet them in person, either way it's still really motivating.
The forum has helped me because I am able to ask any music theory related questions or technique questions and I get those answered very very quickly. And I also like to participate in discussions and help share my knowledge as well with other people, which when I do that I feel that it's reinforcing the things that I know as well, so it helps with my music theory knowledge when I share as well.
Greg Trotter, Melbourne, Australia
"If it wasn't for Tom's strategies, I would never have been able to pursue a full career in music. I always wanted to play on a very high level, but I always doubted my abilities, because if you don't have a teacher who constantly reinforces this positive mindset...you need a teacher who is telling you that you are able to do that and at the same time giving you the tools to actually accomplish those high levels."
Breakthrough Guitar Lessons are excellent, because Tom always brings something fresh, every time Tom blows your mind with a new lesson. You can never learn this stuff on your own, it's impossible, because you don't know what you don't know.
George Engelbrecht, Guitar Teacher, Vredenburg, South Africa

Want to get results like these too? Click the green "Start Now" button to learn more.


---

About Tom Hess: Tom Hess is a guitar teacher, music career mentor and guitar teacher trainer. He teaches rock guitar lessons online to students from all over the world and conducts instructional live guitar training events attended by musicians from over 50 countries.
Transform your guitar playing with proven
rock & metal guitar lessons online
.