Speed Blitz - How To Play Guitar 10% Faster In One Day
Imagine how much more fun you'll have when you can play guitar 10% faster tomorrow than you can today…
I'm going to show you how (step-by-step) in my new eGuide. You learn exactly what to do to boost your guitar speed by 10% (or more) in the next 24 hours. You can begin increasing your guitar speed immediately following 7 simple steps. I walk you through each step to make them easy to do.
Your speed should increase by at least 10% in 24 hours - even if you are not an advanced guitar player yet. In fact, the less advanced you are today, the MORE your speed should increase by this time tomorrow.
In this guitar speed eGuide, you will: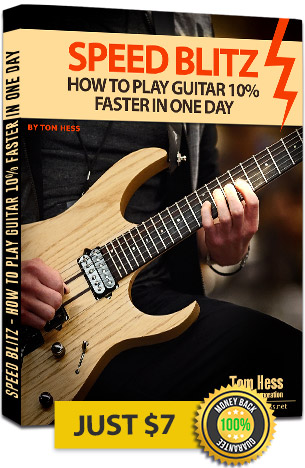 Discover the #1 reason why you might be stuck at your current guitar speed and learn how to get "unstuck", so you can play as fast as you want.

Learn how to practice using rotating speed bursts to break through any speed plateau, like a wrecking ball through a brick wall.

Eliminate sloppy mistakes that happen when you play very fast, so that your speed improves in just hours, instead of weeks, months or years.

Learn how to have more fun when you practice guitar, so you enjoy the process of increasing your guitar speed.

Train your ear (and brain) to be in sync with your hands, so you can use your guitar speed in real music (and sound great when you do it).

Learn how to make your fast playing feels EASY… like cutting butter with a hot knife, using a powerful strategy others have paid thousands of dollars to learn.


Isn't it time you stopped envying your favorite guitar players and actually learned to play like them? Download the eGuide to increasing your guitar speed right now for only $7 and learn what it feels like to LOVE the sound of your own guitar playing.

"I decided to take Breakthrough Guitar Lessons with Tom Hess, because unlike anything else online, or unlike a book, he actually creates a unique lesson plan to address my specific problems." - Chris Hirsch, USA