AJ Simons
---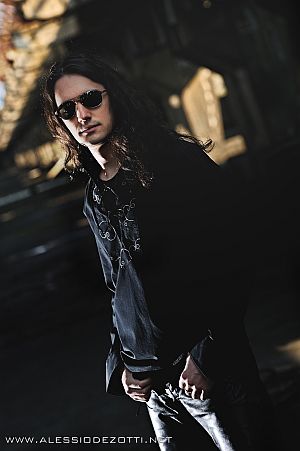 AJ Simons' life has been connected to music since early childhood. At age 5 AJ was already performing in operas such as Bizet's "
Carmen
", Verdi's "
Macbeth
" and Berlioz's "
Faust
". In addition to singing, AJ also played violin and piano, performing in concert halls, theaters and entering music competitions all around Italy.
In 1999, his musical view changed radically as he became inspired by rock and heavy metal. AJ then decided to pick up an electric bass and the following year he formed his first metal band. Throughout all this time AJ continued his musical training, receiving conservatory degrees in music theory, classical harmony and violin.
In 2004, he entered the Lizard Modern Music Academy in Padova, playing rock, pop, jazz and fusion under the guidance of Roberto Pascucci (bass player for the pop stars Paola & Chiara).
AJ was also studying jazz harmony, composition and aesthetics. He finished the four-year course in two years with outstanding marks.
During this time, he also started writing his own material. His first self-released EP, "
Working on youth works
" was broadcasted on the Italian national radio. Over time, the AJ project became a real band: "AJ's Nightborn", recording two more EPs: "
Nightborn
"and "
Neverending Road
" playing festivals such as Music Village (the biggest Italian festival for unsigned bands) and some other selected gigs.
In the Summer of 2005, AJ was asked to join a newly formed metal band, Burning Black. He joined as a full-time member just in time to record the band's second demo, "
Fight to Dream
".
2007 was a breakthrough year for Burning Black: the band opened for the Italian dates of Udo, Primal Fear, Rage, Linea77, Soul Doctor, Bonfire and White Skull before signing a deal with Fuel Records for the release of their first full length album. "
Prisoners of Steel
", which hit the stores in 2008, was acclaimed as a gem of uncompromising heavy metal. The band toured restlessly, playing its first headliner shows in Italy, and opening for Mystic Prophecy in Switzerland. In 2009, Burning Black played a sold-out show supporting Volbeat, followed by an unforgettable European tour with ex-Savatage singer Zak Steven's Circle II Circle and Manticora. The band also played more shows in Italy supporting Helstar and headlining local summer festivals for the first time.
Shortly thereafter, Burning Black caught the interest of the famous German metal label Limb Music, which offered a record deal for their second album: "
MechanicHell
". The album was released at the end of 2009, doubling immediately the sales of his predecessor.
Elvenking 2012 Tour Dates:
April 15 Szene, Vienna, Austria (Supporting Rhapsody Of Fire)
April 16 British Rock Stars, Bratislava, Slovakia (Headliner Show)
April 17 Master of Rock Cafe, Zlin, Czech Republic (Supporting Rhapsody Of Fire)
April 18 Kwadrat, Krakow, Poland (Supporting Rhapsody Of Fire)
April 19 Progresja, Warsaw, Poland (Supporting Rhapsody Of Fire)
2010 Tour Dates:
June 26, Gods Of Metal | Collegno, Torino, Italy
July 18, Masters Of Rock | Vizovice, Czech Republic
September 11, Tallink Silja Baltic Pricess| Baltic Sea
September 18, Nosturi | Helsinki, Finland
November 5, Zal Ozhidania | St. Petersburg, Russia
November 6, 1Rock Club | Moscow, Russia
November 8, Rock Cafe | Tallinn, Estonia
November 9, New York | Vilnius, Lithuania
November 12, Live Club Apollo | Turku, Finland
November 13, Virgin Oil| Helsinki, Finland
November 14, Hopealyhty Cumulus| Hyvinkää, Finland
November 16, Majestic Music Club | Bratislava, Slovakia
November 17, Petöfi Hall | Budapest, Hungary
November 18, KD Vlatavska | Prague, Czech Republic
November 19, Bonver Arena | Ostrava, Czech Republic
November 21, Viper | Firenze, Italy
November 22, Magazzini Generali | Milano, Italy
November 23, Z7 | Pratteln, Switzerland
November 25, Stadthalle | Tuttlingen, Germany
November 26, Bibelot | Dordrecht, Netherlands
November 28, Trabendo | Paris, France
November 29, Le Laitterie | Strassbourg, France
November 30, Centre Culturel | Elloye, France
December 01, Victoire 2 | Montpellier, France
December 03, Rockstar live | Bilbao, Spain
December 04, Sala Totem | Pamplona, Spain
December 06, Salamandra | Barcelona, Spain
2009 Tour Dates:
April 29, The Rock, Copenhagen, Denmark
April 30, Headbangers Ballroom, Hamburg, Germany
May 1, Hedon, Zwolle, Holland
May 2, Dynamo, Eindhoven, Holland
May 3, Matrix, Bochum, Germany
May 5, Nachtleben, Frankfurt, Germany
May 7, Biebob, Vosselaar, Belgium
May 8, Z7, Pratteln, Switzerland
May 11, A38, Budapest, Hungary
May 12, Metelkova Mesto, Ljubljana, Slovenia
May 13, Szene, Vienna, Austria
May 15, Irish Music Pub, Cluj, Romania
May 16, Silver Church, Bucharest, Romania
May 17, Bolyarka Rock Club, Sofia, Bulgaria
May 18, Texas Necropolis Club, Athens, Greece
May 19, Rock Bottom Club, Thessaloniki, Greece
May 21, SKC, Beograde, Serbia
May 22, DK Dubravka, Bratislava, Slovakia
May 23, Masters Of Rock Cafe, Zlin, Czech Republic
| | |
| --- | --- |
| Records Released: | |
| | |
| | |
| | |
| | |
| | |
| | |
| | |
| 2003 Battle Of The Demons | |
| | |
| | |
| 2004 Working On Youth Works | |
Endorsements:
Aurora Strings
Schroeder Cabinets