Dan Cruzan
---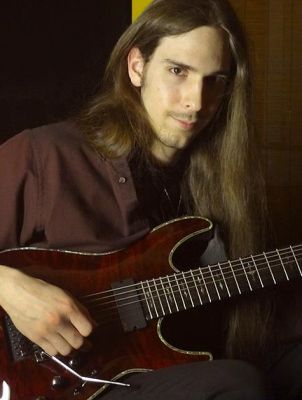 Daniel Cruzan is a guitarist, keyboardist, and composer from Grand Rapids, Michigan.
He started his musical education in the early 2000's with piano lessons, which became the foundation for his knowledge in music theory and songwriting.
In 2005, he became deeply inspired to master electric guitar after listening to many symphonic rock/metal bands such as Nightwish, Trans-Siberian Orchestra, Savatage and Within Temptation.
In early 2013, he started taking guitar lessons from the internationally-acclaimed guitar teacher Tom Hess. Due to Tom's excellent teaching strategy, Daniel made great progress with his technique and songwriting skills.
Daniel is also the guitarist and co-composer for the dark symphonic metal band Aria Flame. Since Aria Flame's first release (A World Of Silence), they have become international performers and their music has received stellar reviews from many different sources.
Daniel continues to write and co-compose for the band, and they plan to release a new album in the coming years.

About Taking Online Guitar Lessons With Tom Hess:
Daniel is just one of many thousands of guitar students to have taken lessons with Tom Hess and become a much better guitarist.
Regardless of whether you are a beginner, intermediate or advanced player – a guitar teacher will supercharge your progress as a musician.
You might be asking yourself:
"What is so good about having a guitar teacher and how does this benefit me more than just learning guitar on my own?"
Answer:
Learning guitar on your own is often frustrating because you don't know what to do to get better. Having a guitar teacher takes away the guessing involved so you can learn faster and without frustration.
Don't know what you should be practicing?
Struggling to play a certain part of a guitar lick you've been working on for years?
Wish you were able to play faster and with better musical expression to make anyone listening sit on the edge of their seat waiting to hear each note?
Want to perform guitar for other people without feeling nervous?
Take guitar lessons and achieve these things with an expert teacher!
Your guitar teacher helps you improve things that you struggle with in ways you never even thought about or knew existed. You'll be shocked by how much progress you make in so little time. Guitar teachers simply have access to knowledge that only comes from helping many other players achieve the same goals you have over and over again.
That said:
Don't make the mistake of waiting too long to take guitar lessons. The faster you get started, the faster you become the guitar player you always wanted to be.
---
Become a better rock guitarist by taking online electric guitar lessons.