Dexter Payne
---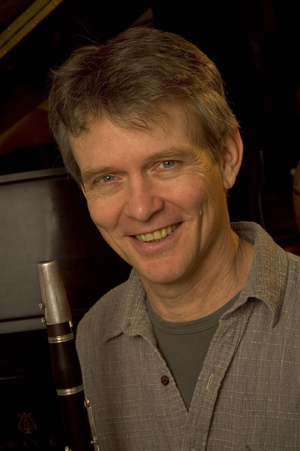 Dexter Payne is a musical traveler who brings his listeners with him on the journey; he invites us into the heart of the music. Voted among the top ten clarinetists in Downbeat Readers Polls in 2004 and 2006, Dexter lived and performed in 12 countries in Latin America, where he played and formed friendships with Thiago de Mello and the late Ruben Gonzales among others, recording in Brazil with Paulinho Tapajos and Beth Carvalho, as well as his solo debut with guitarist / composer, Antonio Mello, with organic percussion by Thiago de Mello.
He performed coast to coast with the Big Sky Mudflaps and with his partner/collaborator, the late Judy Roderick, with repeat appearances on the NBC Today Show and Garrison Keillor's Prairie Home Companion. He has also toured, recorded and arranged for Afro-pop bands with Bola Abimbola, Mohamed Alidu, Moussa Konaté, Selassi Atiasi, Boubacar Diebate and with hip-hop latin jazz fusion project, Salem. Currently he is on the faculty of Naropa University, directing the Afro-pop Ensemble.
Dexter has performed with Rene Marie, Mac Rebennack, Grammy winner Sharon Isbin, Thiago de Mello, Elio Reve, Cachaito, Noite Illustrada, Judy Roderick, Dave Van Ronk, the Big Sky Mudflaps, BarBQ Bob, Sammy Mayfield, Johnny Long, Lionel Young, Kailin Yong and more. Dexter performed with Thiago de Mello and Sharon Isbin at the 92nd St Y and Hamptons Music Festival, Mostra Internacional de Musica em Olinda (MIMO) in Pernambuco, Brazil, and most recently with Thiago de Mello and Ithamara Koorax, in NYC commemorating the 60th anniversary of the Universal Declaration of Human Rights.
His three recordings with Grammy nominated composer, Thiago de Mello, feature vocalist Ithamara Koorax, four great pianists, including Helio Alves (Obrigado Brazil), and guitarist Romero Lubamba of Trio de Paz. Simultaneously, he is releasing a 24-year old recording of Judy Roderick & the Forbears, with special guest Mac Rebennack (aka Dr John).
"Finally, a virtuoso musician who really hears the Brazilian whispers, and not just the carnival clamor."

2011 Tour Dates:
November 26, 2011 Casper, WY - WY Blues Soc

November 17, 2011 Paris, France - Duo

November 16, 2011 Paris, France - Duo

November 15, 2011 Paris, France - Music School Concert

November 14, 2011 Paris, France - Duo

November 13, 2011 Paris, France - Emmeus Concert

November 11, 2011 Paris, France - Hotel Meridien

October 29, 2011 San Diego, CA - Blues Cruise

October 28, 2011 San Diego, CA - Blues Cruise

October 27, 2011 San Diego, CA - Blues Cruise

October 26, 2011 San Diego, CA - Blues Cruise

October 25, 2011 San Diego, CA - Blues Cruise

October 24, 2011 San Diego, CA - Blues Cruise

October 23, 2011 San Diego, CA - Blues Cruise

October 22, 2011 Hermosa Beach, CA - Café Boogaloo

October 21, 2011 Stockton, CA - Stockton

October 20, 2011 San Francisco, CA – Biscuits & Blues

October 9, 2011 Memphis, TN - Hueys

October 6, 2011 Helena, AR - King Biscuit

September 23, 2011 Evergreen, CO - Little Bear

September 17, 2011 Telluride, CO - Blues Fest

September 9, 2011 Canon City, CO - Royal Gorge Blues Fest

September 4, 2011 Laramie, WY - Snowy Range Fest

September 3, 2011 Lewellen, NE - Bluewater Blues fest

September 2, 2011 Hot Springs, AR - Hot Springs Fest

August 31, 2011 Montgomery, AL - Keys

August 26, 2011 Hunter Mtn, NY - Bluestock

August 24, 2011 New York City, NY - Terra Blues

August 20, 2011 Williamsburg, VA - J M Randell's

August 19, 2011 Lewes, DE - Bethany Blues Fest

August 17, 2011 Baxter, IA - O Kellys

August 13, 2011 Denver, CO - Old s Pearl Blz&Brews

August 12, 2011 Ft Collins, CO

August 11, 2011 Niwot, CO - Rhythm/Rails

August 8, 2011 Springfield, IL - Alamo

August 6, 2011 St Paul, MN - Blues Saloon

August 5, 2011 Beausejour, Manito, Canada - Great Woods Fest

July 31, 2011 St Louis, MO - BBs

July 30, 2011 Chien, WI - Prairie Dog Fest

July 29, 2011 DesMoines, IA - All Play

July 28, 2011 Indianapolis, IN - Slippery Noodle

July 25, 2011 Sharon, PA - Tully's

July 24, 2011 Toronto, ON Canada - Beaches Jazz Fest

July 23, 2011 Pittsburg, PA - Pittsburg Bls Fest

July 22, 2011 Cleveland, OH - Fat FISH Blue

July 21, 2011 Rockford, IL - Adriatic

July 20, 2011 Lincoln, NE - Zoo Bar

July 16, 2011 Topeka, KS - Uncle Bo's

July 15, 2011 Bloomington, IL - Noth But the Blz

July 14, 2011 Chicago, IL - Kingston Mines
Records Released
2011 On Our Way To Memphis (Lionel Young Band)

2009 When Im Gone (Dexofon)

2008 Our Time to Remember (Gau)

2007 Disk Tum Derrei (Gau/JSR)

2006 Another Feeling (Dexofon/JSR)

2003 Inspiration (Dexofon/Ethosbrasil)

2002 Kambeng- Boubacar Diebate

1981 Sensible Shoes (Flying Fish)

1979 Armchair Cabaret (Helios)

Other Recording Credits:
2010 Character - Michael Stanwood

2010 Earth Circuit - Scott Ray

2010 Find Your Way Back Home - Dawn & Dave

2009 Believe I'll Make A Change - Little Joe McLerran

2009 Under the Same Skies

2008 Sharp Edges (Gau) *album design

2008 Flame in the Dark (Gau) clar & album design

2008 Laurie Dameron

2008 Mohamed Alidu

2008 Salem

2007 Live at Last - Little Joe Mclerran

2005 Gypsy Swing Revue

2005 Son Piedmont-Little Joe McLerran

2005 Under Paris Skies- Lannie Garret

2004 Portal-Michael Stanwood

2003 Songs to Learn By-Michael Stanwood

2003 Ragtime Gal-Mary Flower

2002 Dare to Be- Lisa Bell

2002 South of Lafayette- Artie Traum

2000 Yeah but Shoehead-Michael Stanwood

1995 Tumblin Down- Bleeker Street (Washboard Chaz)

1995 Light Pink-Stephen Allen Davis

1994 Mud Mush Dance-Michael Stanwood

1993 Woman Blue (Vanguard reissue) *liner notes

1990 Can't Get the Stuff No More - Bar BQ Bob

1982 Live Wire Choir



---