Do you know any guitarist who doesn't like the sound of pinch harmonics?
I don't either. :)
Pinch harmonics are a lot of fun and they make anything you play sound better right away.
Unfortunately, most guitar players struggle to play pinch harmonics, because they don't know how to practice this technique correctly.
This can be very frustrating!
Good news is:
You don't need a lot of practice time to master pinch harmonics.
What you need is to avoid 6 common mistakes that make pinch harmonics harder than they should be.
Want to see an example?
Watch the video below to see how I helped one of my students to improve his playing of pinch harmonics in just minutes.
Use the advice in the video to make huge breakthroughs in your pinch harmonic playing:

5 Easy Tricks You Can
Learn In 10 Minutes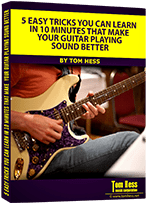 ENTER YOUR NAME AND
EMAIL TO GET ACCESS
FREE E-GUIDE
By submitting your info, you agree to send it to Tom Hess Music Corporation who will process and use it according to their privacy policy.
Now that you've seen how simple pinch harmonics are to play, here are the most common mistakes guitar players make when trying to learn this technique and how to avoid them in your playing: