3 Amazing Guitar Technique Shortcuts That Increase Your Speed & Make Playing Guitar Feel Effortless
by Tom Hess
---
IMPROVE YOUR GUITAR SPEED
BY AT LEAST 100%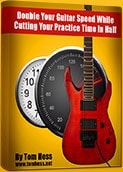 ENTER YOUR NAME AND
EMAIL TO GET ACCESS
FREE E-GUIDE
By submitting your info, you agree to send it to Tom Hess Music Corporation who will process and use it according to their privacy policy.
Why do we love shortcuts?
Because they make our lives easier.
We all use shortcuts every day.
Your car, your mobile phone, your washing machine, your refrigerator are just a few of the shortcuts that make your life easier.
Are there shortcuts that make your guitar playing easier too?
You better believe it!
IMPROVE YOUR GUITAR SPEED
BY AT LEAST 100%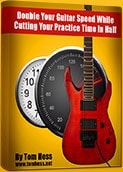 ENTER YOUR NAME AND
EMAIL TO GET ACCESS
FREE E-GUIDE
By submitting your info, you agree to send it to Tom Hess Music Corporation who will process and use it according to their privacy policy.
Today I bring you the best guitar playing shortcuts from THREE world-class expert guitar teachers (all former students of mine).
Let's dive right in!

Guitar Technique Shortcuts Group 1: Efficiency Shortcuts
(Taught by myself & expert guitar teacher Dan Mayhew, from the UK)
First, watch the video to see how simple it is to make your guitar technique more efficient:


How can you use this in your guitar playing? Let's break this down:

Picking Hand Efficiency:
Don't move your pick any further away from the strings than you absolutely have to.
Why?
Because every millimeter of extra motion with your pick reduces your speed.
Think of it like this:
Let's say you want to play 1000 notes per minute (16.7 notes per second). Every mm of extra motion reduces the number of notes you can play for that second.
Bonus efficiency tip: avoid moving the pick using your index finger and thumb. Use your wrist to pick when you are on a single string and use your forearm to move the pick from string to string.

Fretting Hand Efficiency:
Here is how to make your fretting hand very efficient:
1. Fret notes using your finger tips. This is how you play clear sounding notes using the least amount of pressure possible.
Want a simple way to tell if you are doing this correctly?
Practice in front of a mirror. Your hand should look like this: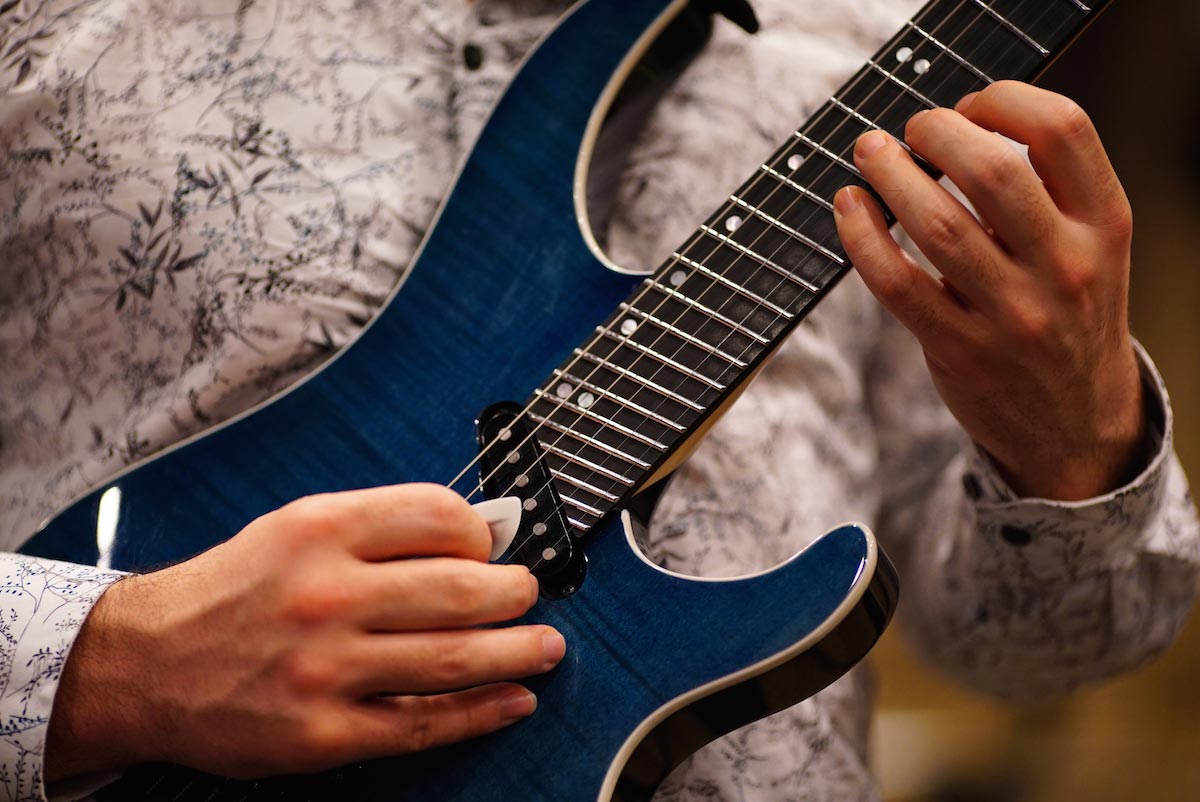 2. Keep your fingers close to the strings between notes.
This is most important after a pull off. The closer your finger stays to the string, the faster you can do pull offs.
Note: Don't sacrifice articulation for efficiency. You can play pull offs with a lot of power and move your fingers efficiently at the same time.
Want to learn more about improving your guitar technique & speed? Download this free guitar speed eGuide and learn how to play guitar as fast as you've always wanted.

Guitar Technique Shortcuts Group 2: Excess Tension Control Shortcuts
(Taught by expert guitar teacher Mike Philippov from the USA)
Excess muscle tension is the silent killer of your guitar technique.
How do you remove it from your playing?
Watch this video to learn 3 simple shortcuts to erase excess tension from your playing forever:


How to apply these shortcuts to your guitar playing today:
Step 1: Select any exercise you want to play better.
Step 2: Find a metronome tempo where you can confidently play without excess tension.
Trending Articles:

Improve Guitar
Technique Fast
Learn how to quickly improve
your accuracy onlead guitar.

Transform Your Guitar Playing
Instantly improve your guitar
playing with these free tips.

Become A Faster Guitar Player
Learn how to reach maximum
speed in your guitar playing.
This means having zero tension in:
…your jaw, tongue, shoulders, arms, fingers, stomach, legs and feet.
Repeat your exercise at that tempo 7 times.
Step 3: Increase your metronome tempo by 5-8 beats per minute. Repeat your exercise 7 times, trying to stay as relaxed as before.
Gradually increase the tempo and focus on keeping excess tension to a minimum.
This process helps you make guitar playing feel effortless and play guitar licks and solos that feel unplayable for you right now.

Guitar Technique Shortcuts Group 3: Fretting Hand Bio-Mechanics Shortcuts
(Taught by expert guitar teacher Tommaso Zillio, PhD from Canada).
Want to increase your fretting hand's reach on guitar without any plastic surgery?
Then you'll LOVE this video:

How to use these shortcuts in your guitar playing:
Tip #1: Go through guitar licks that you struggle with and pay attention to your fretting hand position.
Pay particular attention to your thumb.
Adjust your thumb position to what you just saw in the video.
…and watch how much easier these licks start to feel.
Tip #2: Sometimes you need to wrap the thumb over the top of the guitar neck.
Why?
Because it's the best way to bend strings in tune and make your vibrato sound good.
Want to see an example? Watch this video:

Your action step:
Practice playing with your thumb wrapped around the guitar neck and playing with it behind the neck. The better you can switch between the 2 hand positions, the easier it is to play guitar fast and clean.
Tip #3: When you change positions on guitar, keep your thumb behind your middle finger.
Here is what NOT to do:
Do not allow your thumb to point towards the head of the guitar (where the tuning pegs are).
Why not?
This makes it impossible to spread your fingers and play guitar fast.
After you fix your thumb position, you can easily play stretches that felt unplayable before.
You now know how to make your guitar playing feel easier and sound better. The next step is to learn other proven strategies that improve your technique and speed. Download this free guitar speed eGuide to learn how to double your guitar speed and start playing all the hard, fast and complex licks and solos you want.
---

About Tom Hess: Tom Hess is a guitar teacher, music career mentor and guitar teacher trainer. He teaches rock guitar lessons online to students from all over the world and conducts instructional live guitar training events attended by musicians from over 50 countries.
Play guitar the way you've always wanted with breakthrough
guitar lessons online
.