How To Make Any Guitar Lick Sound Better, Faster And Cleaner In 10 Minutes
by Tom Hess
---
THE EASIEST WAY TO INCREASE
YOUR GUITAR SPEED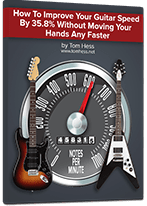 ENTER YOUR NAME AND
EMAIL TO GET ACCESS
FREE REPORT
By submitting your info, you agree to send it to Tom Hess Music Corporation who will process and use it according to their privacy policy.
You can make any guitar lick sound better, faster and cleaner when you improve synchronization between your picking and fretting hand.
Synchronization is your ability to pick every note at the exact moment your fretting hand pushes the string down (without any delays, inconsistencies and sloppy noises).

The better your synchronization is, the easier it is to play guitar fast and clean.
At slow speeds, keeping your hands in sync is easy because you have a lot of time to line up your hands perfectly for each note.

This means your guitar playing is accurate, even if your synchronization is less than perfect.
THE EASIEST WAY TO INCREASE
YOUR GUITAR SPEED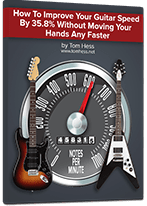 ENTER YOUR NAME AND
EMAIL TO GET ACCESS
FREE REPORT
By submitting your info, you agree to send it to Tom Hess Music Corporation who will process and use it according to their privacy policy.
At faster speeds, you have less room for error and your mistakes become much more noticeable.
Slowing down to practice a fast guitar lick makes mistakes disappear and impossible to notice. This applies to the traditional approach of "starting slowly and building up speed".
Good news is, it's pretty easy to improve your synchronization and play guitar fast like the pros. All it takes is using effective practice strategies and tracking your guitar playing technique progress.
Practice this simple drill for 10-20 minutes to improve your synchronization and make any guitar lick quickly sound better than ever: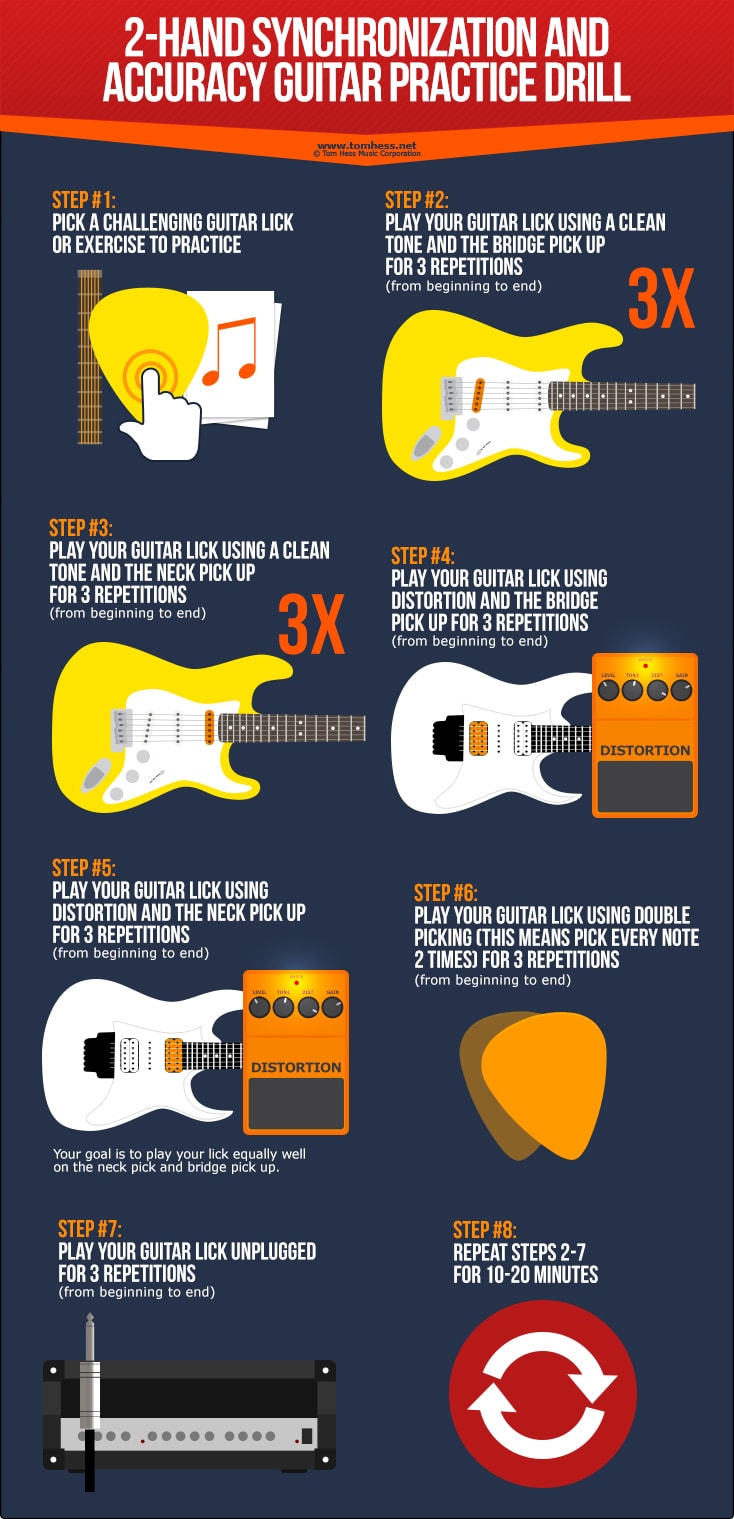 Here is how to get the most out of each step in this guitar lick practice drill:

Step 1: Pick a challenging lead guitar lick or exercise to practice.
Th guitar lick can be anything you want - a scale, scale sequence or any guitar lick where you use both hands to play notes.
Example:

Note: the guitar lick should be challenging enough that you can play guitar fast without making a lot of mistakes.
Find the tempo on a metronome where your 2-hand synchronization just begins to break down... and practice at 90% of that speed.
This way the speed is challenging enough to require your full concentration, but not so challenging that your hands can't keep up.
Watch this guitar lick video demonstration to see how to do this, so you don't have to guess at what tempo to practice:

Step 2: Play your guitar lick using a clean tone and the bridge pickup for 3 repetitions (from beginning to end).
Practicing on the bridge pickup exposes weaknesses in your guitar playing articulation and makes them easy to hear. This makes them easier to fix.
You May Also Like:

Practice Less To Get More Results
Become highly effective with your guitar practicing time.



Create A Guitar Practice Schedule
Learn 8 steps to creating your own guitar practice schedule.

Powerful Guitar Practicing Secrets
Download a free 100+ page eBook
with guitar practice tips.

Step 3: Play your guitar lick using a clean tone and the neck pickup for 3 repetitions (from beginning to end).
Playing on the neck pickup feels very different from playing through the bridge pickup.
Your goal is to play guitar fast and clean equally well on the neck pickup and the bridge pickup during solos.
Your goal is to play guitar fast equally well on the neck pickup and the bridge pickup.

Step 6: Play your guitar lick using double picking (this means pick every note 2 times) for 3 repetitions from beginning to end.
Double picking makes it harder to play guitar fast with accuracy, because your picking hand moves twice as fast as the fretting hand.
Example:


Step 7: Play your guitar lick unplugged for 3 repetitions (from beginning to end).
Turn your amp off and play guitar fast without distortion. Do your best to articulate every note clearly during the guitar lick.
Repeat steps 2-7 for 10-20 minutes. Then practice another guitar lick or increase your speed by 5-10 beats per minute and go through the steps again.
Keep track of your 2-hand synchronization top speed. This is the fastest speed at which you can play your guitar lick by double picking every note. As that speed goes up, your guitar playing becomes faster, easier and more accurately.
Now you can keep your hands in sync to play any guitar lick fast and clean.

Next learn a guitar practice hack that guitar players use to increase their speed by 35.8%, while practicing less than before.

Download this free guitar speed report to learn how to play guitar fast by unlocking the cheat code to incredible guitar playing.
---

About Tom Hess: Tom Hess is a guitar teacher, music career mentor and guitar teacher trainer. He teaches rock guitar lessons online to students from all over the world and conducts instructional live guitar training events attended by musicians from over 50 countries.
Learn how to guarantee that your guitar playing improves every single time you practice.