Learn How To Teach Guitar
by Tom Hess
---
Do THIS And You'll Get A Lot More Guitar Students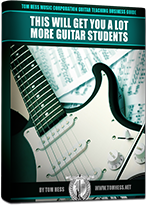 ENTER YOUR NAME AND
EMAIL TO GET ACCESS
FREE eGUIDE
By submitting your info, you agree to send it to Tom Hess Music Corporation who will process and use it according to their privacy policy.
To become a successful guitar teacher, there are many things you must know and do. There are several key principles most new guitar teachers get wrong when they begin teaching.
Avoiding these mistakes helps you learn how to teach guitar faster, better and easier.
Here are the most important things you must know when you start teaching guitar:

Guitar Teaching Principle #1: Great Guitar Teachers Do Not Teach Guitar... They Teach People.
What is the difference?
Teaching guitar is about explaining various aspects of guitar playing, guitar technique, music theory, etc.
Teaching people is about solving your student's individual guitar playing problems, developing a strategic path to reach their specific goals and keeping them motivated every step of the way.
The following video shows you how to get better results for your guitar students by learning the difference between teaching guitar and teaching people:
Teaching people helps your students enjoy the process of learning guitar and builds their confidence in their musical potential.

Guitar Teaching Principle #2: Your Guitar Students Don't Care How Much You Know…Until They Know How Much You Care.
Do THIS And You'll Get A Lot More Guitar Students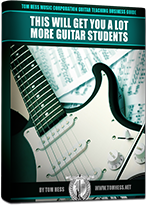 ENTER YOUR NAME AND
EMAIL TO GET ACCESS
FREE eGUIDE
By submitting your info, you agree to send it to Tom Hess Music Corporation who will process and use it according to their privacy policy.
Want more guitar students to study with you? Show them that you care more about their success than any other teacher in your area. This alone makes a huge difference between the results your students get from you compared to what they could get from anyone else.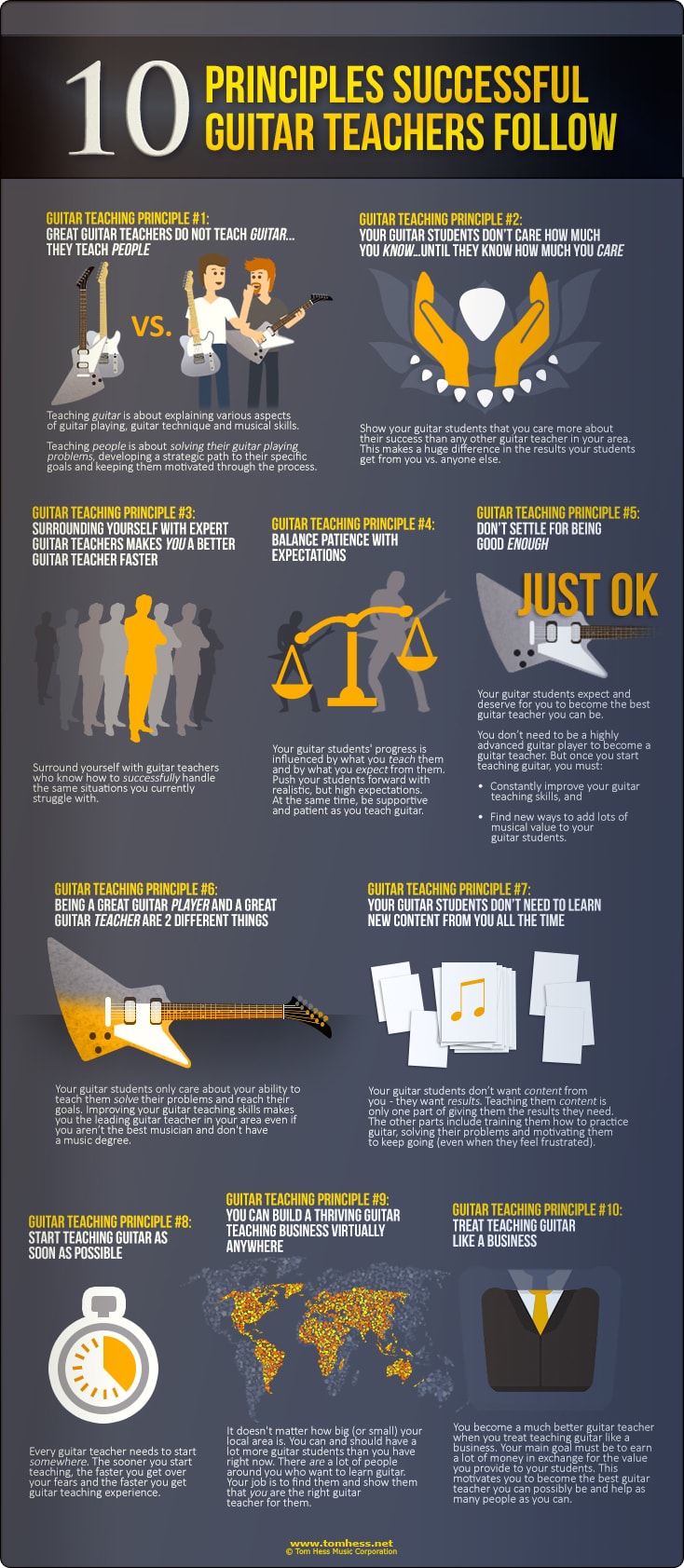 Guitar Teaching Principle #3: Surrounding Yourself With Expert Guitar Teachers Makes You A Better Guitar Teacher Faster.
Most guitar teachers either:
Don't surround themselves with other guitar teachers at all, or

Surround themselves with average guitar teachers who are not true experts at what they do.
Surround yourself with guitar teachers who know how to successfully handle the same situations you currently struggle with.

You May Also Like:

Get Results For Guitar Students
Teach your guitar students how
to practice to get better results.

Solve Guitar Teaching Mistakes
Get started teaching guitar by avoiding these major mistakes.

Become A Better Guitar Teacher
Learn how to teach guitar better
and grow your teaching business.
Guitar Teaching Principle #4: Balance Patience With Expectations.
You probably know that you need a lot of patience to be a good guitar teacher. What most guitar teachers don't know is how to balance patience with expectations. Your guitar students' progress is influenced by what you teach them and by what you expect from them.
If you fail to consistently set high expectations for your students, most of them will progress slowly. This is not good for your reputation as a guitar teacher. You need to push them a little with realistic, but high expectations. At the same time, you must be supportive and patient as you teach guitar.

Guitar Teaching Principle #5: Don't Settle For Being Good Enough.
Do you want your doctor, accountant, or auto mechanic to be good enough? Or do you want these people to be the best at what they do, so they can serve you better? It's unethical to not be as good as you know you can be. Sadly, many guitar teachers think it is ok to be good enough. This is a big reason why they struggle to earn good money and why their guitar students often don't become great musicians.

Guitar Teaching Principle #6: Being A Great Guitar Player And A Great Guitar Teacher Are 2 Different Things.
Don't be intimidated by guitar teachers in your area who brag about their advanced music degrees. One's musical knowledge or guitar playing skills say nothing about their ability to teach another human being to play guitar.
Your guitar students only care about your ability to teach them solve their problems and reach their goals. Improving your guitar teaching skills makes you the leading guitar teacher in your area even if you aren't the best musician and don't have a music degree.
Guitar teacher training helps you improve your guitar teaching skills quickly.

Guitar Teaching Principle #7: Your Guitar Students Don't Need To Learn New Content From You All The Time.
Your guitar students don't want content from you - they want results. Teaching them content is only one part of giving them the results they need. The other parts include training them how to practice guitar, solving their problems and motivating them to keep going (even when they feel frustrated).

Guitar Teaching Principle #8: Start Teaching Guitar As Soon As Possible
Every guitar teacher needs to start somewhere. The sooner you start teaching, the faster you get over your fears and the faster you get guitar teaching experience. This guitar teaching article explains why it's important to start teaching guitar as soon as possible.

Guitar Teaching Principle #9: You Can Build A Thriving Guitar Teaching Business Virtually Anywhere
It doesn't matter how big (or small) your local area is. You can and should have a lot more guitar students than you have right now. There are a lot of people around you who want to learn guitar. Your job is to find them and show them that you are the right guitar teacher for them.

Guitar Teaching Principle #10: Treat Teaching Guitar Like A Business
You become a much better guitar teacher when you treat teaching guitar like a business. This means your main goal must be to earn a lot of money in exchange for the value you provide to your students. This mindset makes you a better guitar teacher, because:
You become motivated to become the best teacher you can be, as quickly as possible.

You become driven to help as many people as you can.
Learn how to teach guitar better than anyone else in your area.
---