Clay Boudreau
---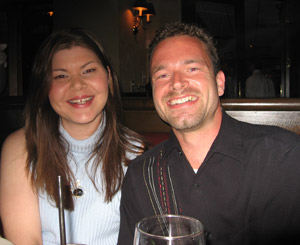 Student
Type:
Private Lessons
Location:
Kenosha, WI
E-mail:
perpetualscream@wi.rr.com
Occupation:
Seasonal swimming pool maintenance
mp3
dusk5mixlow.mp3
Clay has been a student of Tom since 2006, focusing mainly on advanced music composition and improvising. He has played and performed in several bands in the Chicago area.

Clay's musical influences include Jason Becker, John Petrucci, Steve Vai, Tom Hess, Dimebag Darrell and George Bellas.

Clay says this about his experience of studying with Tom: "Tom is a tremendous teacher and I highly recommend him to anyone who wants to seriously improve their musical abilities."
A Note About Taking Guitar Lessons:

Clay is just one of many guitar players who has decided to become a much better player by taking lessons with a teacher.

This is much more effective fun and motivating than trying to learn guitar on your own.

Why?

Guitarists who learn without a guitar teacher end up getting stuck in their playing for long periods of time. They do not have the insight to correct mistakes that would lead to a breakthrough in their playing.

A great guitar teacher has this insight and has the ability to fast-forward your guitar skills like you never thought possible.
While working with a guitar teacher, you also get access to someone who coaches you, motivates you and trains you to become an incredible player.

Don't hesitate to begin guitar lessons and let your progress slow to a halt. Take lessons now and you will thank yourself later when you are playing guitar just like you always wanted to.
---