Colin and Brian Evans
---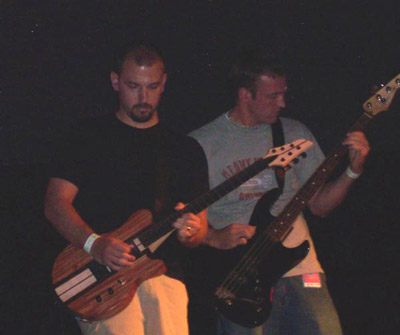 Colin started playing guitar when he was 10 years old. He began playing after taking piano lessons for two years.

He has played in many bands on and off since he was 12 years old and has studied with Tom Hess from 1996-1999.Colin has also taught guitar and worked as a luthier.

His brother Brian (a bass player) also studied with Tom from 1996-1999 and now plays in the WhiskeySin band with Colin and can be heard on that CD as well.
Recordings Released:
Mandate - Prozak
Mandate - Sadistic Bastard
Beg To Differ - Bleak Outlook
HowardFineHoward - HFH
WhiskeySin - WhiskeySin
Colin Evans - Nani
Want To Get Better At Guitar In A Short Amount Of Time?
Nothing is more frustrating then when you know what you want to play on guitar, but struggle consistently to play it or understand why you are unable to play it.
This is a clear sign that it's time to find someone who has expertise in areas you don't, so you are able to overcome plateaus in your playing.
The best way to do this is to work together with a guitar teacher who is able to assess your musical goals and get you to them as fast as possible.
Guitarists who take lessons from a teacher strengthen their weaknesses exceptionally faster than they would by attempting to learn everything on their own.
What can a guitar teacher do for you?
A guitar instructor with experience knows how to help you address problems in your playing that you overlooked without realizing it.
You know how frustrating it can be when you don't know what to learn to play the things you want? A guitar teacher helps you understand exactly what to do and how to do it.
Plus, your guitar teacher gives you motivation and coaching to keep you inspired every step of the way.
If you are waiting to get going with taking guitar lessons with your own teacher, stop holding back and make the best decision for your playing today.
The sooner you make this choice, the faster you can finally begin performing on guitar just like you always wished you could, while correcting the challenges in your playing that hold you back ... so it's time to make the correct decision for your musical future and begin taking lessons today.
---
Learn to play guitar amazingly well by studying with the best guitar teacher online.