Dan Weniger
---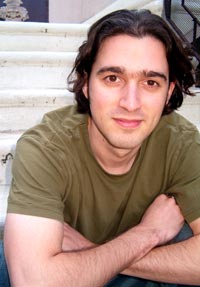 Dan Weniger studied Film Scoring & Composition at Berklee College of Music, graduating in 2003. Dan now works out of Santa Monica, California as a composer for film and television. He has worked with artists such as Phillip Giffin, Heitor Pereira, Francis Buckley, Matthias Weber, Clair Marlo, Ace Baker, Gary Novak and Judd Miller.
Dan also worked with a renowned film and television composer Philip Giffin on the MGM feature film Soul Plane as a music arranger, orchestrator, and engineer, and is currently working on the WB TV series, "Summerland."
Dan has over a 100 minutes of music playing on television, and has written several hours of music for a music library "Invisible Hand Productions," through BMG (Germany).
As a skilled musician on the guitar, Dan has also enjoyed teaching guitar for a number of years, and is still an active teacher.
FILM & TELEVISION
"Tutankhamun & The Golden Age of the Pharoahs"
CBS, TV special
Composer
"SOUL PLANE"
Arranger/Engineer
Feature film, MGM
Starring: Snoop Dogg & Tom Arnold
Music
"SUMMERLAND"
Arranger/Engineer
TV Series, WB
Music
"EYES"
Arranger/Engineer
TV series, ABC
Music
"BMG (Germany)"
Music Library
Composer

DISCOGRAPHY
DSJ: "DSJ"
& Sam Deushler
2003
Co-written with Justin Purtil
MIND DUST: "Dust"
2000
Writer/Producer
BEG TO DIFFER: "Bleak Outlook"
1997
Writer/Producer

EDUCATION
Berklee College of Music: Dual major in Film Scoring & Composition
Private guitar training: 1995-2000, Tom Hess-Guitar Teacher

OTHER PROJECTS
PLAYSPACE
Video game promo
Composer
"HORNBOW HOMEMADE APPLESAUCE"
Short film
Composer
"SURROGATE"
Short film
Composer
"INHERITANCE"
Short film
Composer
"MARKDOWN"
Short film
Composer
"Portraits"
Short film
Composer
"Speechless"
Short film
Composer

SONGS AIRED ON
-Access Hollywood
-Superstation: "Speed & Spike" & "Ultimate"
-"America's Most Wanted"
-Foxnet: "Positive Hope" & "700 Club"
-ABC Family: "Time Stops" & "Sweat & Blood"




How To Become Massively Successful In The Music Business
Every musician wants to succeed in this business, but very little people would like to know what thinking styles, ideas and behaviors keep you from becoming the correct musician to do them!
Without having this degree of understanding, it becomes really tough to achieve what you want in this business.
These are critical things to stay clear of in order to make growing a music career simpler:
1. Don't take your music career development tips from those who haven't really done much for themselves or can offer tons of proof that they have succeeded themselves.
2. Dont buy into the idea that having a career in the music industry is unpredictable. It's actually very dependable when you understand how to do it.
3. Don't attend university for a degree in a musical field unless it is totally% necessary for your individual music career goals.
4. Don't overlook the value of cultivating a local fanbase as well as developing a database of fans online.
5. Don't gamble on running into someone in the music industry by chance to guide your music career success.
Setting up a music career completely by yourself is the easiest way to add risk and doubt into your musical life. The superior option is to work together with a music industry trainer.
Why?
This gives you the professional experience, instruction and insight of somebody who has already accomplished whatever you wanted to in this industry. Having this level of expertise at your disposal gives you the ability to do what you want in your career without all the guessing.
In addition:
Getting trained with a mentor helps you recognize what you need to do, say and have to become the perfect person in the music biz for the very best opportunities. This makes you feel motivated every step of the way until you accomplish your musical goals.
---
Learn how to become a professional musician with a career in the music industry.