Dan Weniger
---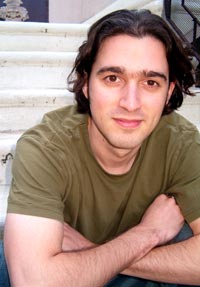 Dan Weniger studied Film Scoring & Composition at Berklee College of Music, graduating in 2003. Dan now works out of Santa Monica, California as a composer for film and television. He has worked with artists such as Phillip Giffin, Heitor Pereira, Francis Buckley, Matthias Weber, Clair Marlo, Ace Baker, Gary Novak and Judd Miller.
Dan also worked with a renowned film and television composer Philip Giffin on the MGM feature film Soul Plane as a music arranger, orchestrator, and engineer, and is currently working on the WB TV series, "Summerland."
Dan has over a 100 minutes of music playing on television, and has written several hours of music for a music library "Invisible Hand Productions," through BMG (Germany).
As a skilled musician on the guitar, Dan has also enjoyed teaching guitar for a number of years, and is still an active teacher.
FILM & TELEVISION
"Tutankhamun & The Golden Age of the Pharoahs"
CBS, TV special
Composer
"SOUL PLANE"
Arranger/Engineer
Feature film, MGM
Starring: Snoop Dogg & Tom Arnold
Music
"SUMMERLAND"
Arranger/Engineer
TV Series, WB
Music
"EYES"
Arranger/Engineer
TV series, ABC
Music
"BMG (Germany)"
Music Library
Composer

DISCOGRAPHY
DSJ: "DSJ"
& Sam Deushler
2003
Co-written with Justin Purtil
MIND DUST: "Dust"
2000
Writer/Producer
BEG TO DIFFER: "Bleak Outlook"
1997
Writer/Producer

EDUCATION
Berklee College of Music: Dual major in Film Scoring & Composition
Private guitar training: 1995-2000, Tom Hess-Guitar Teacher

OTHER PROJECTS
PLAYSPACE
Video game promo
Composer
"HORNBOW HOMEMADE APPLESAUCE"
Short film
Composer
"SURROGATE"
Short film
Composer
"INHERITANCE"
Short film
Composer
"MARKDOWN"
Short film
Composer
"Portraits"
Short film
Composer
"Speechless"
Short film
Composer

SONGS AIRED ON
-Access Hollywood
-Superstation: "Speed & Spike" & "Ultimate"
-"America's Most Wanted"
-Foxnet: "Positive Hope" & "700 Club"
-ABC Family: "Time Stops" & "Sweat & Blood"
---
Learn how to become a professional musician with a career in the music industry.