Daniel Rothmann
---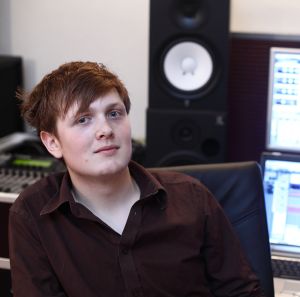 In 2009, on the day Daniel Rothmann turned 18, Daniel Rothmann Audio Corp. opened for business. Daniel is currently working as a music producer & coach for upcoming musicians. Besides his day-job in his music studio, Daniel works as a professional piano & synthesizer player in several bands, including Zeitgeist, Decimal & Blissphemy.
With roots in electronic music, Daniel focuses on innovative music production, setting new standards for the sound of the Danish underground scene. It's a sound with an edge. Most of his sound studio is made up of digital equipment, keyboards, synthesizers, but of course also traditional bass and guitar gear.
When not in the studio, Daniel is touring Denmark with his band Zeitgeist, performing as the keytar and guitar player. Zeitgeist is an unique mix of pop, rock, hip-hop and a little jazz. Denmark is showing a lot of interest for this new band, and Zeitgeist are indeed already in contact with several major record labels. The band is currently being managed by Day 1 Entertainment / Sony Music.
Records Released:
Decimal feat. Adrienne Osborn - "Monsters" (2010)

Zeitgeist - "How to Win Friends" (2010)

Decimal - "Interference" (2009)

Zeitgeist - "Under Abstraction" (2009)

Redwood Cult - "Synesthesia" (2009)

T7 - "Starstruck" (2008)

T7 - "DISk" (2007)
Production & Engineering:
Damiri - Boy Toy & Remix (2010)

Mac G Herc - Evolution (2010)

Natal Zaks - Nedtoning (2010)

Amilia - Open Your Eyes (2010)

Infinity's Delight - Let it Go (2010)

Decimal - Interference (2009)

Mekanik - Sorry & Treat Me (2009)

Zeitgeist - Under Abstraction (2009)

Damiri - Samme Vej & The Reason & Want To (2009)

Stoned Society - Stoned Society EP (2009)

Night Cereal - Hypothermia & Penetration Station (2009)

Mic & Amilia - Rythm'n'Soul (2009)

Mac G Herc - ATM Mixtape (2009)

Kodiak - Buccaneers Drunken Monkey (2009)

Glasswork - Ann Hathaway (2008)

How To Become The Pro Musician You Want To Be In The Music Business

Everyone wants to succeed in music, but very few people seek to learn the way that some thinking styles, mindsets and decisions stop you from becoming the perfect musician in this industry!

Setting up a music career by yourself is the top way to add risk and unpredictability into your musical life.

The far better option is to work together with a music business coach.

What is so good about finding someone like this?

This gives you the professional experience, instruction and guidance of an individual who has already acquired anything you wanted to in this business. Having this resource gives you the ability to do whatever you want in your career without all the guessing.

Also:

Getting help with a mentor helps you recognize exactly what you need to do, say and have to become the perfect person in the music industry for the largest opportunities. This makes you feel motivated every step of the way until you succeed at the highest level of this industry.

Ready to begin with an incredible music career?

Don't waste another moment...
---