James Erickson
---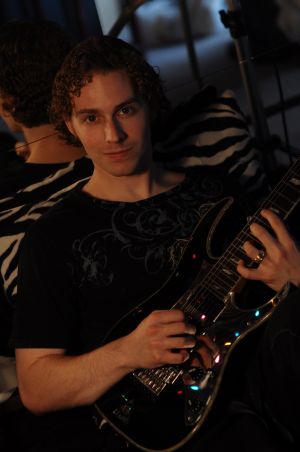 James Erickson, an advent of progressive rock guitar, was born and raised in Lakewood, California. He recently finished his recent composition "Maelstrom" for the compilation CD with the Tom Hess'
Music Careers Mentoring Program
. James recently joined the band "Volitions," which is an alternative band based in Glendale, with whom James has recently wrote the instruments for the song "To break a heart," which fans agree to be the best yet that Volitions has done.
Currently James is working on his goals of becoming a virtuoso guitarist and developing his already melodic, intelligent, and complicated style into something to be remembered.
Growing up playing classical piano, James was one of those types of musicians who have been reading music for as long as he has been able to read. He was versed in the likes of Beethoven and Mozart.
After many years playing classical piano, he was finally able to delve into what he really wanted to do, guitar. James instantly immersed himself with the guitar and for several years he took up lessons from 3 different guitar teachers: jazz, classical, and shred. Finally, feeling as though had exhausted his teachers' knowledge, he moved on in his own quest towards musical expression.
Studying on his own the masters of Joe Satriani and Steve Vai, he sought to form a band with his peers. During this time he graduated from California State of Long Beach with a degree in Engineering with a minor in music. His application for the music minor was a notable one, because James passed into the highest level of music theory and musicianship classes offered for the undergrad without any prior formal musical training. James then also sought to teach himself the mysteries of the masters such as Allan Holdsworth and masters of other instruments as well such as John Coltrane and Charlie Parker.
James has also in the past two years personally transcribed "Freak Show Excess," gathering Steve Vai's personal approval and signature.
Ready To Improve Your Guitar Skills?
Simple fact: Guitarists who take lessons from a teacher develop their skills much faster than they would struggling to learn alone.
What is the reason for this?
A guitar instructor with experience know the secrets about how to help you resolve issues in your skillset that you never knew about while guiding you along the correct path that leads you to your greatest guitar goals.
Fact:
The same idea applies to working with a music career mentor to succeed in your music career!
Don't just take this claim at face value though, find out for yourself...
---