Marc Ferrara
---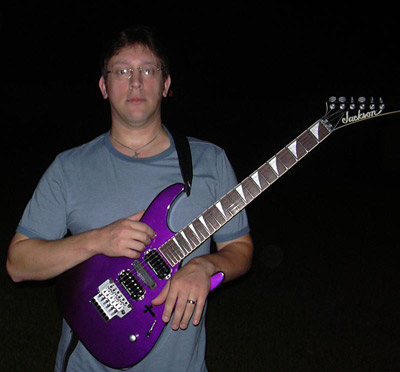 Marco Ferrara was born first-generation American in Chicago, Illinois in 1971. He picked up the guitar on August 26, 1986 and has yet to put it down. He currently lives in Alabama with his wife, four cats, a dog and too many guitars to speak of.

In his spare time, Marc teaches guitar to anyone willing to learn and is currently working on a project entitled, "The Shigionoth Project" with his wife. Between Marc and his wife Pamela, the styles include Neoclassical/shred, Contemporary Acoustic, Jazz, and ethereal.


About Taking Online Guitar Lessons With Tom Hess:

Marc is not the only guitar player to take lessons with Tom Hess and achieve big results in their guitar playing. There have been countless before and after him.

No matter where you are at in your playing, it is important to work with a guitar teacher in order to get better and overcome your mistakes.

No matter what guitar teacher you choose to work with, know this:

Taking guitar lessons with an experienced teacher is the shortcut for you to play guitar with insanely fast speed, get better at playing cool solos, compose great music and accomplish many other guitar playing goals when you take lessons from a person who has already helped other people achieve these things time and time again.

So, you might be wondering:

Why exactly does having a guitar teacher make learning guitar better than learning at my own pace?

There are definitely many reasons why, but one of the biggest ones is that a guitar teacher helps clear your guitar learning process of all the guessing involved so you know exactly what to do to get better.

Not exactly sure what to practice today?

Wish you knew why your playing breaks down every time you go to play that one lick you want to master?

Wondering what the best practice strategies are for playing shred guitar licks that make people's jaws drop (without messing up)?

Want to perform in front of others without getting nervous?

Take guitar lessons and get the answers you need now rather than later!

You'll feel good about your decision too.

Why?

Your guitar teacher is going to use their extensive experience and expertise to help you improve on guitar in ways you never knew existed. This may be jarring as you will be opened up to a whole new world of possibilities when you see how easy it is to get better (when you have the right information and guide).

With this in mind, know one thing:

Waiting to begin taking guitar lessons only holds you back.

The longer you wait, the longer you have to wait to play guitar the way you always wanted.
---
Learn why electric guitar lessons online are the best way to reach your musical goals.