Riff Sorce
---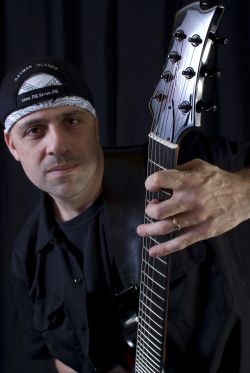 Riff received his first guitar at age 12. Since that time, he has dedicated his life to the instrument while discovering many great guitarists/musicians of the time.

Over the years, Riff has been associated with bands such as Forbidden Domain, Click, Drawdown, and 5 Ft Nothing. His current band is STAPLED DOWN and of course "RIFF SORCE" which is an ALL instrumental group consisting of more technical instrumental guitar oriented compositions.
In 2004 Riff Sorce was featured on an all instrumental compilation project with some of the finest guitarists in the country, called Guitars at an Exhibition - Volume 2. He has also released 7 other CD'S from his own label: Sorcery Records with more CD releases on the way.
Riff is also currently a clinician for AMT Electronics USA, and Turbotrem Whammy Bar Corporation.


Endorsements:
Bernie Rico Jr. Guitars

Spectraflex The Original Braided Cable.

Fastaxe Products and Crave Energy Drink

Turbotrem

AMT Pedals - amtelectronicsusa.com

Clayton Picks
---