3 Exercises That Make Your Lead Guitar Solos Sound Better (Even If You Are New To Lead Guitar)
By Tom Hess
---
The Secret To Adding Fire &
Emotion To Any Guitar Lick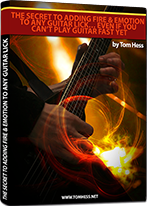 ENTER YOUR NAME AND
EMAIL TO GET ACCESS
FREE E-BOOK
By submitting your info, you agree to send it to Tom Hess Music Corporation who will process and use it according to their privacy policy.
What's the fastest way to make your lead guitar solos sound better?
For a long time, I thought the answer was:
"Learn lots of new guitar licks and scales."
Back then, my playing wasn't very good. Quite frankly: I sucked!
I thought learning more new guitar licks was the answer.
And then I realized:
I already knew lots of licks, but still had NO IDEA how to put them into a solo!
The Secret To Adding Fire &
Emotion To Any Guitar Lick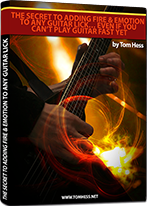 ENTER YOUR NAME AND
EMAIL TO GET ACCESS
FREE E-BOOK
By submitting your info, you agree to send it to Tom Hess Music Corporation who will process and use it according to their privacy policy.
Everything changed when I found a guitar teacher who told me point-blank that I was…
…TOTALLY WRONG!
He then taught me how to use what I already knew to make my lead guitar solos sound better in one lesson.
This transformed my lead guitar playing forever.
What was the guitar solo exercise he taught me that did it?
Check out the video to learn an important guitar solo exercise and use it next time you practice:

(Watch the guitar solo exercise video before reading further.)
What's the best way to use these ideas to get better at lead guitar solos with your practice?
The key is to get really good at the most important guitar solo & phrasing techniques:

Guitar Solo Phrasing Technique #1: Vibrato
Great vibrato sound is about: Balancing the speed and the width of your vibrato.
If your vibrato is fast and narrow, it might as well be a mosquito. If it is slow and wide, it doesn't sound like vibrato anymore. (It sounds like slow bends.)
Here is a guitar solo exercise showing what vibrato sounds like (and how to practice it):

Question: "Tom Hess, what is the best hand position to use for vibrato during this guitar solo exercise?"
Answer: Use the web between your thumb and index finger as the pivot point. Your forearm should rotate, as if you are turning a wrench to bend the string.
It looks like this: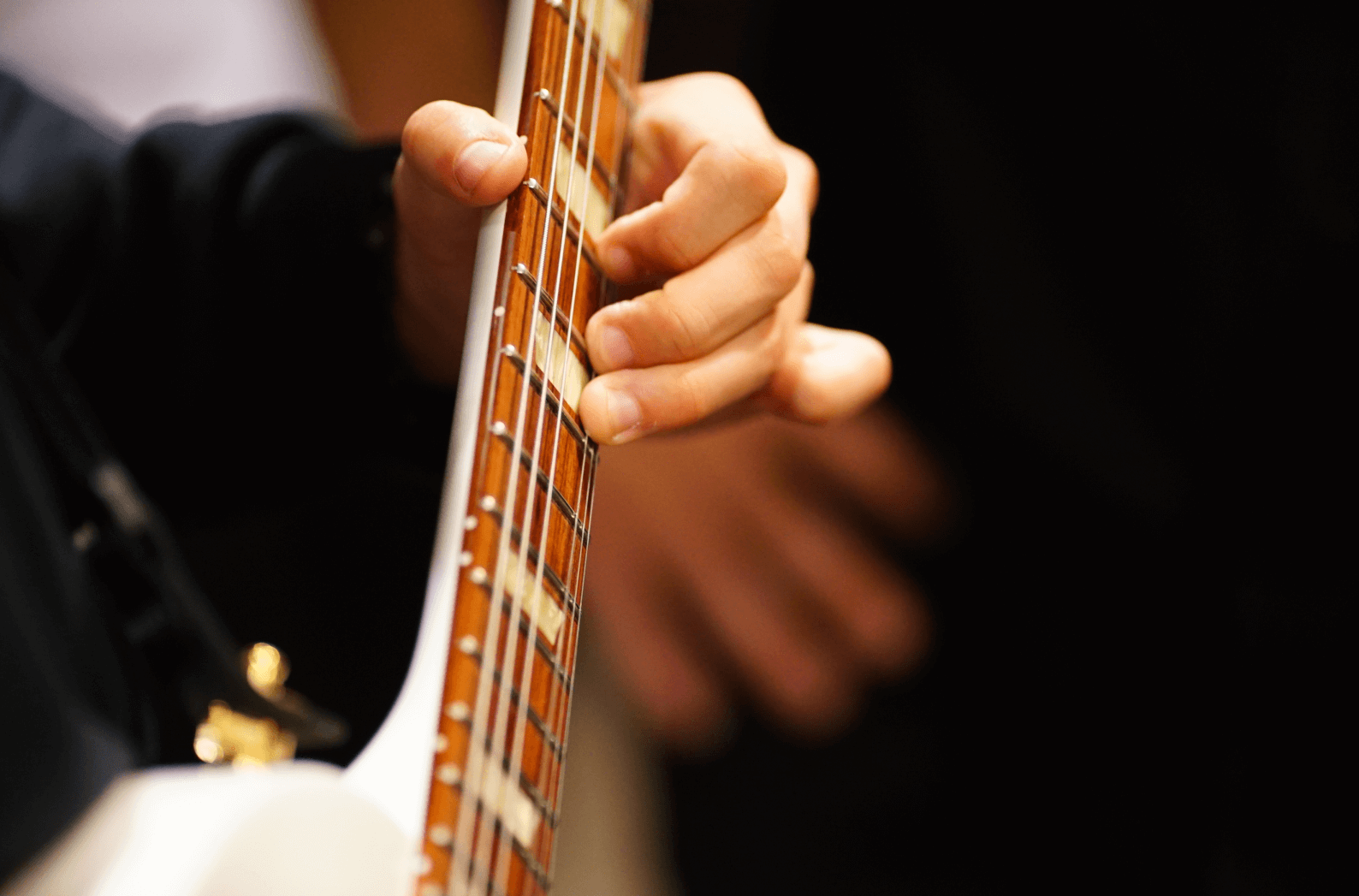 That said, focus on the sound of your vibrato first. Let your ears guide your hands to find the correct motions. If you focus on the motions first, it distracts your ears from what really matters: the SOUND!
Trending Articles:

How To Compose Great Guitar Solos
Discover the process for composing great guitar solos.

Make Your Guitar Solos More Unique
Learn how to make your lead guitar solos sound unique.

How To Create Kick Ass Guitar Solos
Learn how to play guitar solos much
more creatively.
Bonus tip: if you have a vibrato bar on your guitar, check out this guitar solo exercise video with cool vibrato bar tips that improve your lead guitar solos.

Guitar Solo Phrasing Technique #2: Emotional String Bends
You know how to bend a string, right?
What you may not know are dozens of string bend variations that literally make your guitar sing.
Best part?
You can learn them fast and make your lead guitar solos sound better today.
Check out this guitar solo exercise video to learn several of my favorite string bending ideas & use them in your playing:
Guitar Solo Phrasing Technique #3: Slides
Slides add fire to your lead guitar solos (even if that lick is only 1 note).
Sounds unbelievable, right?
Check out this guitar solo exercise video that shows a simple way slides can transform your guitar licks:
Guitar Solo Phrasing Technique #4: Pinch Harmonics
Do you know any guitarist who doesn't like the sound of pinch harmonics?
I don't either. :)
Pinch harmonics are a lot of fun and they make anything you play sound better right away.
Unfortunately, most guitar players struggle to play pinch harmonics, because they don't know how to practice this technique correctly.
So here is a guitar solo exercise video that shows you how:

Want more help with making your lead guitar solos sound better?
No problem.
Download this free guide for playing lead guitar solos and learn the secret to adding fire and emotion to any guitar lick (even if you can't play guitar fast yet).
---

About Tom Hess: Tom Hess is a guitar teacher, music career mentor and guitar teacher trainer. He teaches rock guitar lessons online to students from all over the world and conducts instructional live guitar training events attended by musicians from over 50 countries.
Looking for more guitar solo exercise lessons on the internet? Transform your lead guitar solos with
breakthrough guitar lessons online
.