Guitar Teaching Advice For Guitar Teachers Starting Out
by Tom Hess
---
Do THIS And You'll Get A Lot More Guitar Students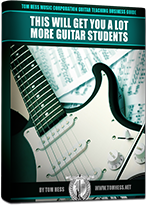 ENTER YOUR NAME AND
EMAIL TO GET ACCESS
FREE eGUIDE
By submitting your info, you agree to send it to Tom Hess Music Corporation who will process and use it according to their privacy policy.
If you want to become a guitar teacher or have any interest in teaching guitar at all, you're going to love this guitar teaching article:
I asked several of the top guitar teachers inside my Elite Guitar Teachers Inner Circle (all of whom are earning at least 6-figures per year teaching guitar part-time) to share their wisdom on the most burning guitar teaching questions, such as:
- Guitar teaching tips for dealing with guitar students who don't practice
- The best way to get referrals when you become a guitar teacher
- How they deal with 'make up lessons' when teaching guitar (this may surprise most guitar teachers starting out)
- How to decide what you should charge for your lessons when you become a guitar teacher.
- The best places to advertise to find guitar students when you are teaching guitar.
… and much more.
Do THIS And You'll Get A Lot More Guitar Students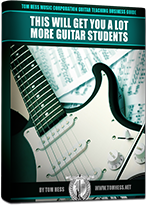 ENTER YOUR NAME AND
EMAIL TO GET ACCESS
FREE eGUIDE
By submitting your info, you agree to send it to Tom Hess Music Corporation who will process and use it according to their privacy policy.
These topics are of utmost importance to guitar teachers starting out. And you can use these guitar teaching insights to become more successful teaching guitar starting tomorrow.
The guitar teachers I interviewed were:
James Maxwell, Ryan Duke and Dylan Andrews.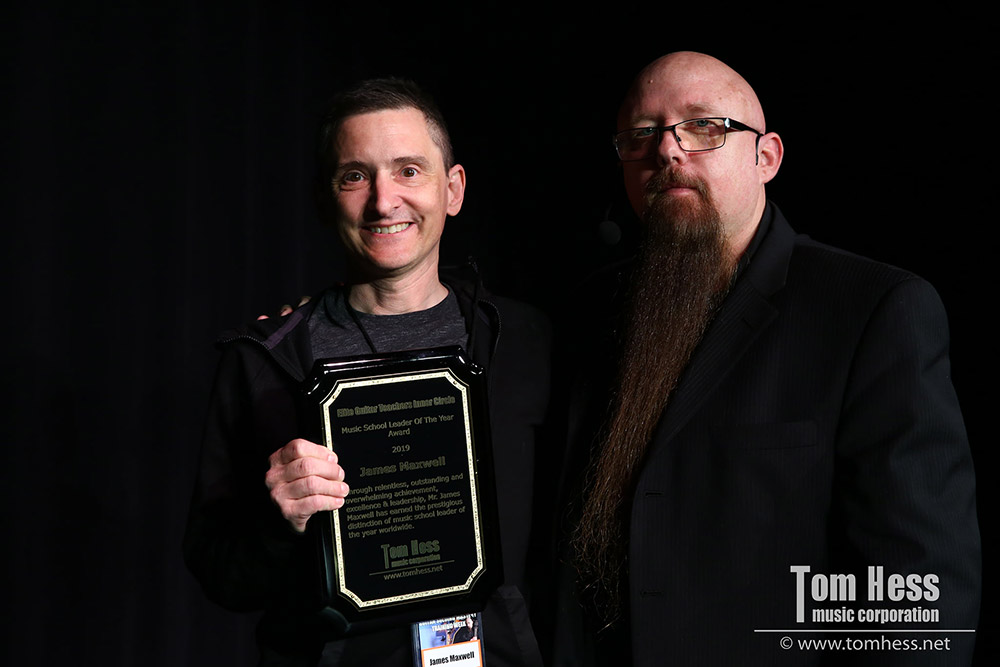 James Maxwell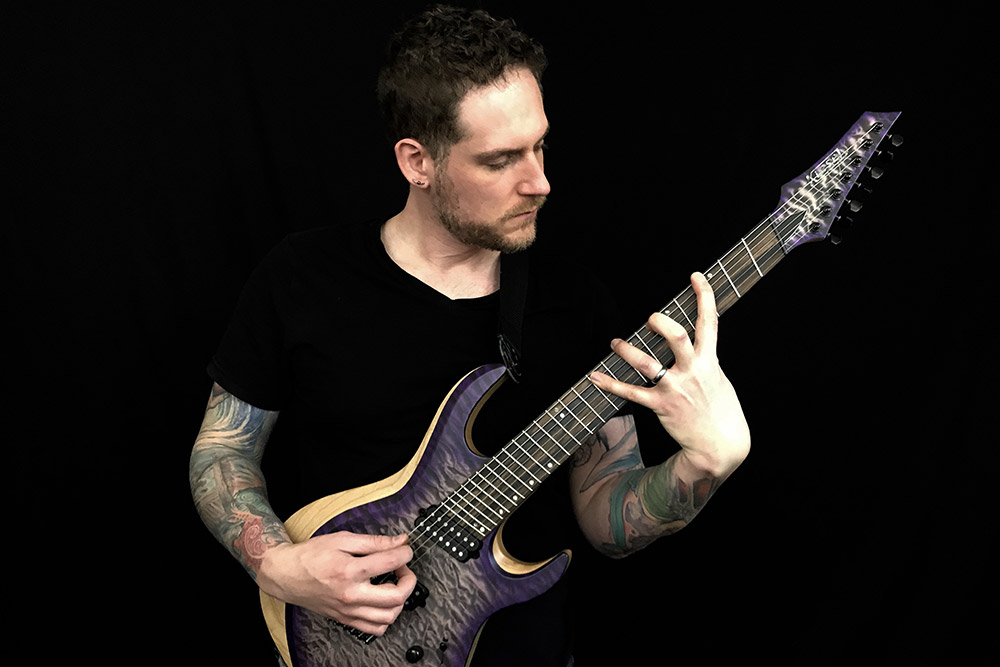 Ryan Duke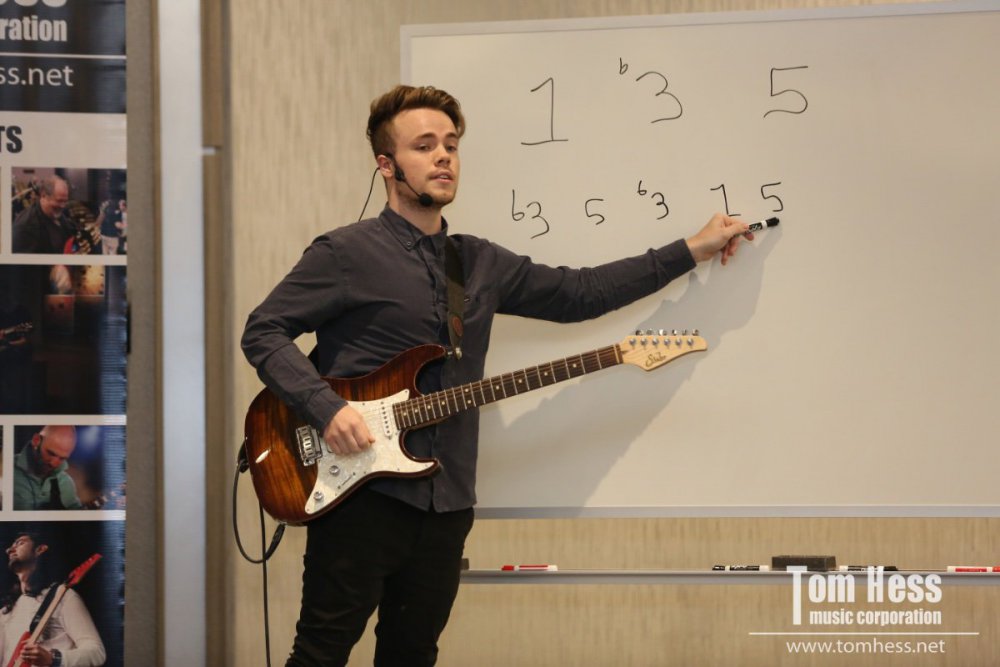 Dylan Andrews
Plus: I (Tom Hess) will periodically insert my own comments to point out the common theme in the guitar teaching advice these teachers are giving (that I think would've been helpful for me when I was starting out teaching guitar.)
Let's begin:
Guitar Teaching Question 1: How Do You Decide What To Teach New Students? And How Would Someone Who Wants To Become A Guitar Teacher Create Their Teaching Materials?
James Maxwell: No matter what style your guitar students play, the first thing they have to do is play something that actually sounds like music.
The second thing is: it has to not only sound good to them when they're practicing it by themselves but also, it has to give them a specific skill.
For instance, the biggest category of people is adult strummers. They need to play chords, switch chords clearly and sound like they know what they're doing.
We use songs that have, for instance, a D chord, where the high E string is always dead. So, I create a piece of music that has them use their third finger on the D note on string two and the 1st string open.
With this foundation, they can move to more advanced chord changes quickly. It's not overwhelming for them. And they quickly start to sound like they know what they're doing.

Ryan Duke: The focus is always on things that can get the student easy wins.
So, it's not about teaching someone a specific riff, chord, or song. It's about making them feel good about playing guitar and wanting to continue taking lessons. If they don't continue, then they're definitely not going to reach their goals.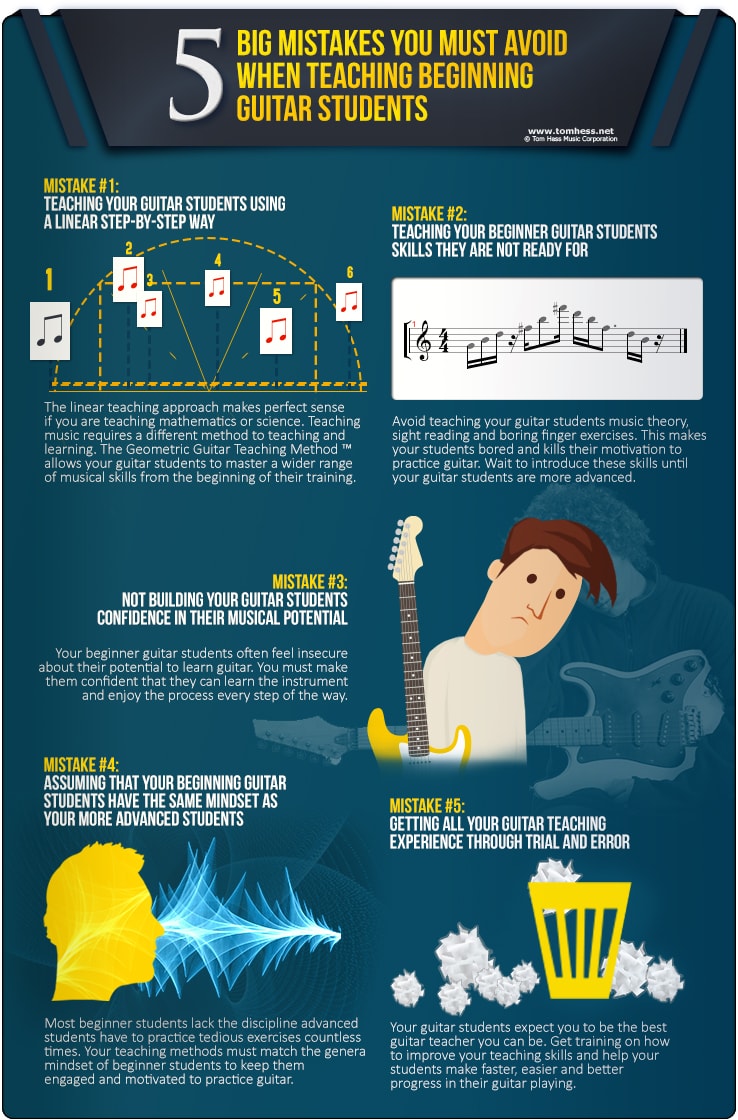 Question 2: What's The Guitar Teaching Secret To Getting Your Guitar Students To Practice More?
JM: This may sound shocking to anyone who wants to become a guitar teacher, but I don't care if the students practice at home or not.
Honestly, all I really care about is: are they enjoying coming to class?
There's only a small percentage of students who do have serious goals. And for those students, you don't need to do anything to get them to practice, because they will anyway.
For the rest - I'm focusing on creating massive progress and giving them an enjoyable experience while they're in the class with me.

Dylan Andrews: I tell my guitar students that practicing is really just a bonus. The majority of their practice is going to happen with me in the lesson because I do a lot of training, on top of guitar teaching.
So, I'm right there to catch any mistakes and make sure they're practicing correctly.
They'll progress much faster if they actually get the majority of their practice with me. And then the practice at home is just going to be a bonus that will allow them to progress even faster.
Question 3: How Would Someone Who Wants To Become A Guitar Teacher Give Students Individual Attention When Teaching Guitar In Groups?
DA: The part about students getting less individual attention in groups is true, but most guitar teachers don't realize that it's a GOOD thing.
What I found is that most of the progress comes from hands-on practicing (trying, making mistakes, adjusting what they are doing and trying again), with me being there to coach and guide them. It doesn't come from "being told what to do".
Students don't need a ton of individual attention. They need direction on what to specifically do. Then they just need to get their reps in and work and have me check on them every now and then to make sure that they're doing it correctly.

RD: I think most people have an idea in their head that you need a whole hour of individual attention to really make progress on guitar. That's definitely not the case.
And with giving them individual attention, if I'm addressing something, I try to include other people, and usually other people in the class are listening in anyway.

Question 4: Teaching Songs. Is That A Good Idea For Guitar Teachers Starting Out? If So, What's The Best Way To Do It? If Not, Why Not?
DA: If you only teach songs (and that's all you do) that isn't a great way of teaching.
All students need to understand the principles behind how that person created the song.

Trending Articles:

Attract More New Guitar Students
Discover how to attract new guitar students by using this assessment.

Why So Many Guitar Teachers Fail
Find out why most guitar teachers
will fail to ever make a good living.

Earn More Money Teaching Guitar
Learn 11 steps to take
in order to earn more money teaching guitar.
JM: I don't teach songs that much.
And if my students ask me why – here is what I say to them:
You don't need me to sit here and teach you songs. There's a billion resources on the internet that will teach you songs you type in.
You need me to take that whatever you learn there and make it not suck, make it not sound like crap. I do use those words too and my students almost always get exactly what I'm saying.
So, instead of teaching songs, I teach them how to learn any song they want – properly.
It's all about the training.

RD: I don't teach songs.
Teaching songs is what most guitar teachers do and it isn't going to help the student to really do anything other than to just paint by numbers.
Question 5: What's A Guitar Teaching Policy For Makeup Lessons For Someone Who Wants To Become A Guitar Teacher?
DA: Group classes are the ideal way to handle 'makeup lessons' when teaching guitar. Because I have several classes each week, a student can miss one, but come to a different class on another day/time that week.

RD: I personally don't do makeups.
I run a model where within a given month, they have a number of lessons. They can use those however they want to schedule themselves. It's very flexible. I just need a 24-hour notice if they're canceling and can't make a class.
Then they can just go online and take themselves out of that class and put themselves in another class.
Pretty simple.
Question 6: How Did You Decide What To Charge For Your Lessons When Decided To Become A Guitar Teacher?
DA: When I first started teaching, I looked at what the average rate of lessons was. But to any guitar teachers starting out, I actually don't recommend doing that.
What you want to think about is how valuable as a teacher you are to your students.
If all the other teachers around you don't have any training on how to teach but you do, then you should be charging more.
Also if you charge more than that it's just going to give you higher quality students. Students who pay more are more motivated to practice and get as much of the lessons as they can (because they're paying a higher price per lesson).

RD: I charge more than my competitors per month.
You definitely want to know what it is in your area and you definitely want to not underprice yourself. Most people are going to price too low. I did in the beginning.
I've raised my prices many times over the years.
It's at a threshold that seems at the right point where it's too expensive for people who are going to probably not stay around long or might be a pain in the butt. But it's affordable enough for people who have the money to pay for it and who are really wanting to do it.
Question 7: What Is The Best Place To Advertise To Get More Students When You Become A Guitar Teacher?
DA: You want your marketing to be absolutely everywhere.
So they will see you in multiple places: with flyers, online, your websites, yard signs or Craigslist. Literally everywhere that you can market... you want to do that.

JM: The answer to that is everywhere - advertise everywhere. Start with everything that's free or that don't cost money except printing costs (like flyers).
My flyers go to every house in my town and to the 2 neighboring towns on either side of mine. So I have a massive coverage of all these now.

RD: Multiple things is best because you cannot rely on one source. You're going to have a source that is going to be higher than others. It's likely going to be Google and the internet that people are finding you on more than anything.
But you need to have as many sources as possible, because if one of the bigger sources goes down - you need other avenues to bring in new students.
This way you don't start losing money or stop growing.
Question 8: What's The Best Way To Get Referrals
When You're Teaching Guitar?
DA: There is no "best" way - there are multiple ways to get referrals.
The simplest thing is to just ask for them. After you've had a student that's been with you for a little while and they've enjoyed the lessons, just say to them: "You know, I would really appreciate it if you could tell any of your guitar playing friends about me so I can help them get the same results you're getting in your playing."
Your best students are going to want to do that stuff for you.

JM: Ask for them. And when someone sends you a referral, instead of giving them gifts – thank them in front of everyone. Because people feel really good about that.
This is creating a community where it is common for people to give referrals. It is expected of them. It is a normal thing.

RD: Everything starts with creating a great relationship with our current students.
Students who've been around a long time are more likely to refer other people.
If they respect you and they're learning from you and they're taking lessons from you for a long time, it means they believe in what you're doing.
The longer they do that, the more they're going to want to stand behind that.
Then, you simply ask them for referrals and they'll be likely to send them your way.
Whereas if they're brand new, they're not totally believing in it yet. They might not tell anyone else because they aren't that committed yet.
So, retaining students is very important for referrals.
And then of course, you can have incentives.
(Tom Hess again here)
Now that you've gotten some in-depth guitar teaching advice on how to become successful teaching guitar.
The next step is to learn how to make guitar students excited to begin guitar lessons with you. This is easier to do than you may think, and I can show you how in my free eGuide: This Will Get You A Lot More Guitar Students. Download it today and discover more guitar teaching secrets most guitar teachers never know.
---

About Tom Hess: Tom Hess is a guitar teacher, music career mentor and guitar teacher trainer. He trains guitar teachers from all over the world how to earn 6-figures per year teaching guitar, while working less than 40 hours per week.
Discover how to quit your job and teach guitar for a living.