Dave Cardwell
---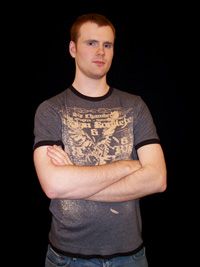 Dave's first three albums, "Shocked Awake," "Play With Fire," and "Release Yourself," were released under the name Raise The Shield.

Dave's collaboration with guitarist Zack Uidl, Thoughts Betrayed lead to the release of the debut album "Recollection" in early 2008.

In addition to his career as a solo recording artist, Dave is also a touring clinician and an author of many instructional products for guitar players.

Discography:
Thoughts Betrayed - Recollection

Raise The Shield - Release Yourself

Raise The Shield - Play With Fire

Raise The Shield - Shocked Awake

Guitars From The Shadows Compilation

Eden - A Special Kind of Crippled

Soulrazer - Terror of the Deep

Chico's Prizon – Whatever

Gone - Solo CD
Products Released:
Japan: Scales

Fives: String Skipping

Fives: Sequences

Improve Your Improv

Thoughts Betrayed Recollection Tablature (with Zack Uidl)

Harmonizing Melodies

Creative Meter: Riffs and Songs

Creative Meter: Theory

Extended Arpeggios: 7th and 9ths (with Jeff Treadwell)
Endorsements:
Maxon

Old Dog

Guitar-Cable.com

Jellifish

Fleximusic
Clinic Tour Dates 2008
Date
Venue
City/State
Address/Directions

Sunday, September 7, 2008

JC's Guitars

Algonquin, IL

2214 E. Algonquin Road
Algonquin, IL 60102
Phone: 847.658.9932

Monday, September 8, 2008

Guitar Center

Arlington Heights, IL

2375 S. Arlington Heights Rd.
Arlington Heights, IL 60005
Phone: 847.439.4600

Tuesday, September 9, 2008

Guitar Center

Grand Rapids, MI

2891 Radcliff Ave SE
Kentwood, MI 49512
Phone:616.464.0000

Wednesday, September 10, 2008

Guitar Center

Indianapolis, IN

8475 Castleton Corner Drive
Indianapolis, IN 46250
Phone: 317.578.9570

Thursday, September 11, 2008

Guitar Center

Florence, KY

4999 Houston Rd
Florence, KY 41042
Phone: 859.282.9841

Friday, September 12, 2008

Guitar Center

Pittsburgh, PA

1020 Park Manor Blvd
Pittsburgh, PA 15205
Phone: 412.788.1071

Saturday, September 13, 2008

McNeil Music

Vestal, NY

4517 Vestal Rd
Vestal, NY 13850
Phone: 607.729.1548

Other Tour Dates in 2008
Date
Event
Venue
City/State
Address/Directions

Thursday, June 19, 2008

Thoughts Betrayed Clinic at Camp Jam

Lake Forest Academy

Lake Forest, IL

1500 W Kennedy Rd
Lake Forest, IL 60045

Sunday, July 27, 2008

Dave with American Bullet

Birdys

Indianapolis, IN

2131 E. 71st St.
46220

Friday, August 7, 2008

Dave with American Bullet

Spin Nightclub

Indianapolis, IN

6308 Guilford Ave
Broad Ripple 46220

Want To Build A Successful Music Career & Kick Ass In The Music Industry?

You're not alone.

However, many musicians try to do this alone and end up back at their day jobs.

Good news:

Working with a mentor makes the entire process not only easy, but infinitely less frustrating and confusing.

Note: This applies no matter if you are new to the business or if you are experience + seeking help to overcome a particular barrier in your career.

Dave learned how to effectively realize his musical dreams with the help of a mentor.

Working together with a music career mentor is the quickest way to achieve massive musical goals in as little time as possible.

So:

How exactly does a music business mentor help you succeed?

That's easy.

When you are mentored by an expert in the music business, you get expert advice based on thousands of hours of working in the business as well as helping others to achieve the exact same goals you have.
This is not something you could get by trial-and-error.

A great music career mentor understands what to do to help you make steady income with music alone, get better gigs, work with other big name musicians and stay motivated throughout the entire process.

The only thing you have to do is implement their advice and reap the rewards for yourself!

Still not sure if you need a mentor?

The best way to make sure a mentor is the right choice for you is to look at the proof that working with them really gets results.

…and how do you find this proof?

This is best found in the form of observing the success of those who have been mentored already, plus looking at the success of the mentor himself/herself.

Don't let your music career fade. Get started with a mentor and realize your musical dreams.
---