Jeet Samant
---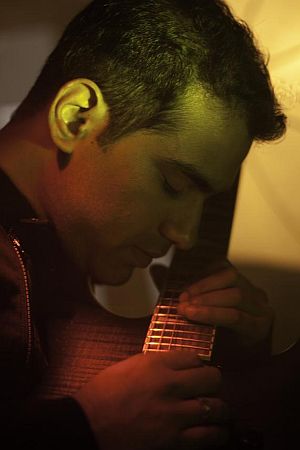 Jeet Samant is a guitarist, composer, arranger and producer based in Brisbane, Australia.

He has recently contributed a rocking ballad 'Before I Disappeared' to an exciting compilation CD 'Shrouded in Sound – New Guitar Music For A New Decade'. The CD features compositions by 14 musicians from around the world.

Jeet is also working on writing more solo material and is involved in various collaboration projects with many musicians.

Jeet studied music arranging from Berklee College of Music (online faculty) and is currently taking online electric guitar lessons with virtuoso guitarist and teacher Tom Hess.

Jeet started playing guitar at the age of 12. The bands Iron Maiden, Metallica and Pink Floyd (among others) triggered his initial enthusiasm and drive towards the instrument.

Jeet's musical influences later evolved into artists such as Joe Satriani, Dream Theatre, Rush, Mark Knopfler, Porcupine Tree, Symphony X, Marillion and more. Over time, Jeet expanded his listening into other genres/artists such as J.S. Bach, Zakir Hussain, John McLaughlin, Deep Forrest, Yanni, and more. Personal life events also influenced Jeet's musical direction.

Memorable and appealing melody lines are at the core of Jeet's music. Right from the very early days of music career, writing original compositions has always been Jeet's first priority and a distinguishing factor.

Jeet's music aims at blending energy with emotions and depicting the existence in its most sparkling form.

How To Become A Killer Guitarist Like Jeet

It's no secret.

Taking guitar lessons is like rocket-boosting your guitar skills.

This is because working with an expert teacher unveils all kinds of practice approaches, exercises and insights that learning on your own doesn't provide.

Get started taking guitar lessons with your own guitar teacher to:
Improve your guitar playing skills in new ways you never thought of or knew existed


Achieve your highest guitar playing goals (...then some)


Impress everyone who hears you play, making them ask, "Where did they learn to play like THAT?"
---