Mark Court
---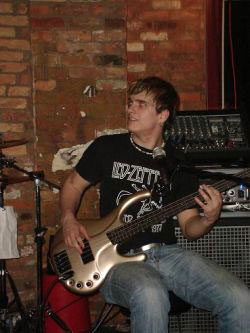 Mark has been into music ever since he can remember, constantly listening to classic rock at an early age. The seeds for a potential future in music were already being planted before he could remember.
At age 9, Mark took guitar lessons, and quit 2 years later. Sports and girlfriends occupied most of his time after that. He got back into music again in the early years of high school, playing in a band called "Choked" as a bass player. Mark was hooked on making music and performing live.

In his last year of high school, disaster struck and Mark found himself hospitalized and near death after being hit by a car. Extensive injuries to all limbs except his left playing hand and almost completely blind left eye were the results. Music, and life as he knew it, had to be put on hold.
With time to heal and reflect, music started to become one of the most important things in Mark's life. After 6 months with no use of his right hand, Mark started playing bass and collaborating with friends who were forming a local bar band called "Pitch Black..." beginning his journey as a musician.
The band worked in clubs for two years, and eventually parted ways. Mark dove into music head on. He switched back to guitar and started practicing every day. In 2007, he found Tom Hess's Music Careers Mentoring Program and began to start working and practicing harder than ever to start making his dreams become reality.


About Taking Rock Guitar Lessons With Tom Hess As Your Instructor:

Like Mark, your guitar playing improves like you wouldn't believe when you learn from a guitar instructor who understands how to help you realize your highest musical goals in less time than you thought was even possible.

Note: The guitar players who are trained by a teacher develop their playing remarkably faster than they would attempting to learn alone.

What is the reason for this? How exactly does a guitar teacher help you learn so fast?

Guitar teachers who get results for their students know how to help you fix problems in your skillset that you weren't even aware of while taking you down the right track that takes you to your highest possible guitar goals!

If you are still not ready to try out taking guitar lessons with an instructor, quit hesitating and make the biggest choice for your playing right away. The faster you begin, the faster you can at last begin playing guitar like you always desired to, while taking care of the difficulties in your playing that hold you back.

So, it's time to make the right decision for your musical future and take lessons today.
---