Oscar Ortega
---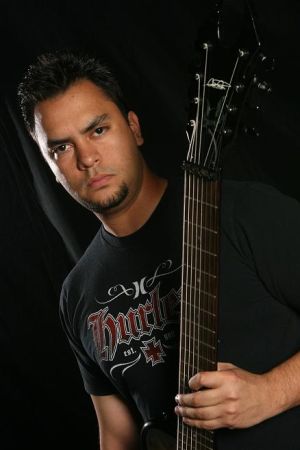 Oscar, who is of Guatemalan descent brought with him talent and love of music that sprung from childhood of playing a variety of instruments since the age of 5.
With inspiration from his heritage, Oscar put together a unique mix of heavy metal and clean guitar, mixed with a hint of Latin flavor.
As the word "gifted" doesn't quite embrace his passion, Oscar gives his music a sound and depth not often heard in rock music, creating a truly signature sound.
Oscar has released his Debut CD - "Fruits of the Mourning" and it can be purchased on his website oscarortega.net or myspace.com/oscarortega. Oscar is also teaching guitar in the styles of Rock, Blues, Neoclassical, Shred and Flamenco.
Oscar's song "Milagro" Reached the #7 spot on the Latin-Jazz Category at soundclick.com and his song "April 31st" has been nominated "Best Breakup Song" by Boise Weekly Newspaper!

Endorsements:
Halo Custom Guitars - haloguitars.com

Pure Tone Guitar Strings - pure-tone.com

Guitar Tronics - guitar-cable.com

Records Released:
Guitars From The Shadows - Compilation CD
Fruits of The Mourning

Reviews/Articles
shredacademy.blogspot.com/2008/02/album-review-oscar-ortega-fruits-of.html

shredacademy.blogspot.com/2007/11/oscar-ortega-interview-this-shredder-on.html

boiseweekly.com/gyrobase/Content?oid=oid%3A306764
---
Fulfill your desire to become a music business pro and work in the music industry.