The Good (And Bad) Ways To Break Into The Music Business
by Tom Hess
---
Get Your Fans To Buy your
Music Instead Of
Downloading It
Illegally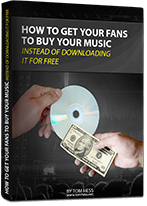 ENTER YOUR NAME AND
EMAIL TO GET ACCESS
FREE E-GUIDE
By submitting your info, you agree to send it to Tom Hess Music Corporation who will process and use it according to their privacy policy.
There are two types of musicians in the music business:
Gamblers and investors.
Which type are you?
Are you gambling with your music career or investing in it?
Let's find out:

How "gamblers" operate in the music business:
Gamblers in the music industry operate like poker players in a Las Vegas casino.
A gambler hopes to win, but quickly folds to cut his losses if he feels he isn't holding the winning hand.
Imagine this scenario:
Get Your Fans To Buy your
Music Instead Of
Downloading It
Illegally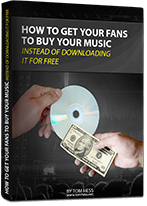 ENTER YOUR NAME AND
EMAIL TO GET ACCESS
FREE E-GUIDE
By submitting your info, you agree to send it to Tom Hess Music Corporation who will process and use it according to their privacy policy.
A band releases a record, but album sales are disappointing… and they can't get signed by a record company.
So, what do they do?
Instead of learning how to improve album sales…
... they go back into the studio and spend (gamble with) more money making another record, hoping to make it big next time.
This continues until the band runs out of money or loses its motivation and falls apart like most bands do.
Would you like to be in a band like that?
These musicians are gambling (not investing) with their music careers. They also want someone else (a record company, a manager, a promoter, a publisher, etc.) to gamble on them too.
It doesn't work like that anymore in the music business.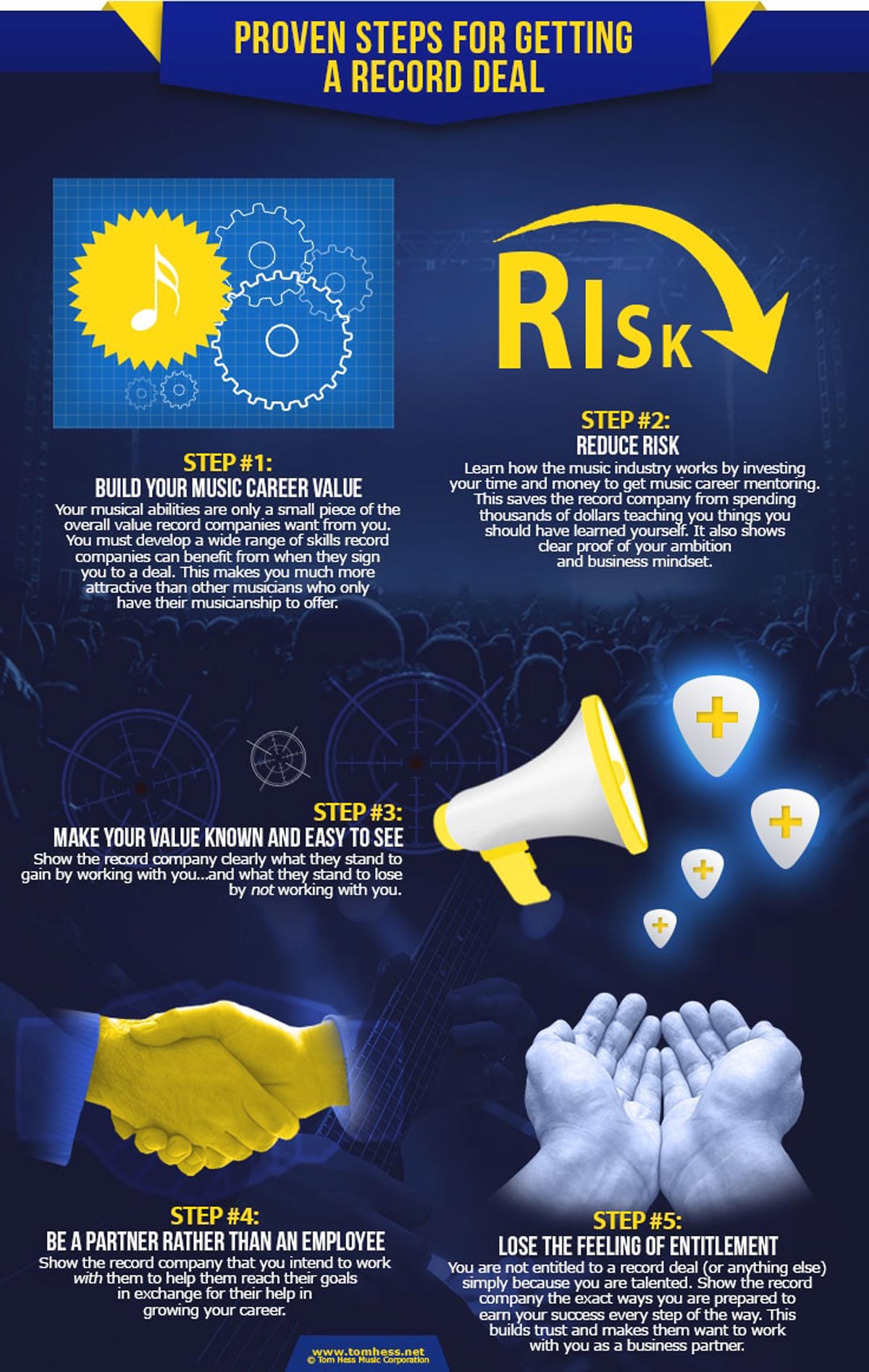 Bottom line is: You don't want to ask anyone to gamble on you or your music career.
Ever.
You want an investor to invest in you.

Trending Articles:

Best Way To Start A Music Career
Learn the specific steps to take to begin a successful career in music.

The Truth About Making It In Music
Discover multiple ways of how you
can have a successful music career.

How To Make Connections In Music
Learn how to REALLY build helpful relationships in the music industry.
How "investors" operate in the music industry:
Who are some of the biggest investors in the music industry?
Record companies.
They invest their time, money, expertise, resources and reputation into musicians to help them become successful.
Record companies usually play the long game.
This means:
Unlike gamblers, they generally don't give up on their investments at the first sign of trouble. They know that it takes time for musicians to become successful.
(I emphasize "usually" and "generally". That's because some record companies also operate with the predatory "gambler" mindset.
And if such record company ever offers you a record deal - you better run away as fast as your legs will carry you.)
But generally, record companies protect their investment during any temporary downturns, instead of abandoning it like gamblers do.

There is a catch! Actually, there are 2 catches.
Record companies are investors - not charities.

This means:

Their goal is to make money from their investment into you (and all musicians they work with).

This is the only reason why record companies exist.

Record companies are VERY selective about who they work with.

They do their due diligence, to minimize their risk and maximize the return on their investment.

What are the things record companies look for in musicians (and in you)?

Watch this video to find out:

What Are The Music Career Lessons Here For You?
Music Career Lesson #1: Become Who You Want To Attract.
If you want to attract investors into your music career, become an investor yourself.
Here is how:
Learn about the business side of music. The more you know about how business works, the easier it is to become successful in the music industry.

Everything in business (including the music business) revolves around marketing, sales, accounting, management, operations, people skills and technology.

Invest the time to learn the basics of each field. This puts you light years ahead of most musicians who only focus on music alone.

Invest into meaningful music business relationships. Contacts matter little in the music industry… but real, authentic relationships matter a great deal.

A relationship takes time and effort to develop and each relationship is a building block of your reputation.

Read this music career article to learn how (and why) to develop solid relationships in the music business.

Develop a solid work ethic. Get used to doing more than what is expected of you… and doing things that you aren't obligated (or paid) to do.

When you do, you stand out from the crowd, like a raisin on a coconut cake.

Music Career Lesson #2: Making It In The Music Business Is Easier Than You Think.
I'm not saying it's easy…
… but I am saying it's much easier than most think it is.
Most musicians are gamblers. They do little or nothing to really invest in their music careers.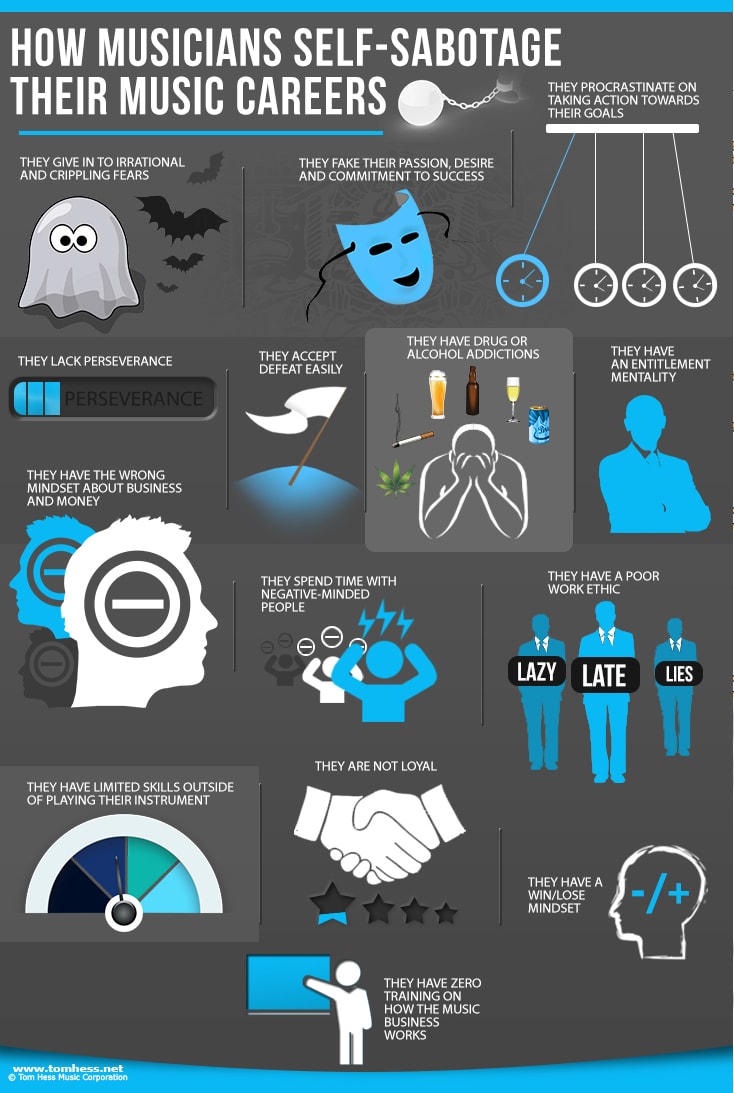 So, what does this mean for you?
You don't have as much competition as you think.
Focus on becoming the best version of yourself that you can be with every action you take in your music career.
When you do, you leave most of your "competition" in the dust and attract opportunities other musicians only wish they had.

Music Career Lesson #3: Think Like Record Companies Think.
Remember how record companies research many things about you before deciding whether or not to offer you a record deal?
What if you made a list of all the ways you can add value to record companies and minimized your risk?
For example:
- You could study how the music industry works (so record companies don't have to spend money teaching you things you can learn on your own).
Reading articles like this is a good start. Getting music career mentoring from a proven mentor is a bigger step above that.
- Do the things you want record companies to do for you … on a smaller level.

For example: organize a small tour around your area.
You may not make any money on the tour, but you gain valuable experience in:

Live performance, stage presence & tour logistics

Budgeting, merchandise sales & ticket sales.

Building relationships with promoters and venue owners.

Question: "Tom Hess, am I guaranteed to get a record deal if I do these things?"
Answer: Of course not. There are no guarantees in music business (or in life) about anything.
That said:
If you don't invest time, energy and money into growing your career, why should anyone else do it for you?
You now know more about what it takes to make it in the music business than most musicians. The next step is to learn how to make more money selling your music than you ever have before, so you build your career faster. Download this free music career eGuide to learn how to get your fans to buy your music and have the success other musicians only dream about.
---

About Tom Hess: Tom Hess is a guitar teacher, music career mentor and guitar teacher trainer. He trains musicians how to leave their day jobs and build successful fulltime careers in the music industry.
Learn how to build a music career you'd be proud of.