Char Davis
---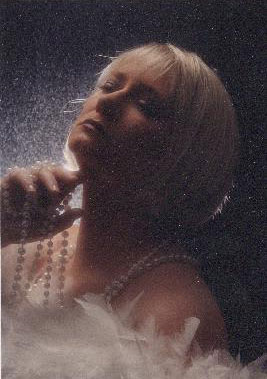 Char Davis was the first female student to take
online guitar lessons
with Tom Hess. Despite lifelong severe deafness, she nevertheless dreamed of becoming a professional guitar player. She begged her parents for a Fender Stratocaster guitar at the age of 12, which would have been a certain pre-CBS vintage treasure nowadays. Instead, she was encouraged to pursue athletics and scholastics. While becoming a young adult, she set athletic records in track and field, lifted weights, competed in swimming and bicycle racing and ultimately became a world-level winning competition champion archer. Later, she took a 4.0 college GPA to professional pharmacy school at Oregon State University and graduated magna cum laude.
Her favorite musicians and bands include, but are by no means limited to Jimi Hendrix, Stevie Ray Vaughn, Chris Duarte, Johnny Winter, Lynyrd Skynyrd, Creedence Clearwater Revival, Pink Floyd, Cream, and Frank Zappa & the Mothers of Invention, among many others.
Char lives near Coos Bay, Oregon, with her husband, Phill, and pet macaw parrot of 23 years, where she plans to finish out her career as a pharmacist. Within the first 2 years of Tom's instruction, Char built her own home recording studio and owned 8 guitars. She intends to retire with a guitar in her hands, making a late-life, relaxed transition to teaching and performing music.
Tom Hess's courses, especially his
music careers
program and
guitar teaching business
program, were instrumental in bringing into focus Char's truest relationship to music. She found that these lessons and networking opportunities in Tom's world-class programs were applicable to all areas of business philosophy and the "Art of Success" in ways and methods beyond music. Her experience is a true education in life, in manifesting success, and in overcoming enormous obstacles.
---